Description

Join us at The Oasis: Gifting Edition on 19 Dec (Wed) in London Spitalfields for a one hour masterclass in crafting your own bespoke wallet. A fantastic gift for loved ones, friends, or a beautiful new conscious gift for yourself!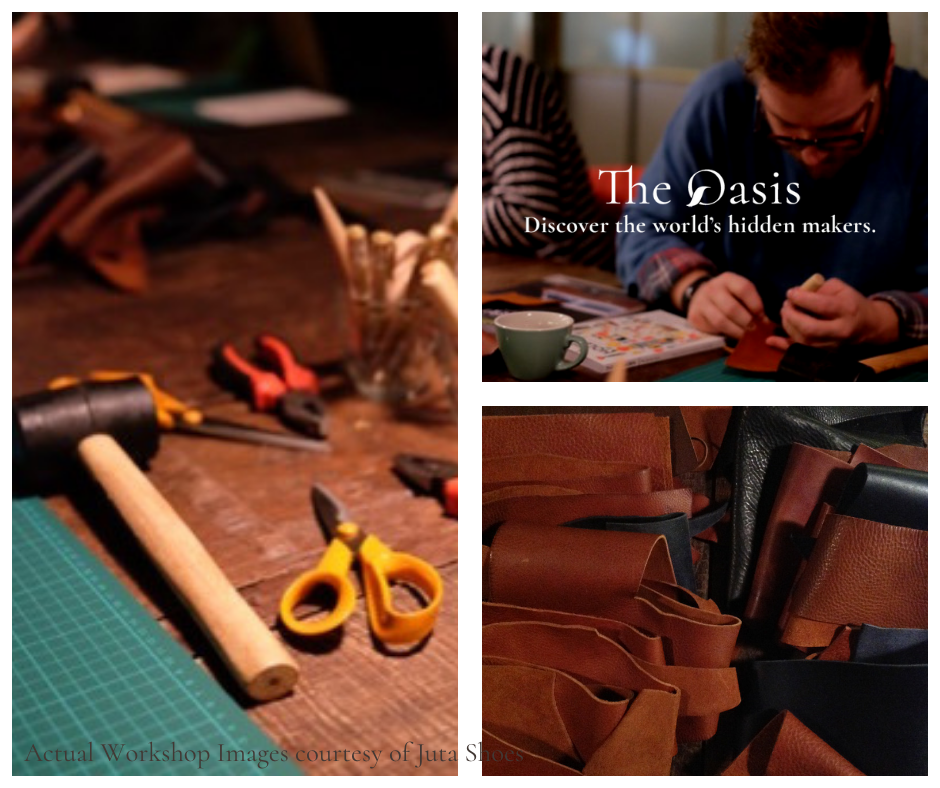 Workshop Details
Our lead artisan in this masterclass will take you through every step of making your own minimalist wallet cardholder:
Choose from a selection of reclaimed leather,

Customise and cut out your patterns,

Use a leather hole punch to insert holes into your pattern,

Stitch your wallet together with waxed linen thread.
Date & Time: 19 Dec (Wed), 7PM-8PM. We begin seating at 6.30PM with complimentary refreshments.

Address: 63 Hanbury Street, London E1 5JP, Spitalfields

All materials and equipment are included, and no experience is necessary.
An Artisan Workshop Ticket is £35+/pax and includes:
1. Your very own minimalist, sustainably-handmade reclaimed leather wallet.

2. One complimentary glass of bubbly.

3. Two or more minced pies (as you like)

4. Unlimited festive, mindful vibes.
5. It also provides employment to skilled women artisans in London who faces barrier to work - the workshop is run by a social enterprise!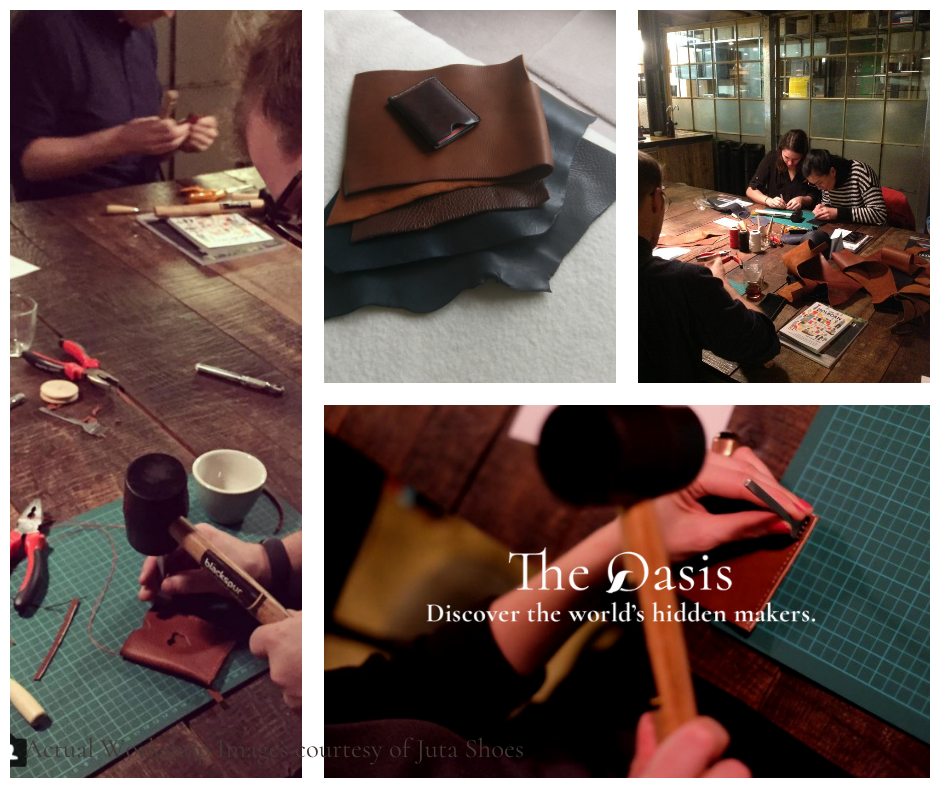 *Our partner Juta Shoes is a social enterprise that provides supported, flexible, and empowering employment to local women who face barriers to work, training them to become skilled, expert artisans. All of their materials are reclaimed from factory and upholstery offcuts, with premium jute soles sourced from Southern Spain.

*The Oasis: Gifting Edition is a concept pop-up store home to extraordinary artisan brands from across the globe. This festive season, gift ethically and discover jewelry, clothing, lifestyle and home goods of rare, global origins. Prices start at £5+, suitable for every budget. The store is about provenance, and reconnecting with the original makers behind the things we wear and love.
Due to the nature of the workshop and preparation taken by The Oasis: Gifting Edition & our lead artisan at Juta Shoes for the workshop, tickets are strictly non-refundable. You can however pass on the ticket to someone else if you are unable to make it.

The Oasis: Gifting Edition:
Led by Artisan & Fox, featuring Animaro Designs | Anyo Stories | Ally Bee | Cecile Jeffrey | Dear To Me Studio | Fettle Studio | Guy Morgan | jAN.NE.KE | Jollie's Socks | Kilubukila | KELCI London | Know The Origin | LA-EVA | Lemuel MC | Lola & Mawu | LunguLungu | NEMI Teas | Nido Collective | Nimiiny | Old Spike Coffee | Penny Burns | Pico London | Poapoa | Reverie Studio | Sabbara Embroidery | Snazzy | Suzanna James | The Atlas Works | The Cocoa Den | Threads Of Syria | Wax + Wick | We-Resonate |


Led and curated by Artisan & Fox - The Ethical Artisan Marketplace.