Part of the Artist in Residence programme at Hitchin Library
About this event
Come along for an exhibition of art, visual, written and spoken, created by artist Sophie Gresswell and the Hitchin community, as part of the recent Artist in Residence programme at Hitchin Library. There will be an opportunity to add to the exhibition and refreshments will be served.
Hitchin Library
Friday 3 December 2021
7.30pm - 9.00pm
Free event
Please do not attend if you have any Coronavirus symptoms .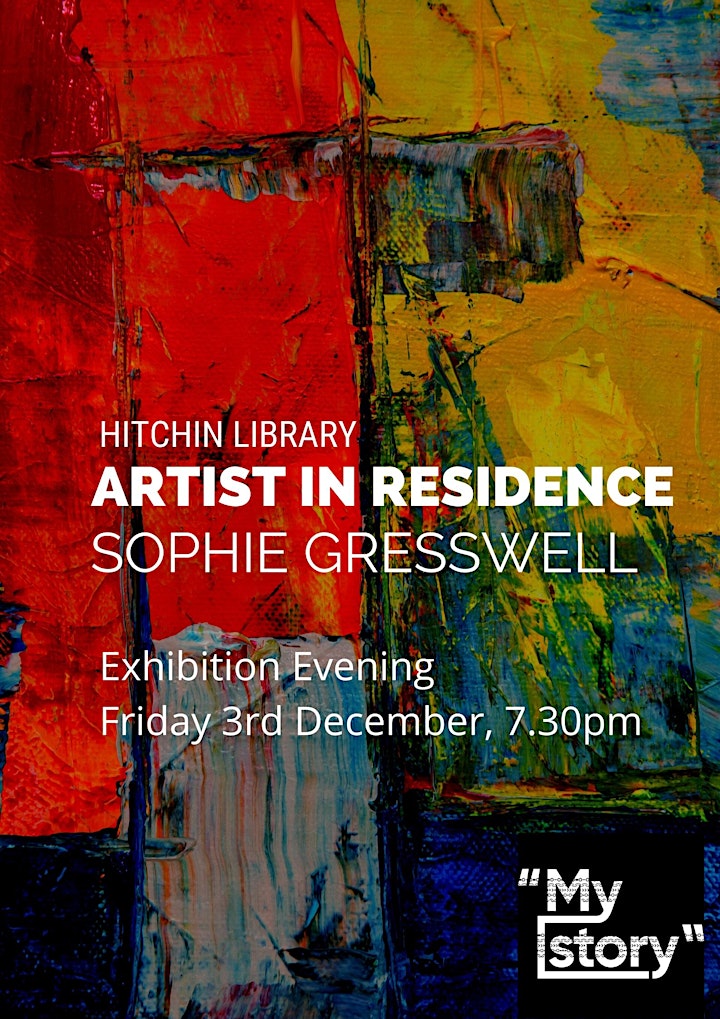 Organiser of Artist in Residence exhibition
Hertfordshire Libraries aim to create inspiring libraries and heritage services that enable Hertfordshire citizens to enrich their lives. This is based on three main themes
The library as a vibrant community asset

The digital library – exploiting technology for the benefit of residents

The library as an enhanced gateway to reading, information and wellbeing
For further information:
www.hertfordshire.gov.uk/libraries
Telephone: 0300 123 4049
Privacy Statement :
When you submit this booking, you are giving consent for Hertfordshire County Council to use your details so that we can administer the event. Your information will only be used for the purpose and will be only be held for the lifetime of the event. For more information you can see our website's privacy policy.
Your booking details will be submitted via Eventbrite (ticketing and registration platform). Please note that Eventbrite has its own privacy policy, they may send you marketing emails, however you can amend your account email preferences on their website.
HCC has a Data Protection Officer (DPO) who can be contacted by email: dataprotection.officer@hertfordshire.gov.uk
Complaints about the processing of personal data may be raised with the Information Commissioner's Office as the supervisory authority (www.ico.org.uk). For any queries about how your data is being used please contact: dataprotection.officer@hertfordshire.gov.uk