Description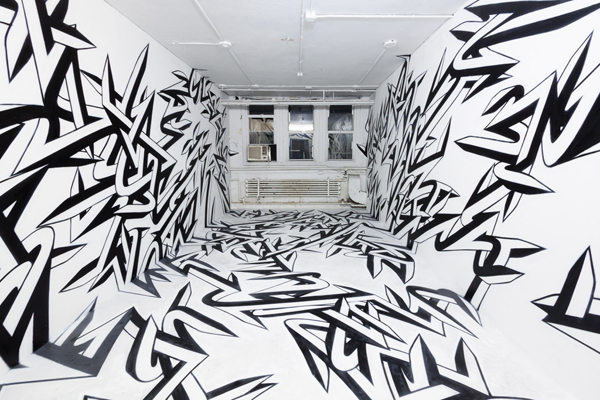 Japanese-Italian Oyama Enrico Isamu Letter is a unique visual artist whose creative practice overlaps and blurs the borders between contemporary art and street art. Part of a new generation of alternative Japanese artists, Oyama emerged from the Tokyo underground art scene in the mid-2000s with his signature style, Quick Turn Structure which consists of black and white, jagged, repetitive patterns that was developed from the visual language of graffiti culture. With striking and detailed compositions, he has been involved in exhibitions including at Aichi Triennale 2010 (Nagoya City, Japan), and Padiglione Italia nel Mondo: Biennale di Venezia 2011 (Italian Cultural Council Tokyo), and has collaborated with brands such as fashion house Comme des Garçons, and cosmetics company Shu Uemura.
Oyama is also a regarded critic with the viewpoint of dismantling the conflict between street and fine art, and published his first book this year, Against Literacy: On Graffiti Culture, which questions the rigid framework of contemporary visual language.
In this special talk, Oyama, showcasing his works to date, will discuss his recognisable aesthetic style and the significance in re-examining the contact point between high art and urban culture. With art benefiting from the convenience of technology, and itself becoming ever-increasingly accessible through online virtual experiences, Oyama will explore the concept of coming face to face with canvases and the deed of interacting in urban sites with his tangible mural paintings and installations.
As a critical writer, Oyama will also cast an analytical eye on street art from New York, whilst also touching upon the scenes in Tokyo and London. Given the recent popularity of street artists such as Banksy and Rammellzee, this trend may be rewriting art history as we know it.
Following his presentation, Oyama will be joined in conversation by Mark Rappolt, editor of ArtReview.
After the event there will be a preview of Oyama's exhibition in the same venue, for which all are welcome to attend.
Date:
20 October 2015 from 6.30pm
Venue:
Triangle Space, Chelsea College of Arts
16 John Islip Street, London SW1P 4JU (Nearest tube station: Pimlico)
This event is organised in collaboration with Chelsea College of Arts. Oyama Enrico Isamu Letter is currently artist in residence at Chelsea College of Arts (August to October 2015) supported by Tokyo Wonder Site. The exhibition will be held at the Triangle Space, Chelsea College of Arts from 21-22 October 2015.
Images, Main: Oyama Enrico Isamu Letter, FFIGURATI #51, Acrylic-based aerosol on floor and wall, (H)2.95m x (W)3.6m x (D)9.5m (overall), 2013, Clocktower Gallery, New York, United States, Artwork © Oyama Enrico Isamu Letter, Photo © Atelier Mole.
***
Disclaimer: By registering for this event, you will be signed up to the Japan Foundation's mailing list. If you wish to not receive emails from us, please contact info@jpf.org.uk to let us know.