Artists in Conversation: Ayesha Gamiet
About this event
Yunus Emre Institute in London and Leighton House are delighted to announce another fascinating series of talks featuring notable contemporary artists, exploring the classical and traditional arts and crafts of Turkey. Through the talks, we aim to showcase Leighton House and Frederic, Lord Leighton's travels and appreciation of Turkey and highlight the work of the Institute.
Today, we can observe an increased interest in traditional Turkish-Islamic art. However much interesting facts and rituals remain unknown and unspoken about. Each talk will explore the path of a different artist, who will provide an insight into their experience and thoughts shaped by their individual area of art.
For the fourth talk of the series, we are joined by  Ayesha Gamiet on Tuesday 21st July 2020 at 18:00 as she talks about her artistic journey and the art of Islamic Manuscript Illumination.
Artists in Conversation
Guest Speaker:
Ayesha Gamiet (Illumination) 
Moderator:
Zeynep Iqbal
Date: 
Tuesday 21st July 2020
Time:
18:00 pm (BST)
Online Webinar via ZOOM. This event is FREE but registration is ESSENTIAL ***
Ayesha Gamiet is an artist, illustrator and art educator, living and working in the South East of England. Her work is inspired by traditional arts of the world and the beauty of nature. In 2018, Gamiet was awarded an ijaza (traditional apprenticeship) in Islamic manuscript illumination under Master illuminators Ayten Tiryaki and Çiçek Derman in Istanbul. She holds a BA in African and Asian Art History and Archaeology from the University of London, and a Master's Degree in Traditional and Islamic Arts. In 2014, she completed a second Master's Degree in Education (with a focus on Art, Creativity and Culture in Education) at the University of Cambridge.In 2018, she was commissioned by the Royal Library, Windsor Castle, to produce illuminated frontispieces for four volumes of poetry. One of these volumes was gifted to HM Queen Elizabeth II, and one to HRH Prince Charles. Her work is also in the Royal Library collection at Windsor Castle.Gamiet's teaching experience includes training PGCE art and design teachers at the Faculty of Education, University of Cambridge; teaching at the Queen's Gallery, Buckingham Palace; and teaching on the Prince's School's educational programmes in London, Cairo, Jeddah, Doha, and Abu Dhabi. She has exhibited within the UK and internationally. Her travels and experiences in the rich world of Islamic art continue to inspire and inform her work.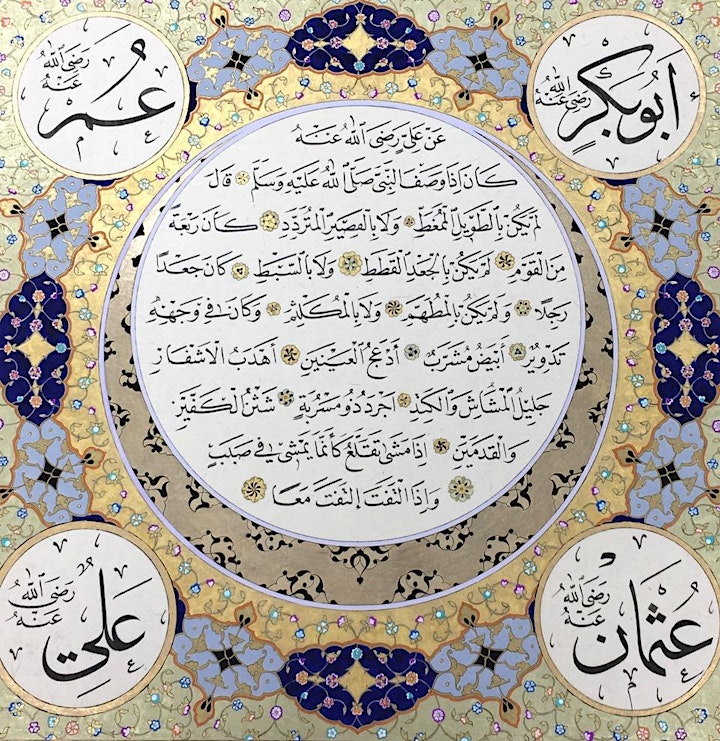 Leighton House Museum is the former home and studio of the leading Victorian artist, Frederic, Lord Leighton (1830-1896). It is unique among the capital's museums in combining an exceptional collection of Victorian art with the intimacy of a private home. The house was designed by his great friend, the architect George Aitchison RA as a showcase for artistic taste and to entertain and impress the foremost artists, collectors and celebrities of the day. The exterior of Leighton House gives little clue as to the treasures that lie within. The highlight of any visit is the extraordinary Arab Hall which reflects Leighton's fascination with the Middle East where he travelled widely. This room was built between 1877 and 1881 to display his outstanding collection of 16th and 17th-century Islamic tiles and also contains mosaic floors, a gold mosaic frieze, set beneath a gilded dome, and a calming fountain. Also not to be missed is Leighton's painting studio on the first floor, with its large north-facing window, picture slot and screen. Leighton produced all the works of his mature career in this room, including the iconic Flaming June which is now at the Museo de Arte Ponce, Puerto Rico.
This talk forms part of the Artists in Conversation Series organised by Yunus Emre Institute in London and Leighton House.
***Sadly not everyone who registers shows up on the day of the event. Therefore, all tickets for our talks are over-issued by a percentage to compensate for 'no-shows'. Due to this, entrance is subject to webinar capacity and is served on a first-come, first-served basis. This registration/e-Ticket does not guarantee entrance. Thank you for your understanding.