Description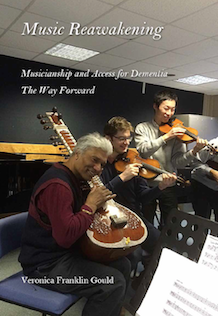 World Alzheimer's Day Launch of
Arts 4 Dementia Report


Music Reawakening
Musicianship and Access for

Early to Mid Stage Dementia

The Way Forward
Leading figures in the field of music for dementia will speak at the launch of Arts 4 Dementia's report which presents
music as rehabilitation for people affected by dementia

integration of musical stimulation into the Dementia Care Pathway.

The best non-pharmacological rehabilitation for early to mid stage dementia, engaging in musical activity reawakens and exercises the brain. Playing an instrument, singing opera choruses, learning to play or sing can help bypass symptoms of dementia and restore sense of purpose for those coping with a recent diagnosis of dementia and their carers.
A4D believes that when people receive a diagnosis that their brain is deteriorating they should at the same time be advised that musical stimulation can help maintain cognitive function and preserve confidence and fulfilling social life in the community for as long as possible.
A4D invites memory and care services to liaise with music organisations to provide this re-energising service.
PROGRAMME
9:45 Delegate registration
10 am Veronica Franklin Gould introduces Music Reawakening
10.10 Gillian Wolfe CBE (A4D Trustee), chair
10.15 Harry Cayton CBE (A4D patron), chief executive, Professional Standards Authority
10.30 Tim Yealland, head of education, English Touring Opera

10.45 Andrew Baker, leader, BUDI Orchestra
11am Chris Norris, horn player with young onset dementia
11.10 Q&A
11.30 Refreshments
11.45 Baroness Greengross OBE (A4D patron), co-chair, All-Party Parliamentary Group on Dementia
12.05 Dr Charles Alessi (A4D advisor), senior advisor and lead on preventable dementia, Public Health England
12.25 Dr Trish Vella-Burrows, deputy director, Sidney de Haan Research Centre for Arts and Health
12.40 Q&A
1pm Close
Who should attend
Music organisations, education managers, memory services, Public Health England, My Health London, GPs, care managers, Admiral nurses, care services, psychologists, psychiatrists, neurologists, specialists in music and dementia, music colleges, music therapists, local councils and funders
NOTE: The programme is subject to change. A delegate unable to attend may appoint a replacement delegate by advising the name, organisation represented and email address of the replacement by email to info@arts4dementia.org.uk before the date of the event.
CATERING: Refreshments are available on arrival
PHOTOGRAPHY: We reserve the right to take video and/or still photographs of participants.