Arts in Health Care Conference 2016 - The Art of Mentalizing: Communicating...
Description

"This is a truly important event that brings together for the first time two groups working to extend the frontiers of mentalizing in the US and the UK. The conference will undoubtedly present many remarkable insights and experiences for participants that I have no doubt will further not just clinical practice but also encourage research enquiry into the therapeutic use of creative arts in mental health"
Professor Peter Fonagy
Head of Department, Research Department of Clinical, Educational. Health Psychology and the Freud Memorial Professor of Psychoanalysis, University College, London. Senior Investigator, British National Institute for Health Research. Visiting Clinical Professor, Harvard University; Clinical Professor of Psychiatry, Yale University, School of Medicine
---
In October 2016 we will be bringing together friends from all psychological professions to explore the role of arts in health care. In the UK and similarly in the US, methods of using arts to treat mental health conditions are known to be in demand by patients across a wide number of health care settings. The effectiveness is emerging from a range of different investigations; including randomized controlled trials, neuroscience, process analysis studies and clinical pilots. This conference will give a voice to the recent developments that illustrate strong synergies between arts based, mentalization focused approaches.
This conference will introduce you to methods of promoting mentalizing that links with clinical outcomes, but more than this, it will engage you as a participant, researcher and clinician to learn about, question and develop evidence based methods further.
Psychosocial research is reaching an important landmark in understanding how we articulate ourselves through our bodies, images, and nonverbal means. How do we bring into play the full array of communicative functions to help us recognise and develop the clinical process?
This conference will introduce you to methods of promoting mentalizing that links with clinical outcomes, but more than this, it will engage you as a participant, researcher and clinician to learn about, question and further develop evidence based methods.
Be prepared to immerse yourself in the arts process, to see live arts based interventions, to hear about cutting edge research from the UK and US and put ideas about mentalizing to the test. This is evidence-based practice in progress.

Dominik Havsteen-Franklin & Linda Siegel
CNWL NHS Foundation Trust (UK) and Pratt Institute (USA)
"Mentalizing is crucial to our wellbeing, giving a coherent sense of self and providing the basis of our understanding of ourselves and others. The arts play a unique role in enabling us to safely go beneath the surface, to play and imagine ourselves and others with curiosity and compassion. This conference brings together leading Arts Focused Practitioners and Therapists, Psychiatrists, Psychoanalysts, and Artists to consider the unique role of the arts in promoting mentalizing, making what is implicit, explicit...communicating the unknown."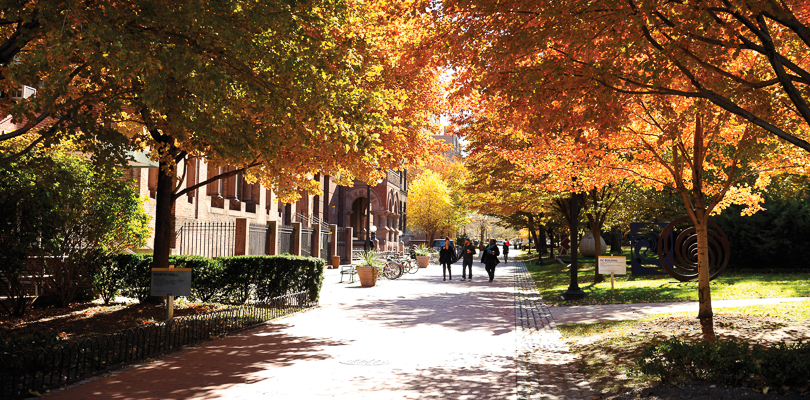 Fall at Pratt
CONTINUING EDUCATION:
SOCIAL WORKERS (excluding NY): CES, provider #1117, is approved as a Provider for Social Work Continuing Education by the Association of Social Work Boards (ASWB) www.aswb.org, through the Approved Continuing Education (ACE) program. CES main- tains responsibility for the program. ASWB approval period: 10/15/15 through 10/15/18. Social Workers should contact their regulatory board to determine course approval. Social Workers par- ticipating in this course will receive 14.5 clinical continuing education clock hours.
PSYCHOLOGISTS: Commonwealth Educational Seminars (CES) is approved by the American Psy- chological Association (APA) to offer continuing education credit programs. CES maintains respon- sibility for this program and its content. Psychologists receive 14.5 hours of continuing education credit upon completing the program.
Friday 21st October
5:30 Registration, information on local area and services
6:30 Welcome and introduction to conference, experientialmeet and greet session 7:00 Drinks and Live Music
Saturday 22nd October
8:30 - 9.30 Registration
9.30 - 11.00 Opening session short paper presentations with panel discussion
Paper 1 – Dominik Havsteen Franklin – The Art of Mentalizing
Paper 2 – Professor Dr. Benjamin Brent – Mentalization-Based Treatment for Schizophrenia: A Model of Treatment
Paper 3 – Dr. Gitta Strehlow - Music Therapy Interventions to Enhance Mentalization (Part One)
Chair – Mario Eugster
11:00- 11:20 BREAK
11.20 – 12.30 Special Interest Groups
Mapping Mentalizing: What do the arts offer to the mentalizing process for these Special Interest Groups
Children and Young People, Psychosis, Personality Disorders, Depression, Research, Technology, Professional Identity,
Trauma, Forensics, Education and Organisations
12.30 -1.30 Lunch
1.30 – 2.10 KEYNOTE Peter Fonagy – Integrating actions with words: Why mentalizing based treatment should be more than talk
2.10 – 2.30 Break
2.30 - 4.00 Workshops and Presentations
1. Presentation and Workshop 90 minutes
Wijntje van der Ende – Affect Regulating in Arts Therapies as a Model for Mentalizing Treatment for Younger People 45 minutes
Marianne Verfaille – Group Painting - Assignment with Borderline Personality Patients 45 minutes
2. Workshop 90 minutes
Abi Tischler - Fabric Workshop Resist, Flow and Attach - Physical Concepts for the Mentalization Process
3. Joint Paper and Workshop 90 minutes
Dr. Benjamin Brent and Mario Eugster – Mentalizing, Psychosis and Music Therapy
4. Joint Papers 90 minutes
Paper 1 Kula Moore - The Use of Creative Interventions to Promote Mentalizing in the Compass Program for Young Adults at The Menninger Clinic 45 minutes
Paper 2 Kate Marder and Kula Moore - Landscapes of The Mind: The Use of Visual Metaphors to Promote Mentalizing in an Inpatient Art Therapy Group – 45 minutes
5. Joint Papers 90 minutes
Paper 1 Linda Siegel – Disappearing Acts: On Losing and Finding States of Mind in Psychotherapy and Creative Arts Therapy – 45 minutes
Paper 2 Dana Wehle – Plunge into the Abyss: Creativity and Trauma Psychodynamic Group
6. Workshop 90 minutes
Jackie Hall and Annette Crump – Squaring the Circle: An Exploration of Universal, Collective and Personal Symbolism through Creativity
7. Workshop 90 minutes
Holly Dwyer Hall – The Drama of Attachment: The regulating and dysregulating therapist – Exploring implicit and explicit communication in therapy
8. Joint Papers 90 minutes
Paper 1 Dr. M. Della Cagnoletta, Angelica Zavettieri and Fabiola De Paoli
- Migration and Adoption: creative process as activator of resources with adopted children and their families 45 minutes
Paper 2 Monteleone Antonella and Patrizia Conti
- New parenting compared with the tension between opposite polarities: otherness and belonging 45 minutes
9. Joint Workshops 90 minutes
Workshop 1 Miryam Welbourne – Using Psychodynamic Theories and an Artist's Slide Projector to Paint with Patients: A Live Art Demonstration 45 minutes
Workshop 2 Cheryl Walpole - Colouring in and Outside of the Lines – A pop up colouring bar as mentalizing practice 45 minutes
4 – 4:30 plenary
4:30 – 5:00 BREAK
5:00 – 7:00 Social Dreaming - Large Group Experiential Workshop with Francesca LeNeve
5:00 Films - Christopher Burke Arts in Health films - "The Duel" and "The True Cross"
Donna Bassin's film " The Mourning After"
7:00 Close
Sunday 23rd October 2016
8:15- 9:15 – Early Morning Yoga Session with Karen Gibbons - Yoga, Art and the Use of Intention - A one-hour practice focused on self-care for therapists.
9.00 - 9.30 Registration
9.30 - 11.00 Opening session short paper presentations with panel discussion
Paper 1 – Professor Ephrat Huss – Visualizing stressors, stress reactions and coping within a single mentalization
Paper 2 – Suzanne Haeyen – Investigating effects of art therapy in the treatment of Personality Disorders
Paper 3 – Bat-Or Michal - Art Therapy as Enhancing Mentalization in Children: Key Concepts
Chair - Holly Dwyer Hall
11.20 – 12.30 Mapping Mentalizing: What do the arts offer to the mentalizing process for these Special Interest Groups
Children and Young People, Psychosis, Personality Disorders, Depression, Research, Technology, Professional Identity,
Trauma, Forensics, Education and Organisations
12.30-1.30 Lunch
1.30 – 2.10pm – KEYNOTE – Judy Rubin – Musings on Mentalization via Visual Media
2.10 – 2.30 Break
2.30 - 4.00 Workshops and long presentations
1. Joint Papers 90 minutes
Paper 1 Dr. Katherine Taylor - Engaging with art as part of recovery processes in individuals with mental health difficulties: a phenomenological meta-synthesis and Exploring the links between the phenomenology of creativity and bipolar disorder 45 minutes
Paper 2 Suzanne Haeyen - Efficacy of Art Therapy in Individuals with Personality Disorder: Percevied effects and a Randomised Controlled Trial 45 minutes
2. Joint Papers 90 minutes
Paper 1 Thijs de Moor – An exploration into the experience of forensic psychiatric patients participating in an open studio in a male only prision 45 minutes
Paper 2 Liah Rozenman, Asher Pandjiris and Annalee Sweet Talking to the body: Towards a relational and attachment-based approach to working with trauma and eating disorders
3. Joint Paper 90 minutes
Paper 1 Holly Dwyer Hall, Mario Eugster and Dominik Havsteen Franklin – TBC
Paper 2 Colleen Paul - Enhancing Mentalization via Art in Reflective Practice Supervision – 45 minutes
4. Joint Papers 90 minutes
Paper 1 Sarah Ayache - Creative Therapies within a Residential Special School 45 minutes
Paper 2 Bat-Or Michal and Nehama Grenimann Bauch - Underlying dynamics of mentalizing processes during art creating and art observing among parents of preschoolers 45 minutes
5. Joint Papers
Paper One – Susan Parente – The Multiple Self States Drawing Technique (MSSDT) with Children and Adolescents 45 minutes
Paper Two - Professor Ephrat Huss - Mentalization and Stress – Using a Structured Arts Based Intervention 45 minutes
6. Workshop 90 minutes
Simone Donnari and Elisabetta Cittadini, Valentina Canonico and Alika Goodwin
- Experiential Art therapy workshop using innovative immersive software: can this enhance a mentalization process
7. Workshop 90 minutes
Evie Lindemann SoulCollage® as Technique, Practice, and Symbolization Process
8. Workshop 90 minutes
Lena Friedman – Integration of Inside/ Outside: The meeting of self and other through the group art psychotherapy process
9. Workshop and Presentation 90 minutes
Dr. Gitta Strehlow - Music Therapy Interventions to Enhance Mentalization Part 2 and 3
4:00 – 4:30 Plenary
4.45 - 6:15 Dreaming Large Experiential Workshop Follow Up
6:15 - Close
Conference Committee
Linda Siegel - Conference Lead Tenured Assistant Professor Creative Arts Therapy Department Pratt Institute, Brooklyn, NY, USA
Dominik Havsteen-Franklin - Conference Lead Consultant in Arts Psychotherapies
CNWL NHS Foundation Trust
London, UK
Holly Dwyer Hall - Programmes Lead ICAPT Training Lead
CNWL NHS Foundation Trust London, UK
Mario Eugster - Programmes Lead Principal Arts Psychotherapist CNWL NHS Foundation Trust London, UK
Claire Grant - Finance and Projects Lead
Arts Psychotherapies Operational Manager/ Clinical Lead CNWL NHS Foundation Trust
London, UK
Donika Habipaj - Business Coordinator CNWL NHS Foundation Trust
London, UK
Contact us: icapt.cnwl@nhs.net / mentalizingart@pratt.edu
Monteleone Antonella

Clinical Psychologist, Jungian Analyst candidate member Registered Psychologist and Psychotherapist,

Registered Dance Movement Psychotherapist

Nehama Grenimann Bauch

Art Therapist




Christopher Burke

CNWL NHS Foundation Trust

Arts in Health Project worker

Mimma Della Cagnoletta




Art Therapist

Valentina Canonico




Art therapist

Kate Marder, MA, LPC, ATR-BC, LCAT, CPRP

Department of Psychiatric Rehabilitation Services The Menninger Clinic




Simone Donnari

Associazione Sementera Onlus, Perugia, Italy




Mario Eugster

CNWL NHS Foundation Trust

Principal Arts Psychotherapist (Specialist Music Therapist)

Professor Peter Fonagy




CEO, Anna Freud Centre, London; Head of Department, Research Department of Clinical, Educational and Health Psychology and the Freud Memorial Professor of Psychoanalysis, UCL

Louise Foott

BA, PG Dip, PGCE, MA




Lena Friedman







Anna Green

Art Therapist




Holly Dwyer Hall




Dramatherapist/ ICAPT Trainer

Dominik Havsteen-Franklin

CNWL NHS Foundation Trust

Consultant in Arts Psychotherapies

Professor Ephrat Huss

Ben-Gurion University




Professor Evie Lindemann

LMFT, ATR-BC, ATCS Associate Professor




Kula Moore







Francesca La Nave




Group Analytic Psychotherapist and Art Psychotherapist in Complex Needs Services.

Michal Bat Or

Art Therapist




Dr. Susan Parente




Psychologist PsyD

Catherine Phillips

BA, PG Dip, MA, IACAT Reg.




Professor Judy Rubin

Expressive Media, Inc., American Art Therapy Association

Art Therapist

Zoe Savva

Art Therapist




Linda Siegel

Pratt Institute

Tenured Associate Professor

Dr. sc. mus. Gitta Strehlow

Dipl.Music-Therapist.




Dr Katherine Taylor

Clinical Psychologist | Research Associate BSc | DClinPsy




Abi Tischler







Marianne Verfaille

Author of 'Mentalizing in Arts Therapies'




Dr. Miryam Welbourne




Clinical Psychologist and an Abstract Expressionist painter

Tim Wright




Head of Arts Therapies WLMT, Chair British Association of Art Therapists