Description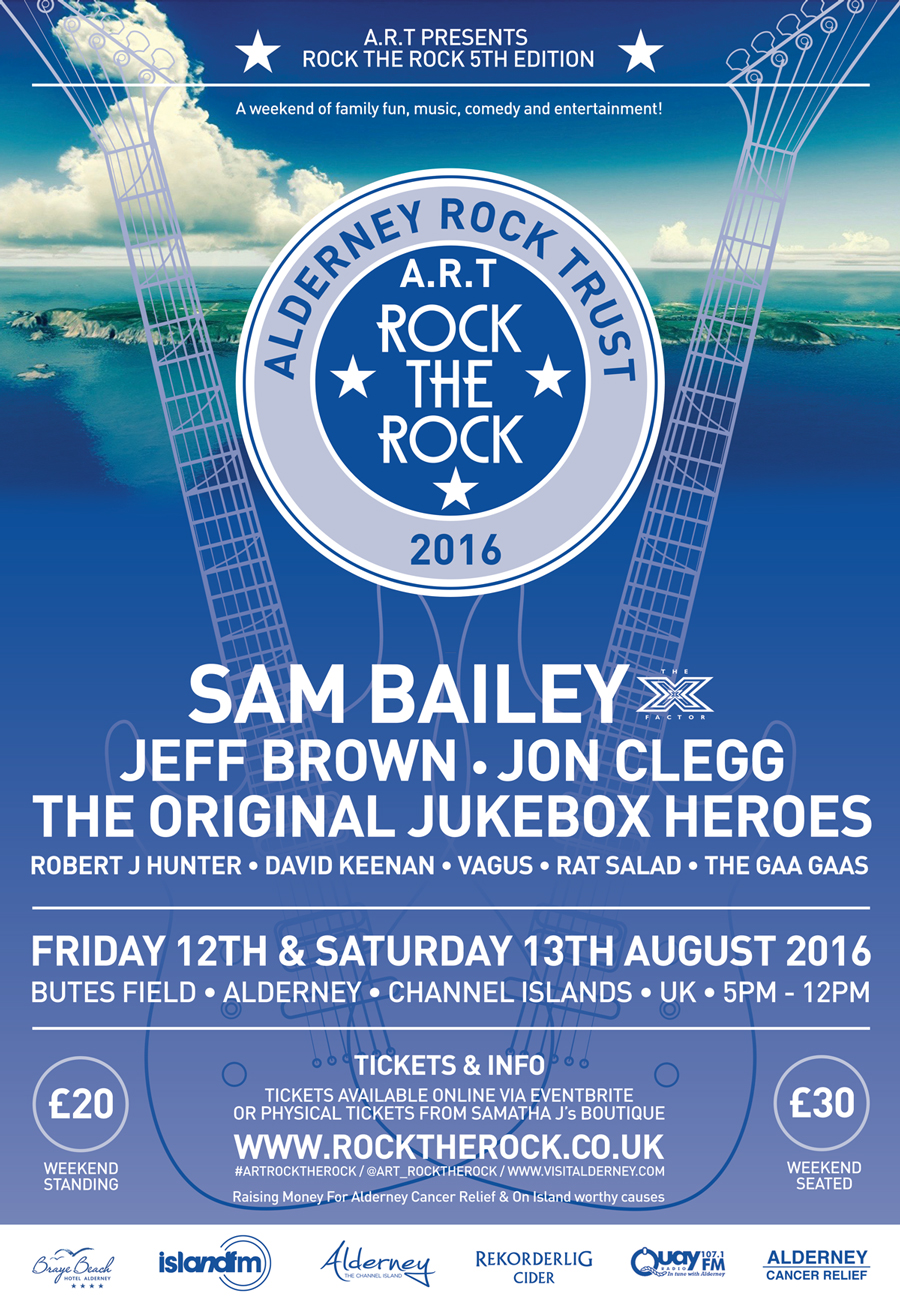 ART is the fund raising, fun making, music loving team of Channel Islanders otherwise known as the Alderney Rock Trust.

Based in Alderney, ART's Rock the Rock has been putting on events on the island for the last 5 years and to date, have raised a staggering £90,000 for Alderney Cancer Relief and other local causes. 2016 sees Rock the Rock bring yet another fundraiser to Alderney, but this year things have really gone up a gear with not just one, but TWO events to look forward to this summer!

The weekend of 12th and 13th August 2016 features some incredible acts. Set in beautiful Butes Field in Alderney. From rock and pop music, solo acts, local acoustic artists, some serious diva talent and an impersonator who will leave you in stitches. ART's Rock the Rock promises a culmination of unadulterated fun and entertainment for all the family.

Kickstarting proceedings, ART's Rock the Rock pre party on Friday 12th August sees a handpicked selection of Jersey and Guernsey's finest musical talent, support the awesome Jeff Brown from the Original Jukebox Heroes. Jeff is well known as the singer from Sweet, the guy who brought down the house with the famous track, Ballroom Blitz... Rocking partygoers back to the seventies with a set of energetic classics designed to get the weekend's party started. Jeff promises you will 'rock till you drop!' - pretty appropriate, considering the aim is to rock the rock!

Friday's fun filled event will also play host to none other than the hilarious and uber talented impersonator and Britain's Got Talent finalist, Jon Clegg!

Jon made a huge impression on Britain's Got Talent, setting the live and viewing audience alight with his hilarious impressions of well-known people including Simon Cowell, Homer and Marge Simpson, Alan Carr, Marcus Bentley, Louis Walsh, Paul O'Grady, John Bishop, Paddy McGuinness, Michael McIntyre and even the hosts of the show...Ant & Dec. During the final itself, Jon included impressions of Kermit the Frog, Miss Piggy, Sarah Milican and funny-man, Keith Lemon... Jon Clegg is what you might call a crowd pleaser and his hilarious sets never fail to bring the house down!

With an electrifying opening night to a weekend of family fun, fantastic music and of course, fund raising for a worthy local cause, Friday 12th August will be a night to remember indeed.
Tickets for Rock the Rock's event are priced at just £30 for seated tickets and £20 standing tickets for both events.
As this is a family event, there is no age requirement but organisers ask that anyone under the age of 16 is accompanied by an adult. For under 16's, no ticket purchase is required, instead, organisers ask that a small donation be made to the charity. The event will open at 6pm and food and drinks will be on offer throughout the evening.
Everyone is welcome and disabled access is easy, extra seating can also be provided, should those tickets sell out fast (which, we're pretty sure they will!). Travel packages are currently being put together from Jersey and Guernsey for island hoppers who want to join in the fun!