Description
IMPORTANT - THERE WILL BE NO PARKING AT THE CHURCH ITSELF
See FAQ'S below for car park details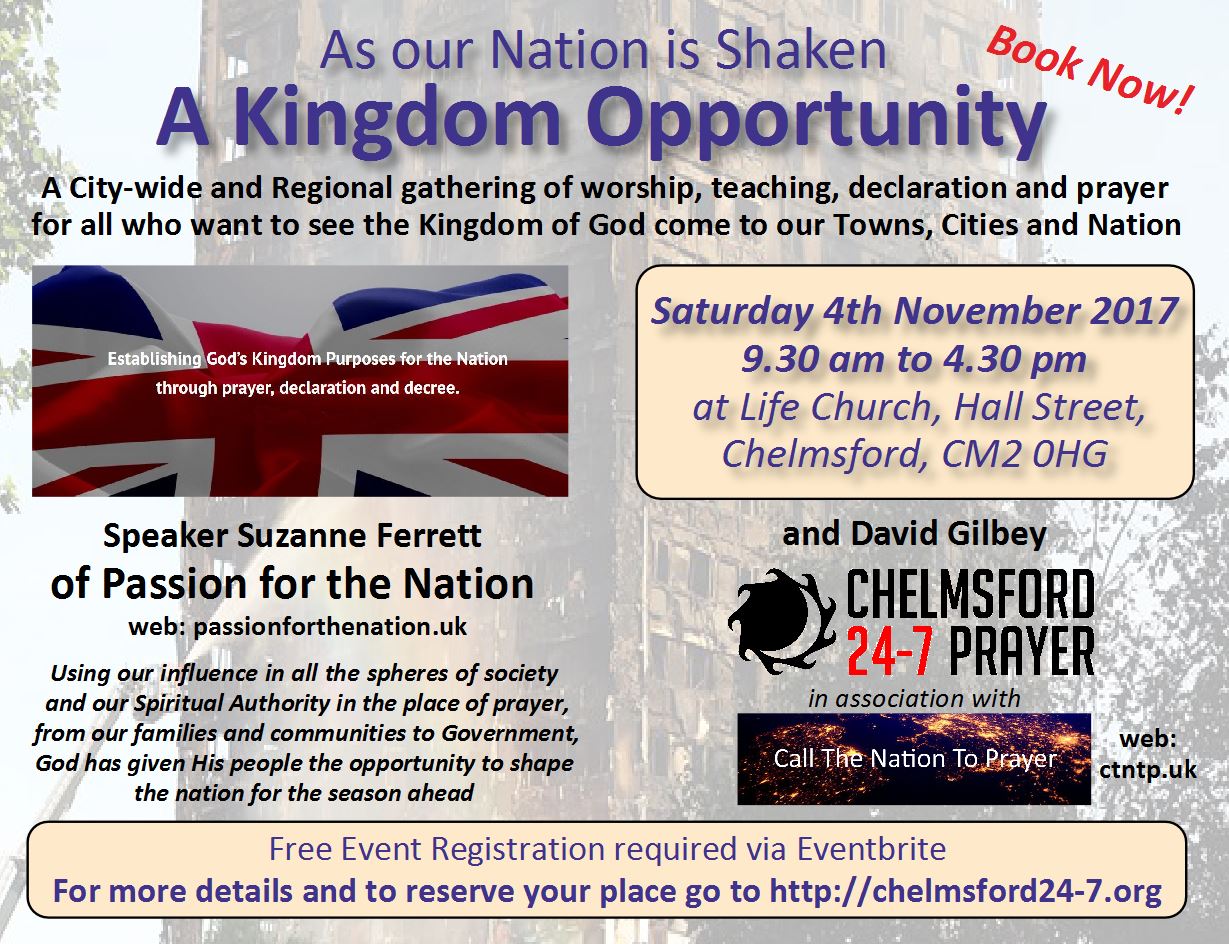 (Approaching 140 places booked so far)
As our Nation is Shaken
A Kingdom Opportunity
A City-wide and Regional gathering of worship, teaching, declaration and prayer for all who want to see the Kingdom of God come to our Towns, Cities and Nation.
Using our influence in all the spheres of society and our Spiritual Authority in the place of prayer, from our families and communities to Government, God has given His people the opportunity to shape the nation for the season ahead.
Call theNation to Prayer
Our purpose too today, is to encourage unity and see relationships and friendships built between leaders and all others who are praying throughout East Anglia and beyond in the context of a Directive to Call the Nation to Prayer and a Vision for 'Regional Hubs' - click here. Also see below.
Main Speaker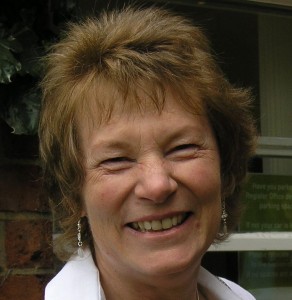 Suzanne Ferrett of Passion for the Nation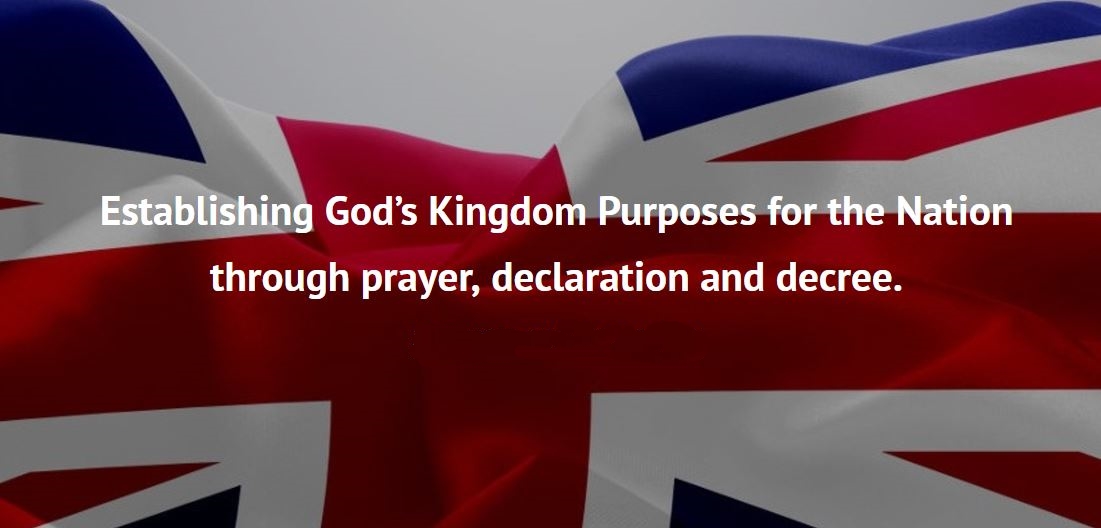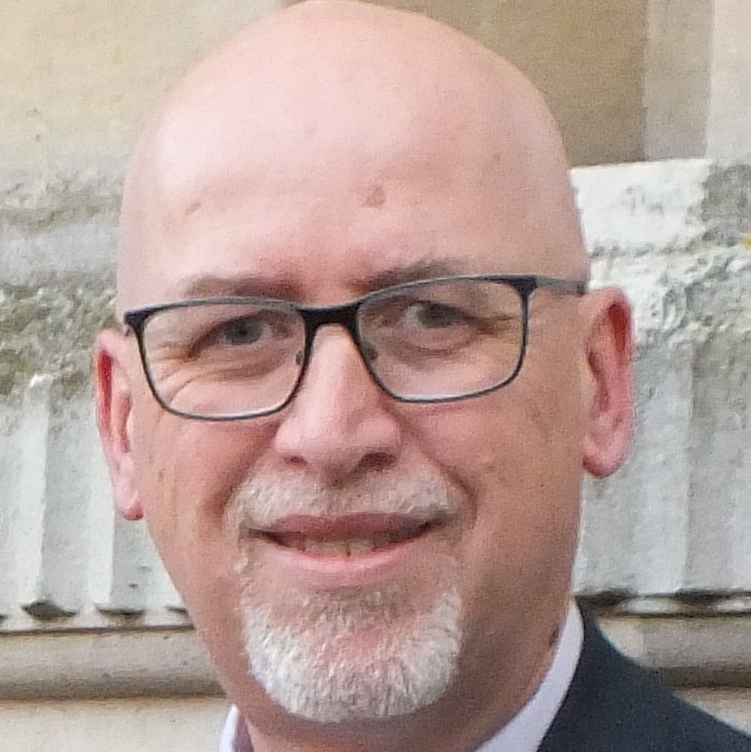 and David Gilbey of Chelmsford 24-7 Prayer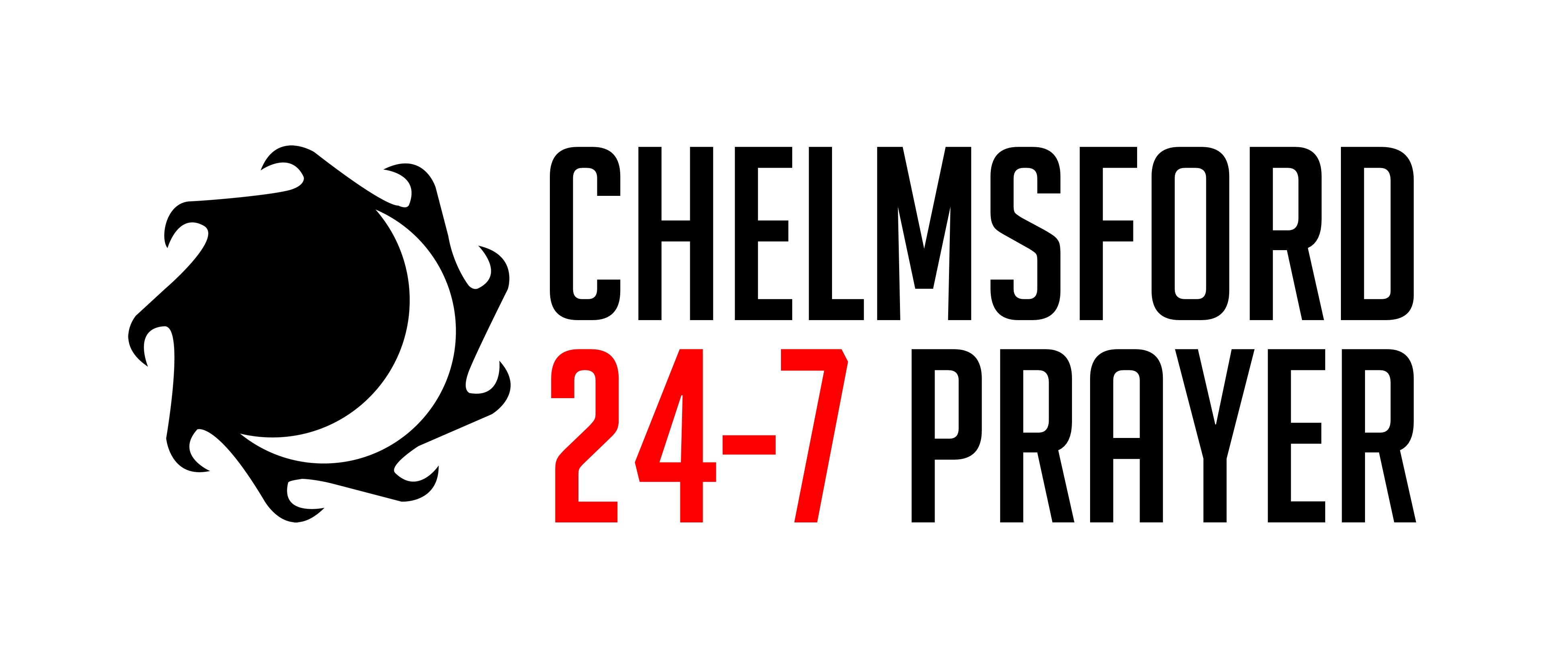 This event is being held in association with Call the Nation to Prayer
and we have now confirmed and welcome, as a guest speaker, Peter Hill, from Canada.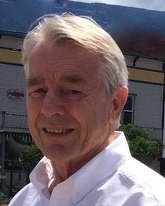 In 1971, during the UK Charismatic Revival, Peter founded the National Festival of Light, which saw around 300 fiery beacons lit around the Nation and tens of thousands of Christians marching for moral righteousness in London. Out of this the Christian organisation CARE formed.
Peter later moved to Canada, but unexpectedly, in June 2015, God awoke him in his bed and told him to be involved in Calling the Nation of England to Prayer.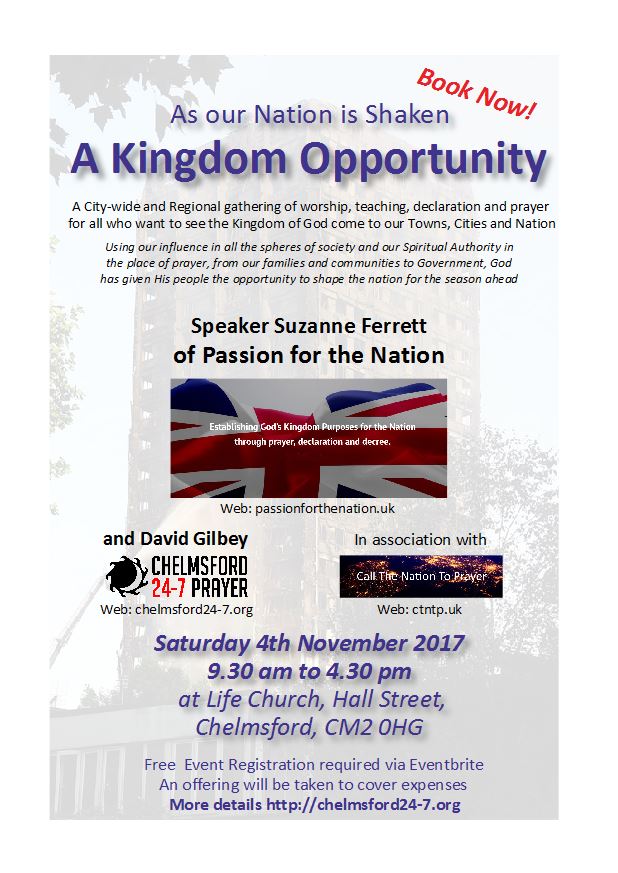 To download printable leaflets like above - please distribute - click here
================================
FAQ's
What are my transport/parking options for getting to and from the event?
IMPORTANT - THERE WILL BE NO PARKING AT THE CHURCH ITSELF - the rear car park will be only available to those helping with the event and roads around have residents and parking restrictions.
The nearest public car park, with steps up to the rear of the church is just behind accessible by vehicle only from Parkway CM2 0DG - although this is Short Stay and up to 7 hours costs £10 and more beyond.
However, Moulsham Street (also known as George Street), car park is very nearby and costs £5 all day. This is accessed Moulsham Street or New London Road >> New Writtle Street >> George Street, CM2 0LF.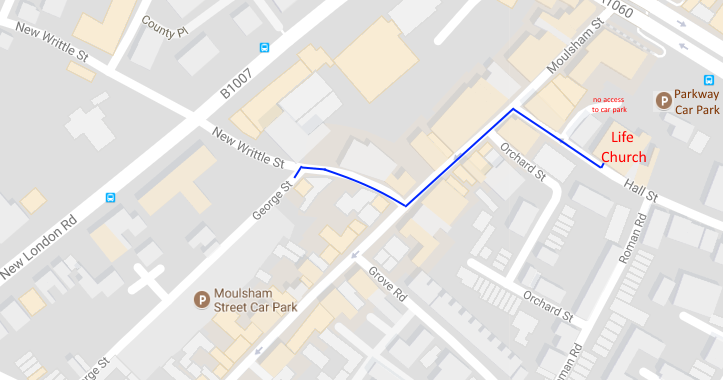 Other car parks and details of Park and Ride schemes can be found here. Park and Ride and other buses stop on Parkway near the Moulsham Street junction very close to and in sight of the church building.
Chelmsford is also on the main railway line from London, Liverpool Street. The church is about 15 minutes walk away.
Is there any cost?
There is no charge to attend, but during the day we will be taking a free-will offering to help cover expenses, which include use of the church building and minisitry gifts for our speakers
Tickets
It is not necessary to bring printed tickets to the event - all we need is your name, or the person who booked them, upon arrival.
What should I bring into the event?
You may well want to make notes and of course do bring your Bible in traditional or digital form!
Note: The sessions will be audio recorded and these will be made available, although not immediately, afterwards, via the Chelmsford 24-7 and CTNTP websites
Refreshments/Lunch
We will provide free hot and cold drinks and biscuits throughout the day.
Do bring your own lunch, or you can purchase hot or cold food at one of a good number of outlets very nearby, which you are welcome to bring back and eat in the venue.
How can I contact the organiser with any other questions
Contact David Gilbey
email: enquiries@chelmsford24-7.org
or ring 07790 669414