Description
After a decade living in Argentina, a return to the UK, has given Gran Asador David Deadman the opportunity to enthuse others with the latin passion for perfectly slow cooked meat.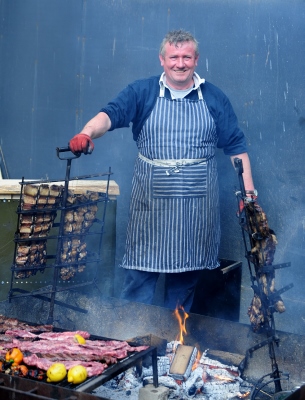 The complete antithesis to American BBQ, asado's are all about letting the meat and veg speak for themselves. No spices or rubs are added. The fire does the work. Very slow roasting over hardwood embers creates the most succulent and flavourful whole BBQ 8 hour lamb you will ever taste. Whole fish, sides of beef or chickens all equally benefit from grilling slowly over the embers.

Unique equipment is used, the same as you would see on the Pampas used by the Gauchos after a long day of herding cattle. Asador Criollos are used for ribs, an Asador a la Cruz takes a whole lamb and the angled steel of the horizontal parrilla BBQ cooks the fish and veg without allowing the fat to drip on the fire.
This intimate course (Max 12) is not just about the food but offers an insight into the history, language, countryside and lifestyle of Argentina where food is all about sharing time with family and friends. After a day of immersion each student can invite up to 3 guests to join us to enjoy the sit down feast. A bottle of Malbec Red Wine will be provided for each student.
The day is designed to give you all the knowledge needed to truly immerse yourself in Authentic Asado Cookery.
Course Plan:
Arriving at 8am to meet the tutor and talk through the day.
08:30 Hang the lamb on the Asador a la cruz, preliminaries of fire management, types of wood, history of the 'a la cruz' technique, make your own salmuera for basting the lamb.
09:15 Fire building in pairs. Learn the principles of making your own hardwood charcoal from scratch.
09:45 Introduce the meat and the various traditional cuts. Discuss butchery technique. Learn the intricacies of Argentine Chorizo, Morcilla, Pollo, Asado, Colita, Mollejas and entraña. Run through the different grilling techniques needed for the different cuts.
10:15 prep Parrilla BBQ, Chimichurri and Salsa Criollo
10:45 begin cooking the chicken and other 'start' cuts ready for Lunch. Learn timings, technique for each cooking each cut.
12:30 Have a proper sit down lunch with a glass of Malbec.
13:30 Pair up with a fire each to cook Asado, Pollo, Entraña, Colita and Mollejas. Introduce the Chapa hot plates for griddling vegetables.
14:00 - 17:00 Grilling Time. 2 Students assigned to each parrilla/fire. Monitor grilling, prep boards and tables for group feast.
17:00. Friends and Family arrive to join in the Asado feast including the amazing whole 8 hour lamb.
20:00 Local Callestick Ice Cream served as desert. Final toast and goodbyes.


Location: Cookery courses are run from Little Roseveth on the outskirts of the cathedral city of Truro. Full address details will be provided once you have booked. The cooking is done outside. In the event of bad weather shelter will be provided but please do come prepared if the weather looks poor. Courses will not be cancelled for bad weather.
Wine/drink: We are not a licensed venue. A bottle of Argentine Malbec Red Wine will be provided for each student. If you would prefer a different tipple let us know and we will try to accommodate.
Age: We would advise that this course is only really suitable for 18 years of age and upwards. Under 16's are very welcome to join us for the evening feast. Children remain the responsibility of their guardians at all times.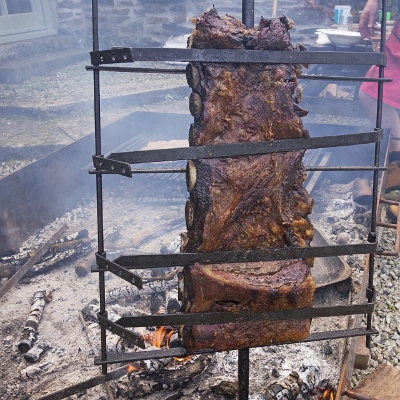 FAQs
Looking to buy this course as a gift?
If you aren't sure which date to go for please just get in touch and we can send you a voucher for use on any of the available dates. That way your gift can be made to suit them perfectly. info@sizzlegrills.co.uk or 07557805671
Where can I contact the organiser with any questions?
David is available at info@sizzlegrills.co.uk or Call 07557805671
Is there a minimum number for the course to run?
yes, we need a minimum of 5 guests for the course to take place. We will keep you informed of ticket sales. In the event that a date is cancelled tickets will be transferable to another date with choice given.
Is my registration/ticket transferrable?
Yes absolutely.