ASD & Family Relationships - The Curly Hair Project in Swindon
Thu 8 December 2016, 09:30 – 12:00 GMT
Description
Content:
A child's autism affects every member of the family in different ways. In this workshop we give insight and strategies on topics including:
parental expectations of the autistic child/young person
worrying about siblings
coping with meltdowns
decision making
Audience:
parents of teenagers and young children with ASD
families
This workshop is relevant to both males and females.
Feedback:
"Very positive focus and holistic advice on all aspects from the AS and NT perspective. Detailed focus on the effects of autism on the NT sibling."
"The whole session was relevant to the real family experience of living with Autism and offered insightful help and advice."
"The slides are a very simple and informative way to illustrate/support the talks."
"I liked the practical strategies offered for involving the AS family member in family life via prompting and household chores."
Hosts:
This event will be hosted by Susan Case, a Trainer for the curly hair project. Su is a great Trainer and has experience of ASD in her own family.
For more information about Su, visit www.thegirlwiththecurlyhair.co.uk/curly-hair-helpers.
Venue:
The room the workshop is being held in looks like this: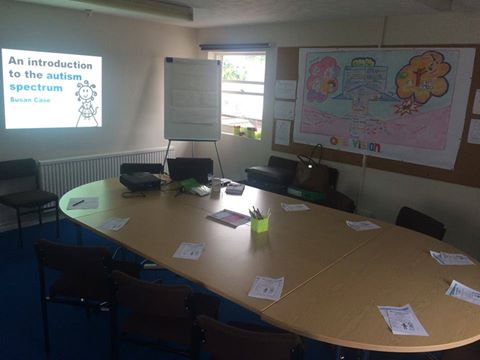 If numbers for this workshop are low, we will have no choice but to cancel it. Please check your email inbox and spam one or two days before the workshop is due to run as we will send you an email if it has been cancelled.