ASE Workshop: Practical physics for primary and early years
Description
Title: Practical physics for primary and early years ( - and any secondary teachers wanting inspiration or ideas for clubs.)
This workshop focuses on inspring pupils in physics and is hosted by two new amazing presenters, Ally Caldecote and Tracey Tyrell. This workshop will have lots of take-away ideas and you will leave with greater confidence teaching this section of the curriculum.
Presenters:
Ally Caldecote works in the Physics Department at the University of Warwick. With 7 years experience teaching in schools, she now works supporting local schools and teachers in their teaching of science.

She will be leading a session on pulleys. The session will be entirely hands on and interactive, giving ample opportunity for teachers to conduct experiments for themselves and grow in confidence. This is a safe environment to try out new things and not a performance session where you are expected to already know all of the answers!


Practical ideas to challenge misconception in physics. Tracy Tyrell C Sci Teach.

In this workshop I will share some of the ideas I use in my primary school which help teachers and children avoid and overcome misconceptions in physics teaching and learning. Children of all ages to make sense of the world they observe around them and may come to school with incorrect preconceived notions based on daily experience. These activities help to identify any misconceptions and provide experiences which help learners reconstruct their understanding. Some are simple, some need some preparation but all are tried and tested and offer pupils enjoyable, practical experiences. You will go away with some ideas that you can use in your school and put some fun and active learning into your lessons.

Tracey Tyrell is a full time science co-ordinator at Irchester Community Primary School
'I was impressed by the quality and range of science enquiry that was taking place, and the coordinated approach led by Mrs Tyrrell. Pupils clearly enjoy science, and were keen to explain their experiments. My visit …..has alerted me to some exceptional primary science practice.' - Dr Brian Cartwright, former Lead HMI Inspector for science
This is now a 'good practice' case study available on the Ofsted website.

In addition to these workshops the fee will include 3 free books Physics for fun and 2 Technology for fun, with over 70 full design and make projects suitable for class or after school science clubs.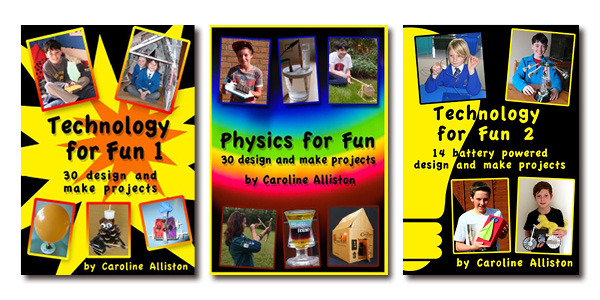 The first 20 people to book will also receive an extra free book, so book asap!
This workshop is arranged by ASE North and East Midlands.
Parking – School car park, can also park on the road on Sandfield Close or if need be, or even the church car park on the left as you drive in.