ASE Workshop: Practical physics for primary and early years
Description
Title: Practical physics for primary and early years (-and any secondary teachers wanting inspiration or ideas for clubs.)
This workshop focuses on inspring pupils in physics and is hosted by two new amazing presenters, Ally Caldecote and Tracey Tyrell. This workshop will have lots of take-away ideas and you will leave with greater confidence teaching this section of the curriculum.
Presenters
Ally Caldecote is the Ogden School Teacher Fellow at the University of Warwick

Tracey Tyrell is a full time science co-ordinator at Irchester Community Primary School
'I was impressed by the quality and range of science enquiry that was taking place, and the coordinated approach led by Mrs Tyrrell. Pupils clearly enjoy science, and were keen to explain their experiments. My visit …..has alerted me to some exceptional primary science practice.' - Dr Brian Cartwright, former Lead HMI Inspector for science 
This is now a 'good practice' case study available on the Ofsted website.

In addition to these workshops the fee will include 3 free books Physics for fun and 2 Technology for fun, with over 70 full design and make projects suitable for class or after school science clubs.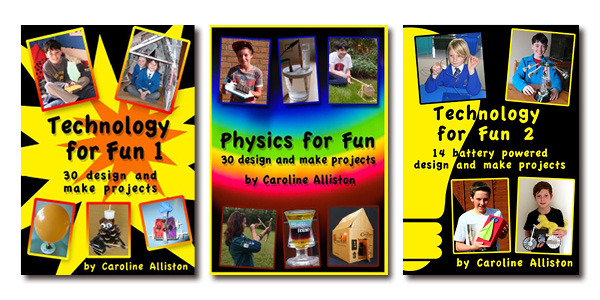 The first 20 people to book will also receive an extra free book, so book asap!
This workshop is arranged by ASE North and East Midlands.