About this Event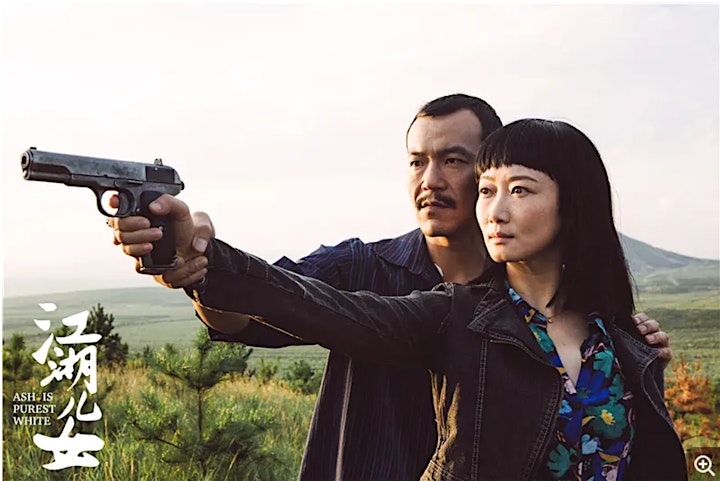 MOTI UK X FILMING EAST FESTIVAL
IMMERSIVE MOVIE EVENT AT
THE HIPPODROME CASINO
In collaboration with MOTI UK, we are delighted to organise this exciting immersive screening event at Lola's Room in The Hippodrome Casino. Ash is Purest White (The Sons and Daughters of Jianghu) is a tragicomedy gangster-style melodrama set from 2001 to 2018 in mainland China. It was selected to compete for the Palm d'Or at the 2018 Cannes Film Festival.
Synopsis - Qiao is in love with Bin, a local mobster. During a fight between rival gangs, she fires a gun to protect him. Qiao gets five years in prison for this act of loyalty. Upon her release, she goes looking for Bin to pick up where they left off.
The screening will take 136 mins and there will be a short performance and a few fun games before and afterwards. Drinks and snacks will be served, and you will also receive our secret gifts. The venue will create a late 90s to 00s disco atmosphere with neon lights and lanterns. Feel free put on your retro clothing, take photos and immerse yourself into the cinema world!
About Filming East Festival :
The Filming East Festival is a registered arts charity in the U.K. The aim of the organisation is to promote Chinese language film in the UK and in the West, while providing a platform for Sino-foreign communications and collaboration in the film industries.
About MOTI :
MOTI is a next-generation pod system that provides enjoyment beyond just flavours, offering you more pleasurable and sensorial experience in a stylish way. "We draw our inspirations of our brand name MOTI from the word "motivation." As an e-cigarette brand, our goal is to constantly push its boundary and striving for perfection. We hope our users are touched by our pursuit to present them with the best products."
This event is strictly 18+, please bring you ID. Thanks.
Enjoy the film and tell us what you think!
"Jianghu", directly translated as "rivers and lakes", is a very Chinese concept traditionally means the community of martial arts in Wuxia stories. But as the theme of this film, the director reinterpreted it in his own way through the lens of observing and witnessing the drastic social-economic transformation of modern China and the accordingly change of the mental and spiritual status of Chinese people.
The film is fictional but also realistic; retro but also futuristic; political but also nihilistic; surreal and at some point, almost psychedelic, but in the end, back to humanity and mundanity, which embraces the most symbolic elements of Jia Zhangke's work. This time, Jia almost turns into a feminist, the female protagonist Qiao, many women can absolutely relate to, finds herself strays into the Jianghu where she is forced to become a ranger, a swindler, a loner, dangling between black and white. But really, what a woman wants is pure, simple and consistent, until she wants nothing. After the screening, we can all ask ourselves: What is Jianghu and where it is?