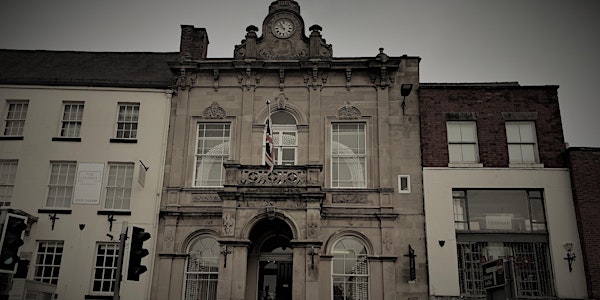 Ashbourne Town Hall Ghost Hunt, Derbyshire - Saturday 17th December 2022
Location
Town Hall
Market Place
Ashbourne
DE6 1ES
United Kingdom
Refund policy
Contact the organiser to request a refund.
Eventbrite's fee is nonrefundable.
Ghost Hunt at Ashbourne Town Hall in Derbyshire with Haunted Houses Events - Saturday 17th December 2022. 8pm-1am.
About this event
Ashbourne Town Hall has everything you need for a spooky ghost hunt. The rooms to investigate include the attic, cellar, ballroom and council chambers, where many strange occurrences have been reported. The hall was built in 1861 and was built on the site of an old Inn known to be a Den of Iniquity and much debauchery.
On a ghost hunt with Haunted Houses you will have exclusive access to the building/location during the evening. You will learn all about ghost hunting and the techniques used to encourage paranormal activity. We have a whole host of scientific ghost hunt equipment for you to use to aid communication with the spirits. You can take part in Ouija boards, glass divination and table tipping; the more traditional ghost hunt techniques. Or simply sitting in the dark and asking for the spirits to interact with you. Lone vigils (ghost hunting alone) will also be offered where available. During your evening you will be split into smaller groups so you can get the most out of your experience. If you are new to ghost hunting we warn you now – by the end of the night you may just become addicted to the fascinating and intriguing world of ghost hunting.
This is a real ghost hunt experience, there is no fakery, tricks or actors jumping out at you. What are you waiting for? Book your places today!
The town hall has many reports of strange occurrences. The onsite caretaker was in the building alone one day and claims to have heard loud footsteps coming from the ballroom above him followed by a terrifying scream. In the council chambers people have heard loud and continuous knocking coming from within the walls, disembodied voices, and the sound of footsteps growing louder and closer. Doors slamming, sightings of tall shadow figures lurking in the corners, slamming doors and objects being moved are all reported at Ashbourne Town Hall.
In a small room at the back of the chambers is a hatch that reveals a stone spiral staircase that leads down to the old cellars of the Talbot Inn. The stairs are now blocked of several steps down but when the hatch is open it is said paranormal activity increases and a foreboding atmosphere is present. One day, on a walk around the town hall, a woman entered the chambers and quickly had to leave as she suddenly fell ill.