A Forum for the Contemporary Art of Global Asias on 3 November 2021
About this event
Asia Forum is pleased to reconvene this fall with an exciting digital gathering on 3 November 2021, 12 Noon GMT. Please note that daylight savings has started, and to adjust your +hours accordingly.
Event sales has closed, but please join us via the Live Streaming link: https://artreview.com/asia-forum-fall-digital-gathering-2021/
In response to contemporary events such as the mainstream adoption of digital currency and the surge of non-fungible token assets, amidst ongoing climate change urgencies, this gathering seeks to bridge global concerns of exchange and flow across questions of capital and value, social relations and ecological anxieties. Please join artists Irwan Ahmett and Tita Salina, Ho Rui An, and Lawrence Lek in exploring diverse notions of liquidity via presentations of their artistic practices, followed by moderated conversations with the council members and the public.
The Asia Forum for the Contemporary Art of Global Asias is a platform envisioned for discourse surrounding experimental art practices and research that produce hopeful new worlds beyond the North Atlantic. The Asia Forum in 2021/22 is proudly presented by the Bagri Foundation as digital gatherings this spring and fall , and an inaugural one-day programme at the historic Fondazione Querini Stampalia on 23 April 2022 that will highlight the urgent themes in global circulation.
The still-unfolding events of 2020/21 have resulted in a fundamental reconfiguring of timelines and work practices. These changes provide an opportunity to imagine with artists, curators, researchers, and activists, a new worlding of contemporary practices. It is a chance to rethink the discursive conditions of art production and communities – a task given urgency by the rise of racism and xenophobic foreign policy strategies around the world.
The Asia Forum will bring awareness to and contextualise the fast-developing artistic practices and contemporary geo-politics of Asia/s. Its interdisciplinary approach and reflexive work will reveal and explore deep histories of exchange and flows, and overlapping concerns and heritages. It will engage a 'public' eager for discourse on urgent issues of climate, democracy, anti-racism, and creative agency for addressing global anxieties through the lens and engine of "Asia/s'.
Its presence in Venice will instigate exploration of pertinent themes in relation to the national pavilions and collateral events presenting the arts of Asia/s. It will provide the public with richer and deeper engagement with and understanding of the art of Asian artists represented in the Biennale, as well as the discursive conditions of its production.
Through its peripatetic platform of sustained dialogue and the exchange of knowledge, that will in 2021/22 be live streamed digitally via its exclusive media partner, ArtReview, the Asia Forum seeks to nurture a community among diverse researchers, artists, curators and producers interested and invested in the arts of global Asias. The fostering of these professional relationships offer an opportunity to collectively re-think global conditions, and the building of inter-community, cross-border solidarities.
Conceived by Annie Jael Kwan, the Asia Forum works with a council of international curators and researchers, Hammad Nasar, John Tain, and Ming Tiampo, in a sustained dialogue with contributors to navigate the key themes that have arisen in relation to contemporary artistic practices of Global Asias.

Irwan Ahmett and Tita Salina are self-taught artist duo based in Jakarta. Their initial work is to place the imagination through performative intervention in the midst of chaotic public space of megapolitan Jakarta, which faces the dilemma of uncontrolled urbanization and pollution. The development of networks in art and activist circles has encouraged their artistic practice to progress toward the more profound and deeper circumstances. They are currently working on a long-term project related to geopolitical turmoil in the Ring of Fire – Pacific Rim, the most prone region to natural disasters as well as traumatic consequences which is caused by the persistent ideological violence. They see their high mobility as the main vehicle to participate in residency programs, research, field study and exhibitions especially in specific areas, which are paradoxical such as some heavenly yet deadly beautiful places on earth. Irwan and Tita wanted to find answers about planetary anxieties in regard to human existence by means of evolutionary perspective and to produce knowledge through arts related to injustice, humanity and ecology.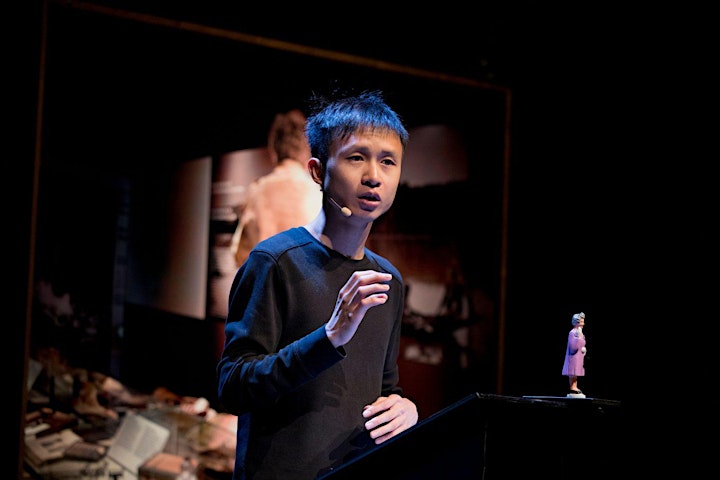 Ho Rui An is an artist and writer working in the intersections of contemporary art, cinema, performance and theory. Working primarily across the mediums of lecture, essay and film, he probes into the ways by which images are produced, circulate and disappear within contexts of globalism and governance. He has presented projects at the Bangkok Art Biennale (2020), Asian Art Biennial (2019), Gwangju Biennale (2018), Jakarta Biennale (2017), Sharjah Biennial (2017), Kochi-Muziris Biennale (2014), Haus der Kulturen der Welt, Berlin, Kunsthalle Wien, Musée du quai Branly – Jacques Chirac, Paris, NTU Centre for Contemporary Art Singapore and Para Site, Hong Kong. In 2019, he was awarded the International Film Critics' (FIPRESCI) Prize at the International Short Film Festival Oberhausen, Germany. In 2018, he was a fellow of the DAAD Berliner Künstlerprogramm.
Lawrence Lek is a London-based artist, filmmaker, and musician. Drawing from a background in architecture and electronic music, he creates fictional versions of real places, reimagined after alternative geopolitical movements and future technological conflicts. His characters are caught between human and machine worlds: digital nomads, AI satellites, and online superstars, all searching for autonomy under alien conditions of existence.
Recent projects include the video essay Sinofuturism (1839-2046 AD) (2016), the AI-coming-of-age story Geomancer (2017), the open-world game 2065 (2018), and Nøtel, an ongoing audio-visual collaboration with Kode9 (2016-). His feature film AIDOL (2019) was presented at International Film Festival Rotterdam and transmediale 2020 and at the British Art Show 9 (2021). Lek composes soundtracks and conducts live audio-visual performances, often incorporating playthroughs of his virtual worlds. Soundtrack releases include Temple OST (The Vinyl Factory) and AIDOL OST (Hyperdub). His work has been exhibited widely and he is represented by Sadie Coles HQ.
Photo Credit: Courtesy Art Basel.