GETTING MARRIED, NEED INSPIRATION, WANT TO BOOK THOSE ALL IMPORTANT SUPPLIERS? THEN THIS IS ONE EVENT YOU CANNOT AFFORD TO MISS...
About this event
THIS EVENT IS BOUGHT TO YOU BY ASIAN WEDDING DIRECTORY, THE UK'S LONGEST ESTABLISHED AND BIGGEST WEDDING DIRECTORY CATERING FOR SOUTH ASIANS LIVING IN THE UK & EUROPE.
WE'VE ALL HEARD ABOUT WEDDING EXHIBITIONS, SHOWS, FAYRES AND VENUE OPEN DAYS, BUT NOW EXPERIENCE SOMETHING TOTALLY UNIQUE.
ASIAN WEDDING DIRECTORY LIVE (AWD LIVE)
FOR THE FIRST TIME OUR EVENT IS TAKING PLACE IN WEST LONDON, USUALLY YOU FIND US ORGANISING THE LUXURY ASIAN WEDDING SHOWS IN THE MIDLANDS AND AWD LIVE IN NORTH WEST LONDON, BUT WE ARE IN THE HEART OF HEATHROW AT THE THISTLE LONDON HEATHROW HOTEL TERMINAL 5, BATH ROAD, LONGFORD, UB7 0EQ.
THIS EVENT IS YOUR ONE STOP SHOP FOR EVERYTHING WEDDING RELATED, WETHER YOU WANT TO BOOK SOME WEDDING ENTERTAINMENT OR JUST NEED THAT ONE PIECE OF JEWELLERY TO MATCH ONE OF THOSE MANY OUTFITS WE WILL HAVE IT ALL.
COME AND SEE WEDDING DECOR, PHOTOGRAPHY, VIDEOGRAPHY, WEDDING CAKE COMPANIES, INVITATIONS, PERSONNEL TRAINERS, WEDDING FASHION, JEWELLERY, HAIR AND MAKEUP ARTISTS, PHOTOBOOTHS, MAGICIANS, BAR COMPANIES, MARQUEES, CAR HIRE, TRANSPORTATION, WEDDING VENUES & MUCH MORE.
AWD LIVE BRINGS EVERYTHING FROM THE UKS BIGGEST ASIAN WEDDING DIRECTORY TO LIFE FOR ONE DAY. AN EVENT YOU CANNOT MISS TO CREATE YOUR BIG DAY
See our wedding directory here
A ONE STOP SHOPPING AND WEDDING PLANNING EXPERIENCE LIKE NO OTHER
A ONE DAY EVENT WE HAVE ORGANISED ON AFTER A NEARLY TWO YEAR ABSENCE IN WEST LONDON, WE HAVE CHOSEN THE THISTLE HOTEL FOR ITS EASY ACCESS, GREAT PARKING & PERFECT LAYOUT.
WE HAVE CREATED THIS LIVE EVENT WHICH SHOWCASES MANY OF OUR FAVOURITE AND MOST CREDIBLE SUPPLIERS. COME AND SAMPLE FOOD, SEE THE AMAZING OUTFITS ON DISPLAY & SEEK OUT THE BEST SUPPLIERS FOR YOUR BIG DAY, TALK TO PHOTOGRAPHERS, VIDEOGRAPHERS, CHOOSE PLAYLISTS WITH DJS OR ENTERTAINERS ON THE DAY, TAKE A SIP OF SOMETHING NICE AT A BAR OR SIMPLY JUST BROWES FOR IDEAS, INSPIRATION AND SHOP.
BOOK YOUR FREE TICKETS NOW, PLEASE FOLLOW US ON FOR UPDATES
EVENT SPONSERS:
COLORS TV • ASIAN STAR RADIO • COLORS GUJARAT
'OFFICIAL EVENT PHOTOGRAPHERS' AVIDA STUDIO
WE TAKE EVERYONES SAFTEY VERY SERIOUSLY...
OUR EVENT WILL BE TAKING PART IN COVID SAFETY PROCEDURES ON THE DAY, WE HAVE CREATED A ONE WAY SYSTEM, WE WILL ENCOURAGE SOCIAL DISTANCING, MASKS ARE NOT MANDATORY BUT WE WILL BE OFFERING THEM TO THOSE THAT WANT THEM, HAND SANITISERS WILL BE AVAILABLE AROUND THE VENUE ALSO.
FOR ANY MORE INFORMATION PLEASE FEEL FREE TO EMAIL US ON: info@asianweddingshows.com
See a selection of our previous events below, some great BTS footage and an insight into what to expect at our events....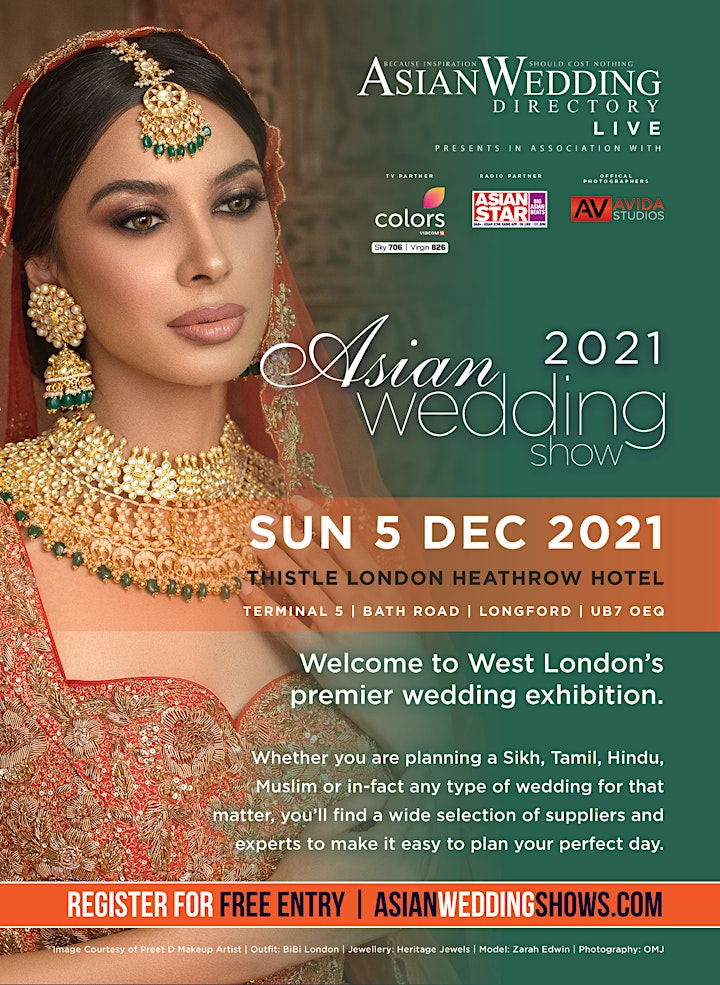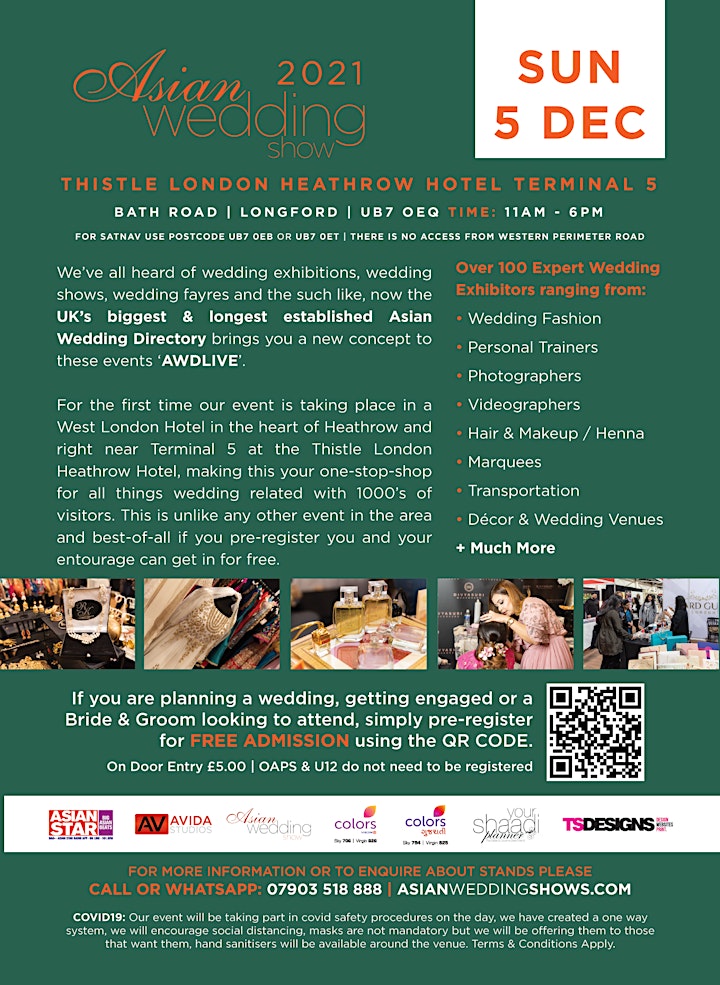 Organiser of ASIAN WEDDING DIRECTORY PRESENTS AWD LIVE (Asian wedding directory live)
​The Asian Wedding Directory is the UK's leading Asian wedding directory, helping couples in the Asian community plan beautiful weddings since 2008. Our nationwide, free publication is distributed to over 350 independent Asian retail outlets around the country annually, and is the only Asian wedding directory to be stocked in selected House of Fraser and Debenhams stores. 
Drawing on our network of industry connections and over twenty years of experience in professional event planning, The Asian Wedding Directory is proud to present the Asian Directory Live Event 2018 in conjunction with our partners and sponsors.