Description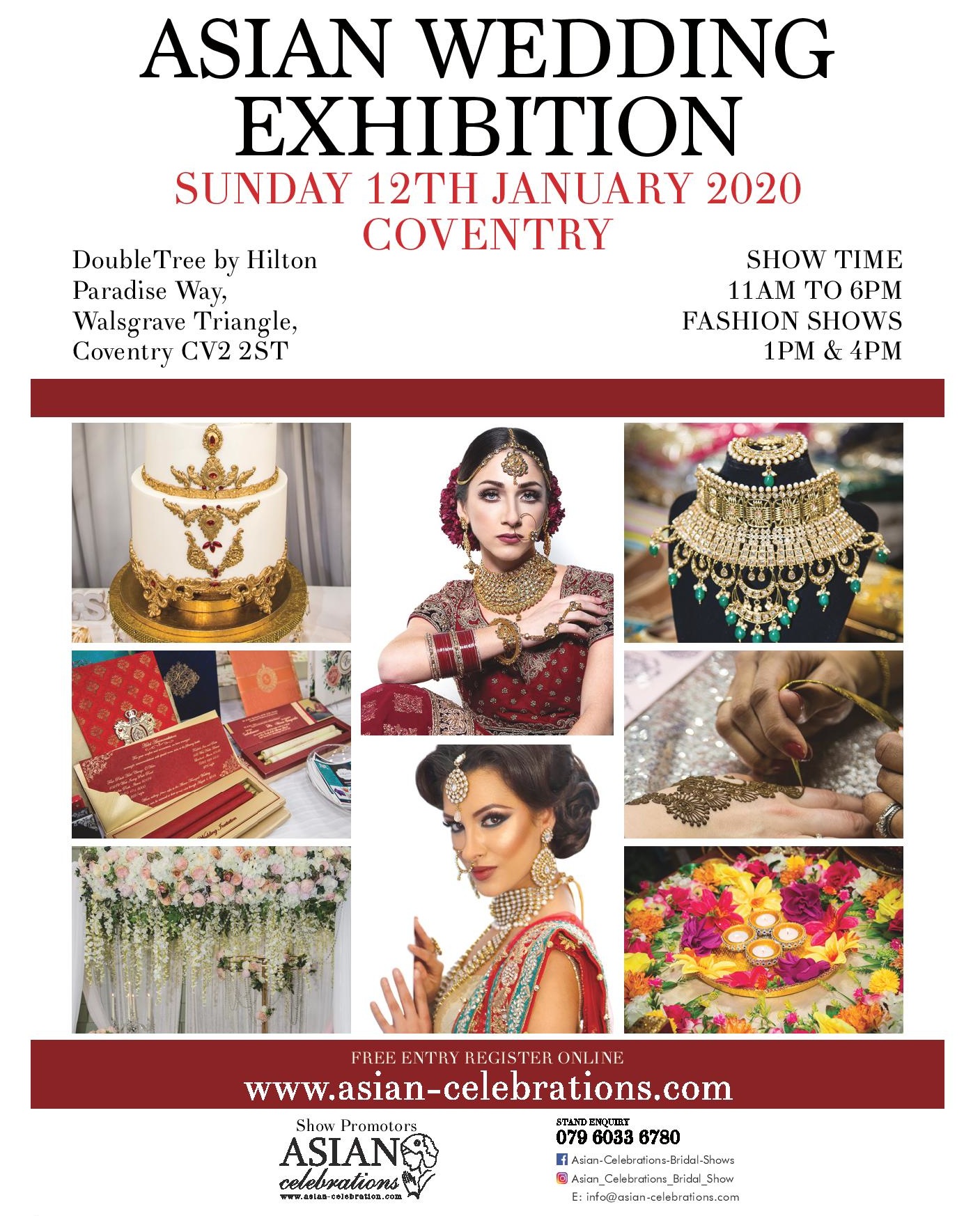 Following the success of our Wedding Exhibitions in other cities of the Midlands, Asian Celebrations are delighted to present, their first Wedding exhibition in Coventry on
Sunday 12 January 2020 at DoubleTree by Hilton, Paradise Way, Walsgrave Triangle Coventry CV 2 2ST SHOWTIME: 11 am to 6 pm
With 60+ Stands, Offering Brides, Grooms, and their families, TRULY INSPIRATIONAL ideas from a wide variety & some of the Best Wedding Service Providers from the Midlands.
This will include Bridalwear, Venue Hire, Decorations, Wedding Cakes, Stationery, Florists, Hair & Bridal Makeup, DJ's, Musician, Magicians, Honeymoon arrangers all and those extra things you may not have considered to make your BIG DAY extra Special.
FASHION SHOWS (Proposed): The glamorous Fashion Shows are an integral part of our Wedding Shows. The Catwalk will be located in the within the exhibition area at 1.00 pm and 4.00pm
(PRECAUTIONARY NOTES: Fashion Shows and some exhibitors stands may use Flashing & Strobing lights on the day. Like wise some exhibitors may provide food samples / complimentary sweets etc which may contain nuts and dairy products etc. If you or your guests are allergic to these lights or food products, please avoid the area or consuming such products)
FREE TICKETS: Please see below

*FREE PARKING* is available at the venue and surrounding area. (*Ensure you register your car at the Hotel reception)
FREE TICKETS: ONLY when you register online on this (EVENTBRITE) website. Registrations will close at 10.00 pm on the day of the event ( £2 per person at the door in aid of our nominated charity (TBC)
Please do not forget to share this event with friends and families
We look forward to seeing you at the show.
The Events Team
DO NOT FORGET TO ALSO VISIT OUR OTHER SHOWS:
Leicester 01 March 2020 @ The Morningside Arena Leicester LE1 3UD
For more details see our website