Appreciate the value of making yourself a priority and the power of putting yourself first at Asian Woman Festival 2021!
About this Event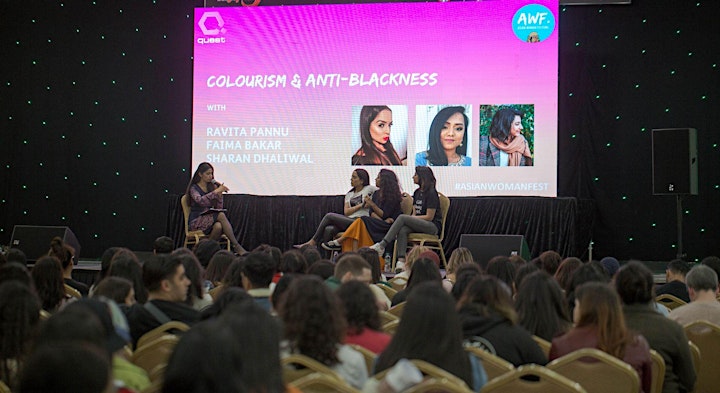 At Asian Woman Festival, we're in the job of empowering South Asian women and underrepresented genders to be activists of their own future. We do this through using culture, conversation and art to smash stereotypes and stigmas South Asian women and underrepresented genders are often judged by.
Everyone is welcome to attend, you don't have to identify as a woman or South Asian to attend. We encourage our allies to listen, watch, and deepen your understanding through our festival and content.
Whilst we're working on finalising all the details for the festival, you can register for your free ticket ensuring you don't miss out on our highly anticipated event of the year. You will also need to register if you would like to access the recording of the festival, if you're unable to join us live on the day.
All registered attendees will also receive a free downloable festival pack, full of activites, tips, resources and some special offers with our stallholders to encourage you to make yourself a priority.
In the meantime, the AWF shop has all the essentials to help you rep all the things you love about being South Asian! From unique hair clips to an empowerment calendar, we've got you covered!
Online Festival Information
Throughout this past year, we have been pushed the message time and time again that self-care is the key to helping us navigate these rocky times. However, for South Asian women and underrepresented genders, this can be more difficult to put into practice, especially when we have a history of putting others before ourselves and giving out all our energy, leaving nothing for ourselves. The AWF team began to notice that these expectations were negatively impacting us on an even bigger scale as the pandemic escalated.
We are a team made up of many women that come from all walks of life including students, mothers and entrepreneurs, with some losing their jobs and some moving countries during this period, but one thing we all have in common is knowing how difficult it can be to make time for ourselves. That's why we have decided that this year's Asian Woman Festival will focus on helping South Asian women and underrepresented genders understand the power of putting yourself first.
Through our amazing speakers and workshop leaders, we'll give you the tools to work on self-compassion, help you appreciate the value of making yourself a priority and the event itself will allow you to carve out some precious time for you.
Accessibility Information
Live captions and British Sign Language interpretation will be provided as standard.
About Asian Woman Festival
Our festival creates an open dialogue for South Asian people to explore and express their views in a safe space. If you're starved of the community you crave or just want to be generally inspired by other South Asians, then we've got an event for you, jam-packed full of inspiring, like-minded and talented South Asian women and underrepresented genders.
Follow us on social media for the latest updates #AsianWomanFest
More Information
We create a safe and open space at our events, for guests to speak honestly without the fear of repercussion. We ask that everyone who comes along agrees to come with a judgement-free, open mind. By registering for a ticket you are agreeing to comply with our Code of Conduct. 
We care about your privacy. If you purchase a ticket via Eventbrite, they will pass on your information to Asian Woman Festival. To understand more about this, our Privacy Policy describes how we handle that information. 
Kindly Supported By: