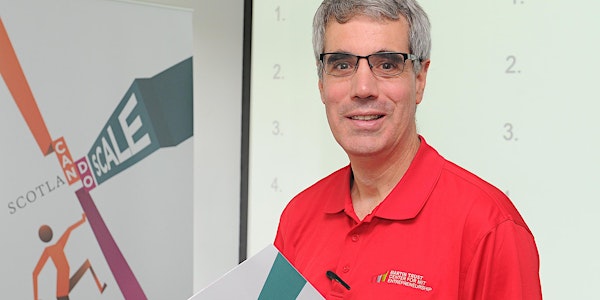 Ask Me Anything with MIT's Bill Aulet – Scotland Can Do SCALE 2016 preview...
Location
SW 2.04 Stenhouse Wing
Strathclyde Business School
199 Cathedral Street
Glasgow
G4 0QU
United Kingdom
Description
Are you an ambitious Scottish entrepreneur looking for support to scale up your business? If so, don't miss this exclusive free 'Ask Me Anything' session with Bill Aulet and the Scotland Can Do SCALE team.
The event will cover:
An introduction to Scotland Can Do SCALE – an exciting free training programme for entrepreneurs not afraid of heights
An opportunity to put your burning business scale-up questions to Bill Aulet – he invites you to ask him anything, from fundraising questions to building a team and understanding your customer
Networking with peers who are also scaling up exciting Scottish businesses
The chance to register on the day for free online entrepreneurship training with MIT and qualify to apply to attend a free five day summer school in Scotland this August
Don't worry if you can't make it in person, the event will also be broadcast via Periscope (please select a Periscope ticket below if you'd like to join via Periscope).
The Periscope streaming of the Bill Aulet event tonight will start at 6.30pm which is going to be networking time, with Bill on stage from 7pm - so it's best to join just before 7pm to see Bill, or you're free to join before if you're happy to watch people network (we'll introduce a few delegates via Periscope too!)
Please find below instructions for joining the event this evening via Periscope, there are several ways to view the broadcast - detailed below as A or B:
A) Download Periscope to a mobile or tablet, follow Scale_Scotland and then watch it live this evening
How to install and use Periscope on a mobile:
1) Download Periscope to either a Apple or Google Play device by searching for Periscope
2) Click the symbol with three people on the bottom right hand corner to search for an account, then search for scale_scotland
3) Click on the Scale Scotland profile and then click follow
4) Go to the profile after 6.30 and click watch live to see the broadcast
Or
B) Visit our Twitter profile https://twitter.com/SCALEscotland from 6.30pm onwards and the link to view directly will be there, just click on that and the broadcast will appear
If you have any issues joining tonight and need assistance please feel free to call us on 07884141152.
You can ask questions in advance using the hashtag #SCALEAMA
About Bill Aulet
Bill Aulet is the managing director of the Martin Trust Center for MIT Entrepreneurship at MIT and a senior lecturer at the MIT Sloan School of Management. Prior to joining MIT, Bill had a 25 year track record of success in business himself. He has directly raised more than $100 million in funding for his companies and more importantly has led to the creation of hundreds of millions of dollars in market value in those companies.
Bill started his career at IBM getting training and experience in technical, marketing, sales, financial, and international business operations and management. Upon graduation, he resigned from IBM and became a serial entrepreneur running two MIT spinouts as the president/chief executive officer (Cambridge Decision Dynamics and then SensAble Technologies). The latter became a two-time Inc. Magazine 500 Fastest-Growing Private Company. With a presence in over 20 countries, SensAble also won more than 24 awards and was featured in Fortune Magazine, BusinessWeek, The Wall Street Journal, and many other publications for its innovative products and strong business foundation.
Today, in addition to his work at MIT, Bill works with individuals and companies to become more successful through innovation-driven entrepreneurship. From single entrepreneurs trying to launch new ventures all the way up to large multi-billion dollar corporations seeking to achieve their goals through entrepreneurship, intrapreneurship, and innovation, the same fundamentals have been successfully applied. He writes as much as possible in places such as Xconomy.com, MIT Sloan Experts, The Boston Globe, the Kauffman Foundation, The Huffington Post and the MIT Entrepreneurship Review.
About Scotland Can Do SCALE
Scottish entrepreneurs with potential to scale-up their businesses are being offered world class training from Massachusetts Institute of Technology (MIT) and Harvard Business School with Scotland Can Do SCALE.
The programme has two strands, an introductory online course teaching how to put customers at the heart of a business and a residential summer school. Applicants must complete the online course (four modules each taking around four hours) to qualify to apply to summer school. Everyone taking part will be supported by Scotland's exceptional entrepreneurial ecosystem to develop and grow their business.
Funded and delivered by Highlands and Islands Enterprise, Scottish Enterprise and the Scottish Funding Council, and sitting under the Scotland Can Do government banner, the programme will inspire entrepreneurs to grow scalable businesses.
The deadline to complete the online course and qualify to apply for summer school is 29th April. To sign up visit the www.cando.scot/scale website and click sign-up today.