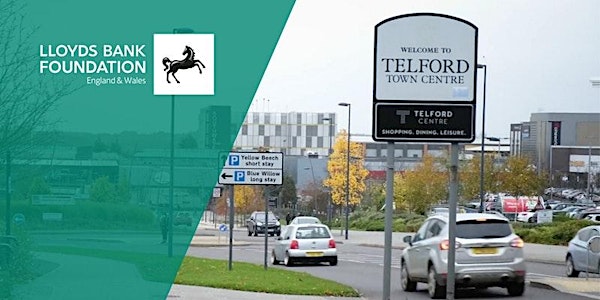 Aspiration: Unlocking Potential in Telford and Wrekin:Forming an Alliance
This next workshop will consider the forming of an alliance: an alliance that works collectively around a shared ambition
About this event
Aspiration: Unlocking Potential in Telford and Wrekin: Creating an Alliance
Join us on the 26th January 2022 (9.30-11am) to help shape the direction of this work.
At the last workshop the group discussed and agreed to further explore the different ways this work can be taken forward including forming specific focus groups (an alliance); conducting research via Community Researchers and co-production; focusing on identified impacts and to pursue neighbourhoods-based approaches.
This next workshop will consider the forming of an alliance: an alliance that works collectively around a shared ambition and one that can provide insight and input to the work at a local level.
Who is this workshop for?
This workshop is for anyone living or working within Telford and Wrekin who are interested in developing services linked to Aspiration:Unlocking Potential such as charities, CIC's. the local authority, public sector organisations; social landlords, education providers; funders and commissioners. The session will be of particular interest to those who are in senior or management roles. However, the workshop is open to anyone interested in finding out more or being involved.
Lloyds Bank Foundation has been working with Telford and Wrekin partners since 2019 to get to know the area and its people. We have been laying down foundations, determining strengths that already exist within the system locally, and considering a starting point for Aspiration:Unlocking Potential
More about this session
This workshop will be hosted on zoom, and we will send a link to those registered closer to the workshop date.
We aim to make all our events accessible, including a live transcription service for all our online events. If you have any accessibility requirements you would like to discuss for this session, please let us know on the registration form, and we will get in touch.
If you have any questions about this workshop, please get in touch: Telford@LBFEWcommunities.org.uk
The background to our work
This work will look at how bringing people together from across sectors and communities can ensure that people facing complex social issues can access services to have a positive future and thrive. These people may be experiencing abuse, drug and/or alcohol dependency, homelessness, mental health difficulties or a range of other issues.
This long-term work is different from the usual work of the Foundation. It isn't about making grants but about overcoming the challenges we are collectively facing by building collaborative relationships and looking at how resources can transform and strengthen services.
The work will involve people from across the whole area, including: those who commission services in the public sector; local businesses and the private sector; those who deliver services, in particular, those VCSE organisations who are often closest to need; Social landlords; People living in the community who may need or use services; Anyone who would like to be part of the conversation!