Empowering aspiring black leaders through collective effort and support.
About this event
Aspiring Heads is a Community Interest Company founded in 2020 to address the racial disparities in senior leadership within education in the UK and beyond. We believe that the lack of black representation in leadership needs to be urgently redressed, with currently only 1% of black headteachers in the UK compared to 96.5% white.
Our first Leadership Summit, a ZOOM supported event titled Elevating Black Leaders: Overcoming, Preparing, Moving Forward, will take place on Saturday 16th October.
The purpose of the #AHSummit is to inspire, educate and empower black aspiring leaders to feel much more confident with leading and making a much-needed impact. This event also welcomes individuals from all other sectors, nationalities, and backgrounds. We recognise this is a collective effort for positive change.
The event will run from 10am - 5:30pm with keynote speakers and optional workshops.
This professional development event is the first of its kind.
We welcome you to be part of something great!
Meet the speakers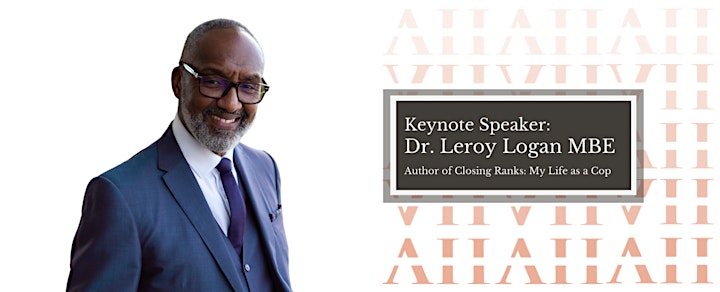 Dr Leroy Logan MBE is a former superintendent in the Metropolitan police. He retired in 2013 after 30 years' service. He is also a former chair and founding member of the Black Police Association.
Leroy is one of the UK's most highly decorated and well known black police officers. A highly respected and well regarded commentator on policing in black communities, he believes that there is still much work to do in creating a more equitable and fair criminal justice system.
Since his retirement, Leroy has built a reputation as a go-to person expert, using his decades of experience to give insightful, critical analysis on current events surrounding our justice system. He's been called upon by the likes of Channel 4, Good Morning Britain, The Guardian, LBC, BBC Radio 4, HardTalk and more.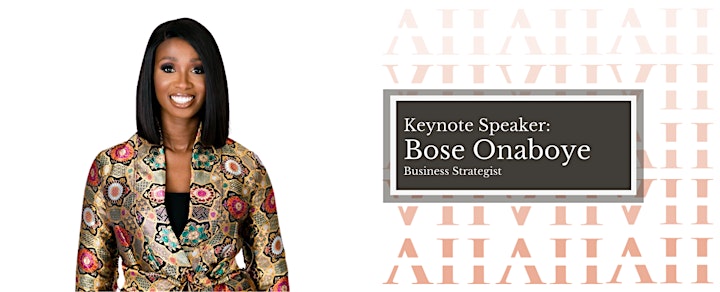 Bose Onaboye is a strategic visionary who is driven by the desire to use her knowledge of strategy, business development, entrepreneurship and engagement to build the capacity in small businesses. Bose set up Belong Women's Network in 2013 which is aimed at supporting women in business through mentorship, support and development programmes.
Holder of an MBA from a Russell Group University and a qualification in Chartered Marketing, Bose has worked as a senior leader within UK Local Government for over 10+ years, and specialises in strategy development, operational implementation, improvement planning and innovation design. Because of her keen eye for developing organisations, she also consults for SMEs in relation to branding, marketing and product development.
Bose is the Director of a strategic creative agency with a focus on producing digital and print lifestyle publications and the company provides marketing and PR solutions for organisations. Bose's aim is to engage the African market in thinking and using PR and marketing not just as a promotional tool but the way to increase profitability, generate long term users and to develop homegrown talent for emerging economic markets.
Bose through her business has provided services to organisations in Ghana from NGOs to wealth management agencies.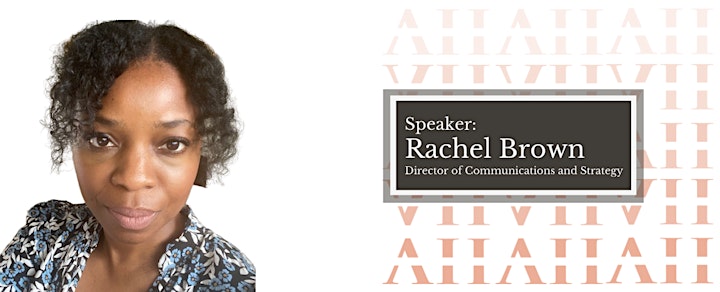 Rachel Brown is a highly experienced communications specialist with 15 years of experience across TV production and government communications. Her career began at the BBC, where she fought off 9000 hopefuls to become one of 10 chosen for the Trainee Assistant Producer Scheme. While there, she worked at CBBC, BBC Entertainment, News and Documentaries and had a series called Face the Music with David and Carrie Grant commissioned for BBC2. She joined ITV's Good Morning Britain as a News Producer after leaving the BBC, working on both the news and planning desks.
Her interest in politics eventually led her to a change in career, and she applied to join the government as a Press Officer. Her first job in government was as an Assistant Press Officer at the Department for Work and Pensions. From there, she has worked at the Department for Education, the Youth Justice Board, the Department for Digital, Culture, Media & Sport; and at No10 as the PM's Head of BAME Communications, where she worked for both Theresa May and Boris Johnson, advising on matters pertaining to the UK's ethnic minority groups and on issues such as Windrush and Theresa May's Race Disparity Audit.
Rachel left the world of Whitehall after ten successful years to work as Elisabeth Murdoch's Director of Communications and Strategy. Rachel is a committed Christian, a seasoned worship leader, a self-published children's author and, with her husband Julien, is a proud mother of three children.
Ife Thompson is an award-nominated UK-based Community Activist, United Nations Fellow, Black History Expert, Curator, Barrister and Writer. She campaigns for the rights of peoples of African Descent in the UK, as she believes we should live in a world where Black people can live free from Racism and Oppression.
She has founded two civil society organisations to further these pursuits. The first being BLAM UK- an award-winning Non-profit that provides educational, advocacy and well-being support for Black people living in Britain.
The second being Black Protest Legal Support UK . They provide Independent Legal observers at protests to monitor police intimidation.
​Ife was recently selected by the United Nations Office of Human Rights Commission, as the United Nations Fellow for the Decade for People of African Descent. Ife aims to ensure the activities of the Decade are properly recognised and furthered in the United Kingdom. She wants to ensure that the human rights of Black people locally and globally are better protected.
In October 2020 Ife was nominated for CJA Awards Outstanding Individual of the year.
Ife is also a Black history expert. Ife recently curated a project for The London Metropolitan Archives called 'Black Organising in the UK- Caribbean homes as a site of Black Joy and Resistance', she did this through looking at the life work of Jessica and Eric Huntley. She has also been the external Black history moderator for schools in the Lambeth Borough.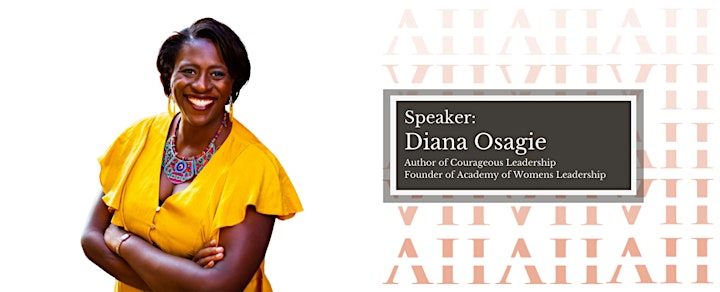 With 20 years' experience leading secondary education, including six years as a successful head teacher in a London secondary school; Diana works at the cutting edge of leadership development. She is known as a resilient school leader, skilled in urban leadership under challenging circumstances. Diana has substantial success in developing school wide models that strategically enhance the quality of teaching and learning across the curriculum and can couple sound strategic vision whilst giving clear operational direction. She lectures on a MEd in Educational Leadership for a UK university. Diana is also school inspector with developed expertise scrutinizing school wide systems.
Diana is the author of the book Courageous Leadership- An hour to quash the tummy flies in your butter! A humorous account of the highs and lows of leading in challenging circumstances, giving strategic insight to leaders who are serving at the chalk face and need someone to honestly share the mistakes,mishaps and triumphs of leadership.
With a proven track record of developing leaders via bespoke training programs, Diana founded The Academy of Women's Leadership; specializing in supporting women to grow the leadership cultures of their organisations and to flourish as leaders established in confidence, Diana has established capability in mentoring and supporting leaders facing challenging circumstances and change.
Successful leaders have someone in their corner who understands and has overcome similar challenges. We all need an advocate and that is what Diana becomes when you work together, She is an advocate for your leadership.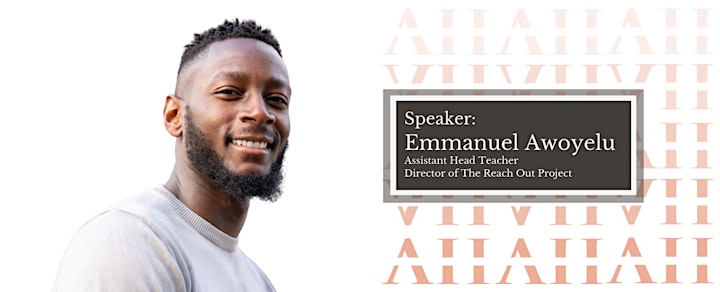 Emmanuel is an Assistant Head Teacher, SENCO and primary school Teacher with experience supporting children in both mainstream schools and alternative provisions. Emmanuel is a journeyman, undertaking his first role in education as a sports coach before moving up into the roles of TA, Teacher,SENCO and now Assistant Head Teacher. He has worked in education for the best part of a decade, spending 5 years of that time in Special Education where he supported children with Social Emotional and Mental Health Issues. Emmanuel's decision to to become a teacher was largely down to his own negative experience of school, where he was excluded in both primary and secondary school. His poor experience of school motivated him to be the teacher he never had in school. Emmanuel's life purpose is to change the narrative for children who are vulnerable and disadvantaged. His goal is to create his own school in the foreseeable future.
Emmanuel is also a school Governor and director of a charity called "The Reach Out Project" - a programme that supports young males who have been disengaged from education. Emmanuel is an avid writer with his work featuring on platforms such as The Guardian, UCAS and Tapestry. Emmanuel is a regular speaker on topics related to education, youth empowerment and masculinity. He is also the host for the Youtube podcast Goodman Factory.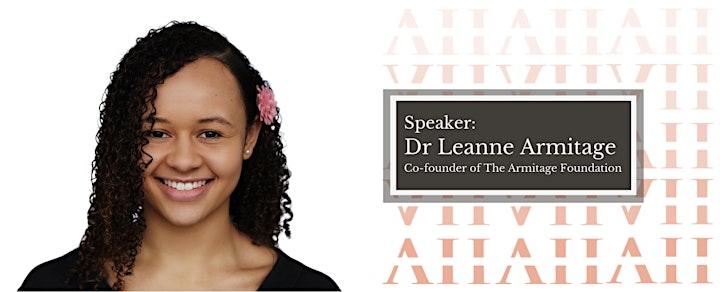 Leanne's ultimate mission in life is to inspire people to be the best version of themselves. She does this through sharing her story of the obstacles she has overcome in order to walk in her purpose.
In addition to this, she has a passion for healthcare. Leanne currently works as a junior doctor with interests in Emergency Medicine. In 2018 she co-founded a charity - The Armitage Foundation -which exists to increase diversity across UK medical schools. As a result of the work she has been doing through The Armitage Foundation, she was awarded the 2018 UK Queen's Young Leaders award by Her Majesty the Queen at Buckingham Palace. Leanne has also featured in the 2021 edition of the Future Leader's Magazine as number 4 out of 150 of the UK's most outstanding African-Caribbean students and new graduates. In 2020 she was named a LinkedIn Top Voice and has featured on several news channels including Channel 4 News, ITV News, BBC Radio, the Sunday Telegraph, the Daily Telegraph and the Evening Standard.
In her spare time Leanne enjoys exercising - she is an avid gym goer. She also loves socialising with friends and dancing!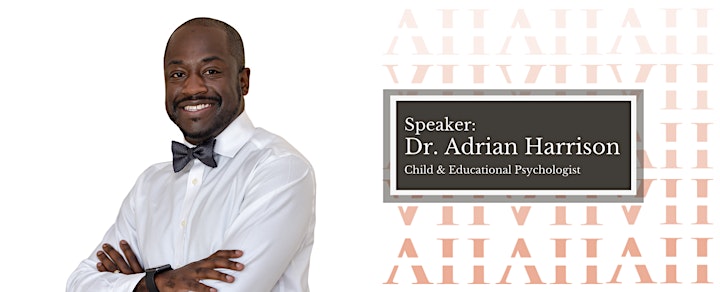 Adrian Harrison is a licensed psychologist in the UK and UAE. Adrian began his psychology career at the University College London completing his BSc. He returned to the University College London after several years to complete his Doctorate in Education and Child Psychology.
Adrian had previously worked as a Mathematics teacher in a challenging London Secondary School. He has experience in education within the UK, United Arab Emirates and Qatar. Adrian has over 15 years experience working with children with special and additional needs as well supporting schools and organisations in developing their inclusive and reflective practice. Adrian has worked alongside several leaders within educational settings in order to develop policies, systems, interventions and review procedures. 

Adrian has experience in the assessment of complex cases ranging from Early Years to more nuanced yet sensitive assessments with older children across broad cultural and faith based contexts.
Adrian's psychological contribution to his case work is of the highest quality demonstrating rigor, creativity, compassion and confidence.

Adrian is an advocate of the child believing that all children can make progress relative to their starting point once provided with sufficient assistance from knowledgeable adults.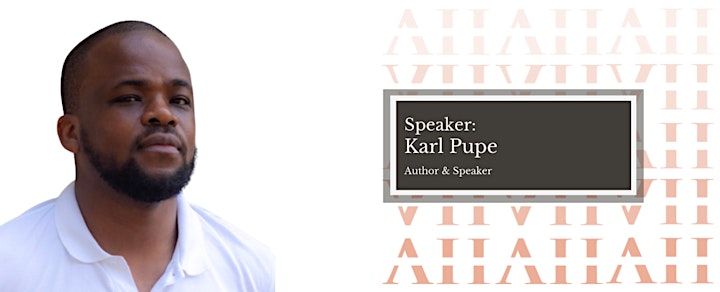 Karl C. Pupé is a qualified classroom teacher with a decade's experience across the Primary, Secondary and Further Education sectors. Specialising in Behaviour Management, he worked as a Not in Education, Employment or Training (NEETs) Coordinator teaching students with severe Social, Emotional and Mental Health (SEMH) difficulties. Karl has designed and facilitated rehabilitation classes for Year 8 to 11 students who have been excluded from Mainstream Education and were at risk of becoming NEETs themselves. Karl has earned a Level 4 ILM Diploma in Leadership and Management in Further Education.
Karl has worked with a number of organisations including the prestigious National Education Union which is the largest education association in Europe.
The 'Action Hero Teacher Blog' was ranked by the influential PR and marketing software company Vuelio as one of the 'The Top 10 Education blogs' in the United Kingdom in September 2020.
Testimonials
"Karl's approach to relationships and behaviour is fresh, credible and burns with authenticity. His work is practical and instantly usable. I would not hesitate to recommend him."
Kayleigh Oliver is Forbes featured small business owner and development professional with over 14 years experience in development and testing roles within award winning tech companies. She has extensive development and testing experience for websites, games, cloud services, mobile (iOS and Android), and virtual reality apps.
In 2017, Kayleigh created her development company, Junction 5 Studios, which develops its own apps and client projects for entrepreneurs, non-profits, charities, and small businesses. In February 2020, Kayleigh was a finalist for the Black Tech Achievement Social Good award. She was also featured in Forbes alongside a set of business owners giving her tips into entrepreneurship and business during the pandemic in December 2020.
Kayleigh is a mum of two and runs Junction 5 alongside her full-time role. Because of her first-hand experience being a minority in the tech space, Kayleigh is passionate about helping and encouraging women and other black individuals into the tech industry. She started this by sharing on her own website, guest posting, and speaking at events. She intends to use Junction 5 to help further this cause with her latest project, Figures of Black British Society (FOBBS). With FOBBS, she aims to create a platform that provides the user a comprehensive resource to learn about Black British figures both historical and current day leaders. With this resource, exposing the great achievements of Black Britons, she hopes to help inspire the next generation to dream bigger, be better, and achieve whatever they want.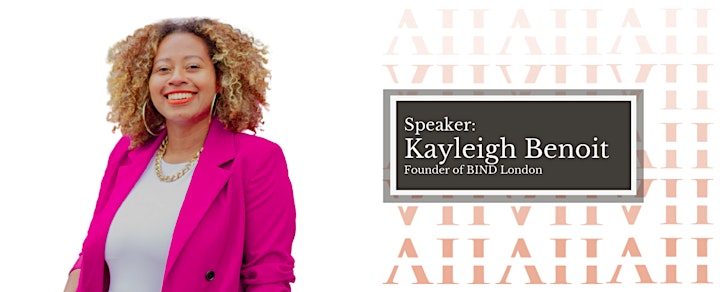 Kayleigh Benoit is the founder of the high fashion sportswear brand BIND London. BIND London is a fitness and athleisure brand specialising in headwear that's not only sweat wicking, but the first brand of its kind that is suitable for all hair types and textures.
Kayleigh was able to not only launch her brand BIND London during the pandemic, but also have a highly successful crowdfund just six weeks into lockdown, raising over £10,000 from over 225 people. She used this knowledge to lead workshops and consultations to help other businesses do the same.
Kayleigh's background is in education, having worked from Teaching Assistant to Leadership in the short space of six years. She founded BIND London whilst still in education, and decided to leave full time teaching to pursue her ambitions as an entrepreneur.
Kayleigh is also a professional network marketer and owns a nutrition centre in Ruislip, Middlesex. In addition she also works freelance as a Literacy Consultant helping Literacy Leads who work at some of the most disadvantaged primary schools in West London.
Kayleigh has been very transparent about her entrepreneurial journey over social media and aims to leave a 'blueprint' or breadcrumb trail of the transition from employment to entrepreneurship, in order to highlight the BTS of what it really means to 'become your own boss'. Kayleigh's mission is to bring more inclusivity in business. She enjoys working with ambitious, aspiring entrepreneurs, and helping them get started in business.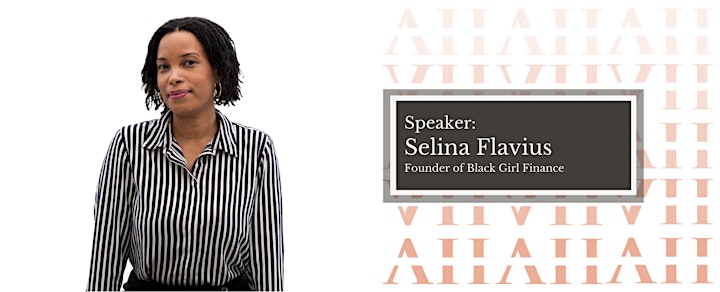 Selina Flavius is the founder of financial coaching company Black Girl Finance, she hosts a weekly podcast of the same name, is the author of one of the first personal finance books written by a Black woman in the UK called Black Girl Finance -let's talk money and creator of event Black Girl Finance Festival, which is a day-long event focused on getting women talking and thinking about finances. She is on a mission to make money conversations more inclusive and accessible to people from black and minoritised backgrounds.
After a 15 year career in business development, she decided to follow her passion for finance, and launch as a safe space for Black women and women from minoritised backgrounds to talk about money. She has also contributed to discussions in the UK media about financial inequality, she is a writer for money.co.uk and often features and contributes to articles in the media.
Selina also worked as a contributor to the Money and Pension Service 10 year financial well being Strategy. She has also created and delivered financial wellbeing workshops for the likes of Aviva, Natwest, PCF bank, Rathbone Brothers, Simply business and more.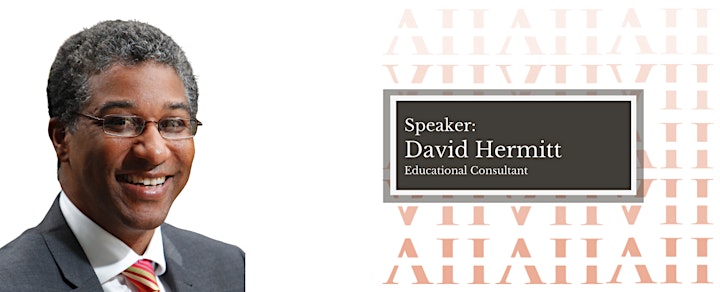 David is an Educational Consultant and former founding CEO of The Learning Alliance. This Multi-academy Trust currently educates over 4,200 children aged 3-19 across 8 schools in Cheshire and Staffordshire.
Since the 1980's, David has gained a wealth of experience of teaching, middle and senior leadership and Governance. A degree in Engineering and a keen interest in technology led to him into teaching across the STEM subjects, specialising in Physics. After rapid promotion he became the Headteacher of an inner-city secondary school at the age of 37. His second headship in 2005 saw him joining Congleton High School. He developed this school to become the highest performing school in Cheshire.
As CEO, he led the creation of a regional MAT (Cmat) with over 2,100 children by including two feeder primary schools. By 2015, in addition, he was recruited as an Inspector and providing consultancy services across the North-West. He was founding chair of the Chimney House Alliance, providing CPD and school improvement to schools across the North West. In August 2020, Cmat merged with Knutsford MAT to become one of the largest providers of Education in Cheshire East.
David is now employed as a Consultant by Enjoy Educational Services providing Universities, Trust Boards and Academies with leadership support. Alongside this he serves as the independent Chair of the School Forum for Cheshire East as well as Chair of the Diocese of Chester Safeguarding Panel. David is currently doing research as a doctoral candidate specialising in Equality Diversity and Inclusion.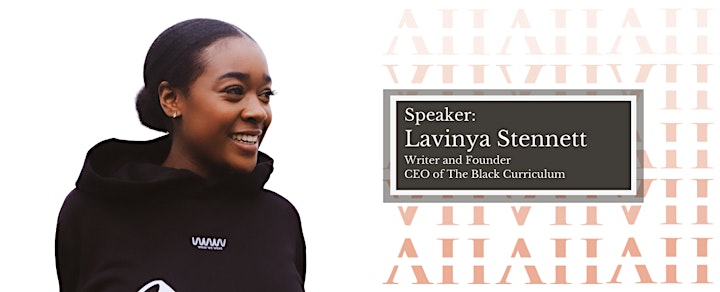 Lavinya is a writer, activist, and Founder and CEO of The Black Curriculum. She is currently writing her first book, 'Omitted' due to be published in March 2023 by 4th Estate. Graduating with a first class from SOAS in 2019, she has most recently authored a paper exploring Maroon ecology in Jamaica and Brazil.
Lavinya was recently named as one of the Sunday Times 50 Women of the Year and was awarded Trailblazer of The Year by Hello Magazine, as well as featuring in Vogue, and GQ for her activism.
The Black Curriculum is a social enterprise founded in 2019, working to teach and support the teaching of Black history all year round, aiming to empower all students with a sense of identity and belonging. They run teacher training programmes and audits across the UK, working with over 5 main cities to establish learning hubs, including the Greater London Authority and more. Since 2021, The Black Curriculum has partnered up with Pearson to meet their aim of embedding Black history in exam boards. They are also working with Universal Music to deliver their flagship programme - Springboard, which is an arts based Black history programme for 11-16 year olds.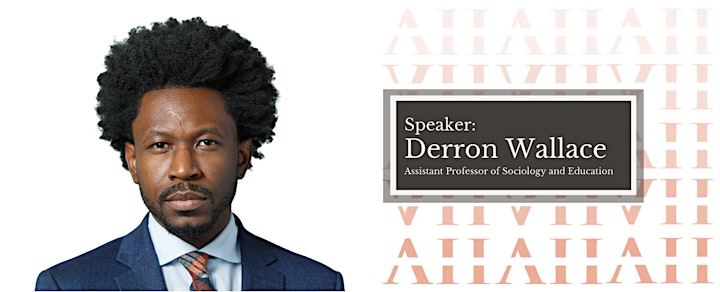 Derron Wallace is a sociologist of race, ethnicity and education who specializes in cross-national studies of inequalities and identities in urban schools and neighborhoods, focusing specifically on the experiences of Black youth. He received his M.Phil and Ph.D. from the University of Cambridge, where is was a Marshall and Gates Cambridge Scholar. His work has appeared in academic journals such as Sociology: The Journal of the British Sociological Association, the British Journal of Sociology of Education, Race, Ethnicity and Education, and Harvard Educational Review. His research has been supported by the Andrew W. Mellon Foundation, the Spencer Foundation, the Marion & Jasper Whiting Foundation and the Hutchins Center for African and African American Research.
Prior to joining Brandeis University as an assistant professor, Derron worked as the Founding National Director of The Posse Foundation, one of the premier university access programs in the United States. Before taking on this directorship, Derron served as a professional community organizer in London, working on youth safety, living wage, fair housing and immigrant rights campaigns.
With wide-ranging experiences in educational activism, analysis, policy and research, Derron has worked with nomads in Ethiopia, young people with disabilities in Rwanda, immigrant youth in London, economically disadvantaged rural youth in Jamaica, English language learners in Thailand and gifted students in New York City. He served as Special Assistant to the Minister of Education in Rwanda. He also worked as a consultant with local educational authorities in London.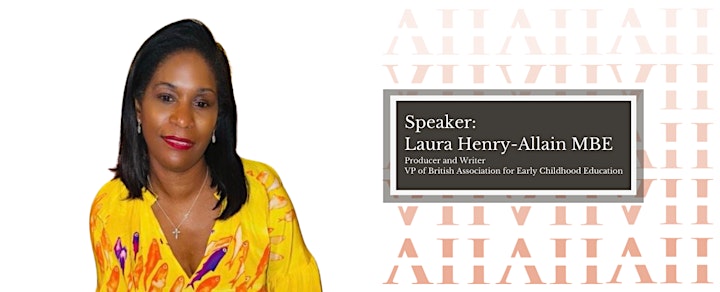 Laura Henry-Allain MBE is an award-winning international writer, speaker and consultant. She is the creator of the well-loved CBeebies characters JoJo and Gran Gran (the first black British animation in the UK) as well as the series' associate producer. She is also executive producer on a few shows that are currently in development.
She is the vice-president of the British Association for Early Childhood Education, and is an educational consultant for several well-known brands as well as children's media, television and publishing.
Laura's new children's book, My Skin, Your Skin, illustrated by Onyinye Iwu, explores race and anti-racism, and empowers children to be the best versions of themselves. It will be published in October 2021.
After leaving school at 16 with hardly any qualifications, Laura returned to education aged 19 and trained as an Early Years teacher. She is passionate about the voice of the child, their families, equality, inclusion and diversity. Her lived experience in this area is her autistic eldest son. She mentors and supports a number of young people. Nine years ago, Laura had 10 units of blood, which saved her life and was one of the catalysts for her positive and can-do attitude to life.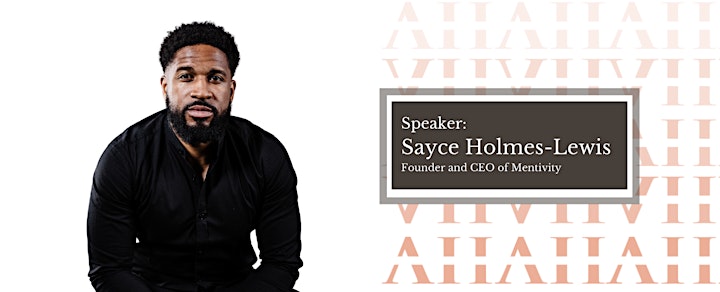 Sayce Holmes-Lewis is the Founder & CEO of Mentivity, an inspirational mentoring organisation that provides aspirational support for young people, schools, parents and carers across London, Brighton, Kenya and Uganda. Founded in January 2016, Mentivity continues to change the lives of many young people through their adaptable approaches and a proven record of expertise in coaching and mentoring support for young people. In March 2019, Sayce and Mentivity were the recipients of the 'National Mentoring Programme of the Year' award at The National Mentoring Awards. Following this, Sayce has appeared on Good Morning Britain, Panorama, Sky News, BBC News, ITV News, Channel 4 News, Channel 5, RT UK News, LBC Radio and the Victoria Derbyshire Show as a result of his dedicated work and youth advocacy with Mentivity.
During the COVID-19 Lockdown, Sayce and Mentivity launched The Raising Aspirations Project, in conjunction with the Goldman Sachs, a mentoring programme designed to raise aspirations within Black British young people. Mentivity were also awarded a £125,000 donation from the Goldman Sachs Fund for Racial Equity in June 2020, signalling the start of a long-term partnership with Goldman Sachs. In May 2020, Sayce was unjustly stopped & searched by the Metropolitan Police after being racially profiled, as he delivered food in his car to community members who had lost loved ones to COVID-19.
Sayce initiated a ground-breaking, solution-led training programme at New Scotland Yard in partnership with the Metropolitan Police to train officers on how to positively engage with the Black British community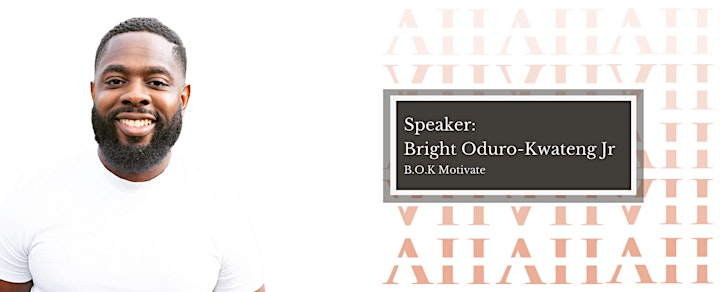 An Inspirational speaker equipping people to live purposeful lives. With Faith and Resilience being the undertone of all his speeches, you are sure to be left impacted with his energetic messages which will prompt you to action. In B.O.K Motivate's view, everyone is either a King or a Queen and such greatness and authority should not be taken lightly when seeking purpose.
A passionate motivator, he has the unique skill and art of articulating his message in a 'punchy' but yet thought provoking way. Breaking out from the 'concrete jungle' of south london, his own story of resilience is a great reflection of how he got started on his purpose and goals and has been consistent ever since.
It is also important to mention that B.O.K Motivate is a patriotic Ghanaian and was listed as one of Ghana's Top 30 under 30 a few years back (Me Firi Ghana) due to his accelerated career progression in project management in the pharmaceutical industry.
Please do let me know if you have any questions & I will be happy to answer. In the meantime subscribe to my YouTube channel and stay tuned on the videos I will be releasing over the next coming weeks.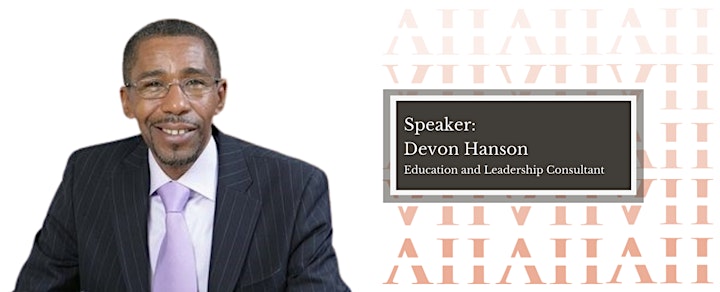 Devon Hanson, Education and Leadership Consultant, has a BSc (Hons) in Youth and Community Studies and Sports Science from Roehampton University.
Devon has been a Senior Teacher and Pastoral leader in six South London Schools for over 28 years impacting on thousands of young people.
He took on his first Headship role in 2007, in a school that was described by the DFE as being in the bottom 5% worse in the Country. Within 4 years DFE described the school as "The most improved in the Country", based on Value added. Devon received acknowledgment and recommendations highlighting his outstanding achievements and leadership from both major political parties at the time.
Devon is a committed and strong supporter of community development and engagement in order to strengthen school and community cohesion. He has been a visiting lecturer at Southbank University, Institute of Education, New College of Humanities and NPQH course lecturer and mentor.
Devon has contributed to several publications including TES, SecEd, Local Newspapers, The Gleaner, The Mirror, The Guardian, The Times, etc.
International presentations and seminars on School Leadership and Improvement in China, Holland, Jamaica, South Africa, Spain, Uganda, USA, Zambia, Zimbabwe.
Developing people is a forte of Devon. He goes that extra mile to know every member of his team and is a role model and coach for practitioners at all levels. In ten years as Principal, 10 members of his Senior Management teams went on to be Principals. Devon is a positive and inspiring representative for his community. He is a devoted professional, always willing to give his time to staff, student, parent or the wider community.
Date and time
Location
Refund policy