About this Event
Join us at the official launch of The Aspiring Women platform in collaboration with Harrow Council. We are inviting you to Aspiring Women Talks which will bring you inspiring stories from female entrepreneurs, seasoned business mentors and members of Harrow Council about the realities of running your own business.
We will be hosting an exciting panel discussion where our panelists from a range of backgrounds will share their raw accounts of being at the coal face of business; the highs, the lows, the challenges and how they overcome them.
Attendees will also get the chance to participate in a live pitching session where they get the chance to present their business in a brief elevator pitch to the audience. This is a great way to practice your pitching skills if you're about to meet potential investors.
If that wasn't enough to whet your appetite, we also have a very special headline guest in attendance!
We are thrilled to announce Rachael Corson, co-founder of leading natural hair brand Afrocenchix will be in conversation with our host, marketing entrepreneur Letitiah Obiri from Polkadot Digital.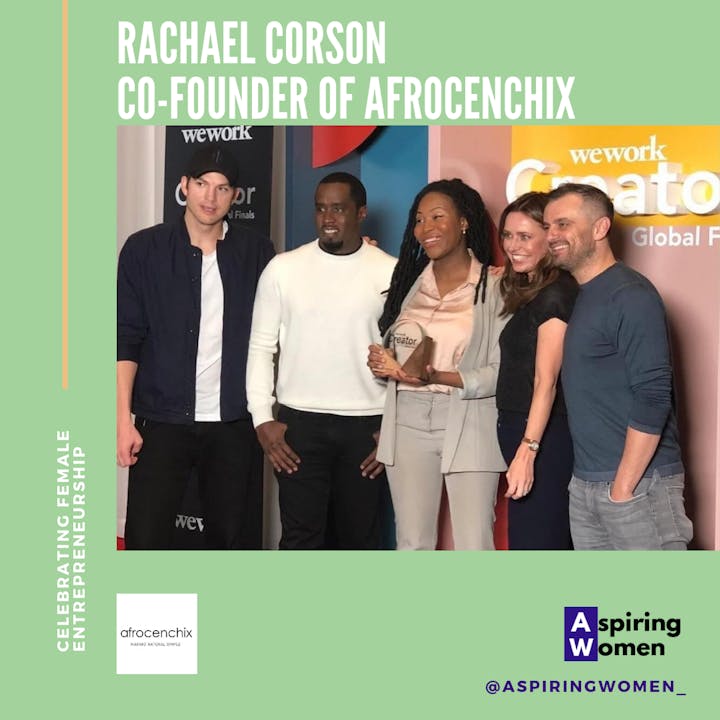 Afrocenchix has gone from strength to strength since launching in 2009. Last year it was crowned winner of the WeWork Global Creator Award and in total it won a massive $530,000k after pitching to a celebrity panel of judges including Ashton Kutcher, P.Diddy and Gary Vaynerchuk. Rachael will be sharing her incredible business journey and how she managed to achieve such huge success whilst raising a young family.
She will also be on hand to announce the winner of our Aspiring Women competition where one lucky recipient will walk away with an essential business startup package featuring special discounts and offers from our partners.
Aspiring Women Talks promises to be a fantastic evening of engaging conversation, fun networking opportunities and exclusive competition giveaways. Meet other female entrepreneurs and gain candid advice on how to run a successful business.
Register for your free ticket today!
*Schedule*
6 - 6.30pm: Arrivals
6.30pm - 6.45pm: Introducing Aspiring Women Talks
6.45pm - 7.30pm: Panel Discussion
7.30pm - 7.35pm: Pitch Your Business
7.35pm - 8.15pm: In Conversation with Afrocenchix co-founder Rachael Corson
8.15pm: Competition winner announced
8.15pm: Networking Drinks & Refreshments
*Panelists*
Teresa Faley: Founder of Letterbox Brownies and Winner of the Harrow Business Den 2019
Bali Rai: Economic Development Officer at the Harrow Council
Tatjana Apukhtina: Serial entrepreneur and Co-founder of tea subscription company, Teapro UK
Naima Omasta-Milsom: Co-founder of the London Business Partnership, Innovation Director at Brunel University, 15 years of experience in startup incubation and co-working
Joanna Abeyie: Managing Director of Blue Moon and Hyden, championing diversity and inclusion in recruitment
Aspiring Women Talks is Proudly Sponsored by:
The Aspiring Women Launch event is being held in collaboration with

About Aspiring Women:
Aspiring Women is a platform for inspiration and advice from entrepreneurial women. We bring you daily content on common challenges faced by female entrepreneurs across the world who have been brave enough to share their experiences as women, as leaders and as human beings. We hope that this will give you a realistic view of entrepreneurship and real-life examples of how you apply the lessons of female entrepreneurs to your own life.