Event Information
Refund policy
Refunds up to 7 days before event
Eventbrite's fee is nonrefundable.
The ASSC invites you to their Autumn Talks series, aimed at businesses & organisations involved in the self-catering sector.
About this event
FREE ASSC MEMBER EVENT - ENTER PROMO CODE
In light of the Covid-19 pandemic, and continued uncertainty regarding indoor gatherings, we have taken the very difficult decision to cancel our Annual Conference & Exhibition on 27th October 2020 at the Glasgow Hilton.
It is, however, extremely important to continue to share knowledge, build upon the extensive support already given to our membership, allowing continued networking and collaboration and continue to support our members. We have, therefore, decided to organise a series of weekly webinars – to be called "Autumn Talks" - commencing Tuesday 1st September 2020 at 11am, for the following six weeks .
Attendance of the Autumn Talks will be complimentary to ASSC members, adding value to the already cost-effective membership / £20 (£16.67 + VAT) including VAT plus Eventbrite fee* to non-ASSC members**. Members should use the Apply Discount Promo Code when booking, prior to going to check out.
Invitations will be extended to external partner organisations including the Professional Association of Self-Caterers, and Wales Tourism Alliance, as well as other industry associations and organisations in order to support the wider tourist industry at this critical time.
The webinar format will be based around 2 or 3 maximum presentations followed by a Questions & Answers session open to all participants, during a one-hour session.
Our fifth Autumn Talk on Tuesday 29th September at 12 noon (timing is different to other Talks) is entitled REGULATION OF SHORT-TERM LETS by the Short Term Lets Delivery Group, Scottish Government.
We are delighted to announce that Fergus Ewing, Cabinet Secretary for Rural Economy and Tourism & MSP for Inverness and Nairn will welcome attendees at the start of this Autumn Talk led by the Scottish Government's Short Term Lets Delivery Group on the regulation of short-term lets.
This Talk will include a presentation by Andrew Mott, Chair of the Scottish Government's Short-Term Let Delivery Group, Scottish Government and will will include a discussion around the regulation of short-term lets. In July 2020, the Scottish Government announced that they were resuming their plans, first unveiled back in January 2020, for the introduction of a licensing system, planning control areas, and a review of the tax treatment of short-term lets.
We are entering a period of engagement which provides an opportunity to properly assess and refine the detail of the regulations to ensure that there is an appropriate balance between the needs of local communities and Scotland's important tourist economy.  This will be an important one-time opportunity to connect directly with the Scottish Government's Short-Term Lets Delivery Group to discuss the proposed licensing and planning measures.
Fiona Campbell, Chief Executive of ASSC, will Chair the session.
All Autumn Talks will be recorded and uploaded onto the Members' page.
Questions can be submitted in advance of each Talk and we will endeavour to respond either during the Talk or thereafter. Please submit to joyce.borthwick@crescentevents.co.uk.
For more information about the Autumn Talks or to find out about sponsorship opportunities please contact joyce.borthwick@crescentevents.co.uk.
Terms:
* Cancellation Policy: refunds up to 7 days before the event.
** Joining ASSC: if you would like to join following attendance at an Autumn Talk, the £20 attendance fee will be discounted from your membership. Membership Joining Fee: £50 + VAT / Half year membership: £64.50 + VAT = total: £137.50 until 31st January 2021. To take advantage of this offer please get in touch with eleanor@assc.co.uk.
*** Your contact email may be shared with our 3rd party sponsors.
Book your ticket now for the launch event.   
The event is aimed directly at the people and businesses providing short-term let and holiday rental accommodation in Scotland. It will be an excellent opportunity for you to hear first hand from businesses and people working in tourism throughout Scotland.
We look forward to seeing you!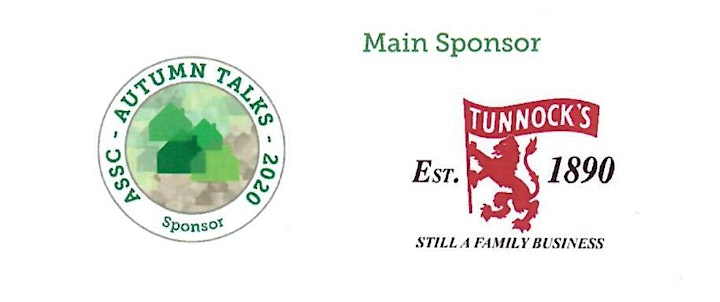 Date and time
Location
Refund policy
Refunds up to 7 days before event
Eventbrite's fee is nonrefundable.
Organiser of ASSC Autumn Talks: Regulation of Short Term Lets
Founded in 1978, the Association of Scotland's Self-Caterers (ASSC) is the leading source of knowledge on short-term letting and holiday homes in Scotland. The ASSC is the only trade body representing the interests of the traditional self-catering sector. It has more than 650 Members, operating in excess of 7,000 self-catering properties throughout Scotland, from city centre apartments, to rural cottages, to lodges and chalets, to castles. The ASSC commits its members to maintaining the principles of "quality, integrity, cleanliness, comfort, courtesy and efficiency" and to offering visitors to Scotland consistently high standards within their self-catering properties. The ASSC's vision is to place our members at the forefront of a professional, vibrant and prosperous Scottish self-catering sector.
 The ASSC has close links with other European countries, as founding members of the European Holiday Homes Association (EHHA). It is also a member of the Scottish Tourism Alliance Council. The Association works closely with local authorities and Scottish Government to support the self-catering and short-term let sector and has recently produced a Code of Conduct for members and a policy paper presenting a Long-Term Solution to Short-Term Letting.