Description


'Assemblage: art that is made by assembling disparate elements – often everyday objects.'
Named an assemblage to reflect the gathering of many different speakers, participants and formats taking place during the day, this event will launch the public programme at Walmer Yard and will take the form of a series of encounters and events held across the homes and centred around the theme of Domesticity.
Following a key note presentation in Walmer Yard's 'coats-on lecture theatre' by Shumi Bose, a series of workshops, smaller talks and film screenings will take place across the four houses, tackling the juxtaposition of the absence of technology in Walmer Yard with the current increasing presence of technology in our domestic environments.
Guests will be encouraged to explore the homes throughout the afternoon while the interventions happen in tandem across the spaces.
In the living room, the Feminist Internet will host a workshop exploring the gender stereotypes created by personal intelligent assistants like Siri, Alexa and Cortana and the implications this has on the design of our homes and domesticity.
Across the bedrooms Gonzalo Herrero Delicado, architecture curator at the Royal Academy of Arts, will host a series of conversations addressing the use of technology in the home. These will also explore the means in which we communicate with those who we live or share our domestic spaces with. From the bed Gonzalo will conduct conversations with speakers not just in the same room but also located in New York and Spain. Those joining Gonzalo 'in bed' include architecture practice Space Popular, curator of the Design Museum's latest show Home Futures Eszter Steierhoffer, and artists Fru*Fru.
In the kitchen Bompas and Parr will lead an exciting workshop reimagining the future of the napkin.
Conversations around the dinner tables will discuss how we use our kitchens, what the meaning of home means to those who have been displaced, houses as a place of work, and the changing nature of the private, social and romantic spaces of the home.
While in the media room showings of Ila Beka and Louise Lemoine's Koolhaas Houselife will explore the daily life of the housekeeper and those responsible for looking after Maison à Bordeaux, designed by OMA in 1998.
The day will conclude with a panel discussion and a drinks reception to celebrate the launch of the Baylight Foundation at Walmer Yard.
---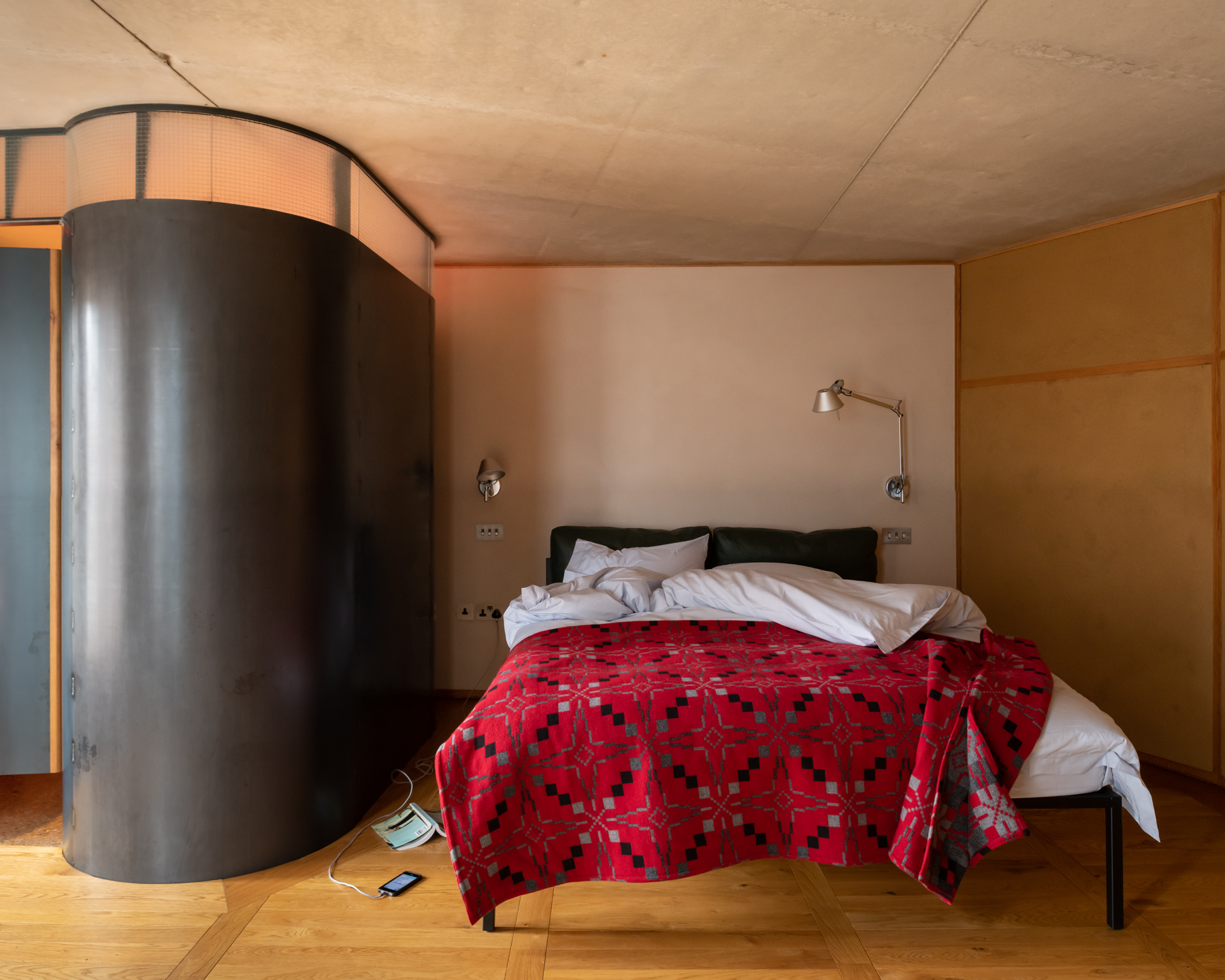 Participants
Shumi Bose
Shumi Bose is a teacher, curator and editor based in London. She is Senior Lecturer and Coordinator of Contextual Studies in Architecture at Central Saint Martins College of Art and Design. With Finn Williams and Jack Self, she co-curated Home Economics, for the British Pavilion at the 2016 Venice Biennale of Architecture.
Gonzalo Herrero Delicado
Gonzalo Herrero Delicado is a curator, writer and architect based in London. He is Curator of the Architecture Department at the Royal Academy of Arts in London where he has curated a number of public programmes, projects and exhibitions including Invisible Landscapes (2018-2019), Futures Found (2017) and the upcoming Eco-Visionaries (2019-2020). He is a tutor on the Curating Contemporary Design programme at Kingston University.
Feminist Internet
Feminist Internet is a collective made of a group of artists and designers who carry out work including research, consultancy, and public events which aim to advance internet equalities for women and other marginalised groups through creative, critical practice.
Bompas and Parr
Bompas & Parr is globally recognised as the leading expert in multi-sensory experience design. Bompas & Parr also founded the British Museum of Food, the world's first cultural institution exclusively dedicated to food and drink and has published six books that explore humankind's relationship with food.
Ila Beka and Louise Lemoine
Video-artists, filmmakers, producers and publishers, Ila Bêka and Louise Lemoine have been working together for the past 10 years mainly focusing their research on experimenting new narrative and cinematographic forms in relation to contemporary architecture and urban environment. Focusing their interest mainly on how the built environment shapes and influences our daily life, they have developed a very unique and personal approach to film.
Fru*Fru
Since 2010 Rosana Galián and Paula Vilaplana are Fru*Fru, a team for enjoyable architecture and cultural upheaval. They have worked on several projects between Madrid, London, Murcia and Alicante, exploring domesticity, media formats and contemporary mass media languages.
Space Popular
Space Popular is a multidisciplinary design and research practice led by Lara Lesmes & Fredrik Hellberg. Space Popular makes architecture, products, furniture graphics, interfaces and research.
Eszter Steierhoffer
Eszter Steierhoffer is an art historian and curator based in London. She is a senior curator at the Design Museum and was responsible for curating the museum's most recent show exploring predictions for the home by 20th century designers entitled Home Futures.
Caz Facey
Caz is a communications consultant in architecture and the built environment with a strong interest in how architecture relates to popular culture. She has worked in practices in her native Melbourne and London and went on to manage the awards programme at the RIBA. Now one of the Directors at ING Media, Caz's book on architecture and food - The Architects' Kitchen - will be published by Thames and Hudson in 2021.
Ioanna Piniara
Ioanna Piniara is a Greek architect, researcher and PhD candidate in at the Architectural Association. Her research explores domestic surveillance and the space of neoliberal privacy. The focus of her PhD research has shifted from the technological to the purely economic aspect of the architectural resolution of the private within the domestic realm, which has assigned a completely new meaning to privacy and has rendered privatization a key term of neoliberalism.
Dasha Tsapensko
Dasha Tsapensko is an architect and designer. She holds an MA in Social Design from the Design Academy Eindhoven. Currently a designer in residence at the Van Eyck Academy, she explores the role of private domesticities in terms of spatial restraints, segregation and social constructs. She has carried out a research piece entitled 'Domestic constructs of making out'.
Frances Holliss
Frances Holliss is an architect and Emeritus Reader in Architecture at the Cass. She is the director of the WorkHome Project, a research unit that investigates design for home-based work.
All photography by Jim Stephenson