Join manufacturing specialists from Industry Wales and ASTUTE 2020 outlining how the EU-Funded operation can support Welsh manufacturing
About this event
Join manufacturing specialists from Industry Wales and ASTUTE 2020 outlining how the EU-Funded operation can support Welsh manufacturing businesses to address the problems and challenges of returning to work to building long-term resilience.
ASTUTE 2020 technical experts will be on hand to discuss specific manufacturing challenges, opportunities and support available. Join us for short presentations and a live Q&A session.
Featuring discussions on:
Driving Productivity
Modelling Risks and Opportunities
Sustainable Materials
The event will be hosted by Industry Wales, Executive Chair, James Davies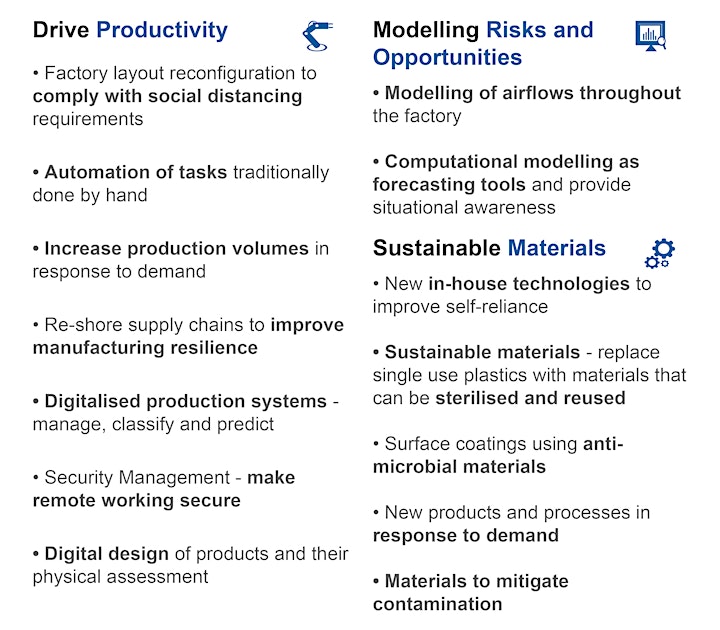 Organiser of ASTUTE 2020: Supporting Welsh Manufacturing Through Lockdown to Recovery
ASTUTE 2020
Working with the Welsh Manufacturing Industry Across Wales

---
ASTUTE 2020 will collaborate with the High-Value Manufacturing industry across Wales to stimulate transformational & sustainable growth by facilitating and de-risking the development and adoption of advanced technologies, increasing competitiveness and future proofing.
Find out here how you can Collaborate with us.
The ASTUTE 2020 (Advanced Sustainable Manufacturing Technologies) operation led by Swansea University in partnership with Cardiff University, Aberystwyth University, University of South Wales & the University of Wales Trinity Saint David will support industrial Research, Development and Innovation (RD&I) through world-class academics and a team of highly qualified technical experts and project managers. The operation has been part-funded by the European Regional Development Fund through the Welsh Government and the participating Higher Education Institutions.