Join us to toast Brian Moore on the 100th anniversary of his birth and enjoy the last night of our festival at The American Bar.
About this event
THIS EVENT IS NOW SOLD OUT.
This will be a relaxed evening in the beer garden, a chance to enjoy readings from some of Brian Moore's most popular books.
Our host for the evening is the brilliant actor/writer/comedian Tim McGarry, who will be joined by three fantastic actors: Maggie Cronin, Louise Matthews and Cillian Lenaghan
We promise you a wonderful evening filled with spoken word, laughter and of course a drink or two!
Readings will include excerpts from:
The Lonely Passion Of Judith Hearne
Emperor Of Ice Cream
I Am Mary Dunne
Feast Of Lupercal
Fergus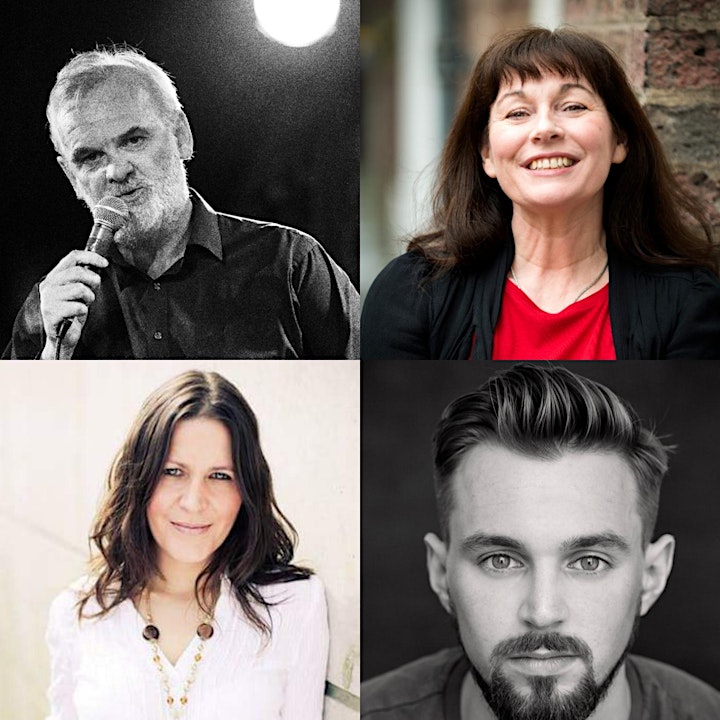 Tim McGarry is a former lawyer turned actor, writer and broadcaster. He has worked extensively on television, radio and stage. He is best known for co-writing and starring as Da in BBCNI's hit sitcom Give My Head Peace. Tim is also the host on the award-winning comedy panel show, The Blame Game. He co-writes and stars in A Perforated Ulster the topical sketch show on Radio Ulster. Tim has wide experience as a stand up, solo performer, presenter and after dinner speaker. As well as comedy Tim was executive producer on Pop Goes Northern Ireland an archive programme for BBCNI that deals with the history of the Troubles in NI. He co-presents The Long and the Short of It - a documentary series for Radio Ulster exploring controversial aspects of Irish history with Orangeman Dr David Hume.
Maggie Cronin's career spans many genres with numerous TV, film, stage, radio and voice over credits. She is also currently undertaking a full time Practice as Research PhD at Queen's University, Belfast. Recent film work includes short film Gravest Hit, (LA Shorts International Festival). Previous credits include feature film Zone 414, starring Guy Pearce and the Academy Award winning short film, The Shore, directed by Terry George. For theatre, she has appeared on London's West End, New York's Broadway and many points in between! Her first solo show, A Most Notorious Woman, won the Stewart Parker Trust/BBC Radio Drama Award (publisher: Lagan Press). Maggie recently recorded Haven, by Alice Malseed (Director: Rhiann Jeffrey) and Bloodlines by Vittoria Cafolla, (Director: Emily Foran), for the Listen at the Lyric series. She is currently playing the role of Colette in Maria Connolly's new play, Conversations with Angels (Brassneck Theatre).
Louise Mathews trained at Gaiety School of Acting, Dublin. Louise's play "Immaculate" with Tinderbox Theatre Co. directed by Patrick J O'Reilly featured as part of Dublin Pride through Dublin International Gay Theatre Festival and LGBTQ Unbordered Film Festival Delaware. She is currently in rehearsal with Brassneck Theatre Co, in Conversations With Angels, by Maria Connolly and recently appeared in Kabosh Theatre Co's Shedding Of The Skin, by Vittoria Caffola. Louise recent film work includes Ballywalter and Here Before by Stacey Gregg, Nowhere Special by Uberto Pasolini and Last Right written by Aoife Crehan. She appeared in Hansel and Gretel in the MAC. Other work includes Here We Lie for Rawlife Theatre and Sinners by Marie Jones in Lyric Theatre. Louise is a collaborator with award winning ANU Productions, Dublin. Awards include: Boys of Foley Street, Best Production, Entertainment.ie For Sunder; Irish Times Theatre Awards, Judges' Special Award: ANU Productions, Immaculate, Winner, Merit Award LGBTQ Unbordered Film Festival Delaware.
Cillian Lenaghan - In 2019 Cillian completed training at the Lír Academy at Trinity College Dublin (3 year BA Acting). Soon after he completed a tour of Northern Ireland in Davy Anderson's BLACKOUT for the Lyric Theatre. Cillian then went on to perform in THE LIEUTENANT OF INISHMORE at the Gaiety Theatre, Dublin. Having nearly completed a sold out run of the show the curtains came down with four more shows to go as Ireland went into a national lockdown. As lockdown restrictions eased, he was able to complete filming for the role of Paul O'Keeffe alongside Kerr Logan and Ian Beattie in the TV series THE SPECTACULAR directed by Willem Bosch. He has just wrapped filming the role of Dee in the feature BALLYWALTER by Stacey Gregg, directed by Prasanna Puwanarajah.