Atcha-Atcha! Embodying Acogny Technique

Saturday, 4 October 2014 at 10:00

-

Sunday, 5 October 2014 at 19:30 (BST)
Event Details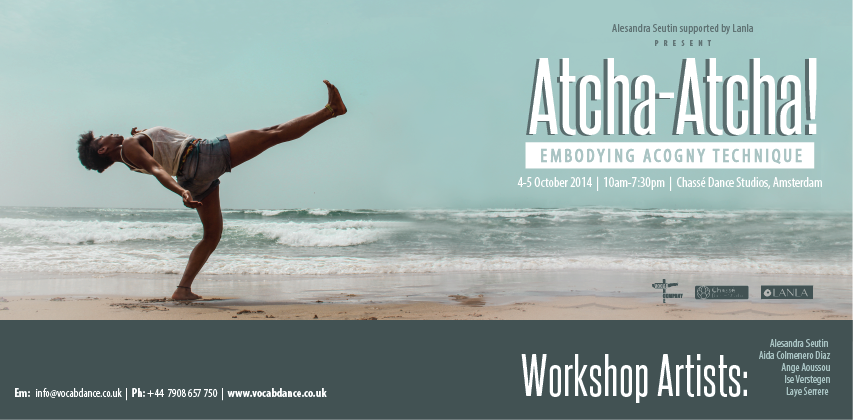 ATCHA ATCHA!
Alesandra Seutin/Vocab Dance brings to you "Atcha-Atcha! - Embodying Acogny Technique", a special weekend of dance classes all based on Germaine Acogny's Technique.
"Conscious body, timing, inner and external rhythm. Community. Focus on the spine. The freedom of the body through discipline – that's Germaine Acogny's Technique".
You will receive a unique opportunity to discover its essence and versatility via an exciting weekend programme, led by certified Acogny teachers; delivering Acogny, Ballet, Contemporary, West African Traditional Dances and Afro-Fusion, all based on Germaine Acogny 'The mother of African Contemporary Dance' principles/methods. You are guaranteed to live in motion with full joy!
TEACHERS
Alesandra Seutin/Vocab Dance Company (South Africa/UK)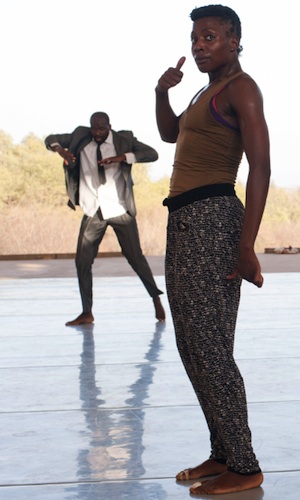 The creative mind behind 'ATCHA-ATCHA!', an international platform for Germaine Acogny Technique to touch the world and to reach audiences form all styles of dance!
Alesandra Seutin was born in Harare, Zimbabwe, grew up in Brussels and now lives in London.
She studied dance in different parts of the world including Europe, Africa and the United States. She holds a Diploma in dance theatre from Laban and a degree in choreography and performance from the Middlesex University.
Alesandra Seutin was formed in African and contemporary dance at the École des Sables of Germaine Acogny where she has also worked with choreographers Pierre Doussaint, Nora Chipaumire, Flora Thefaine, Gabriel Smeets, Rui Moreira and David Zambrano. 
Alesandra Seutin also holds a diploma in Acogny Technique after completing 3 years of training with Germaine Acogny's École des Sables/Jant-Bi in Senegal. She is one of 17 artists to have received this training and the only one in the UK!
She has been a performer for contemporary, African, hip-hop and theatrical/musical productions. She went on to found Vocab Dance Company in 2007, to focus on her own choreographic work, a fusion between movements, text and music to create what she calls dance Afropean Dance Theatre. www.vocabdance.co.uk 
She also received in 2012, the PEARLS price for 3 short films she choreographed in honour of the Olympic Games London 2012; the films have successively been shown in Europe, the Brazil and San Francisco.
She is the recipient of ADAD Trailblazer Champion 2014-15 Award, for her continuous contribution to the African dance and its Diaspora in England.
Aida Colmenero Diaz / Lanla (Spain)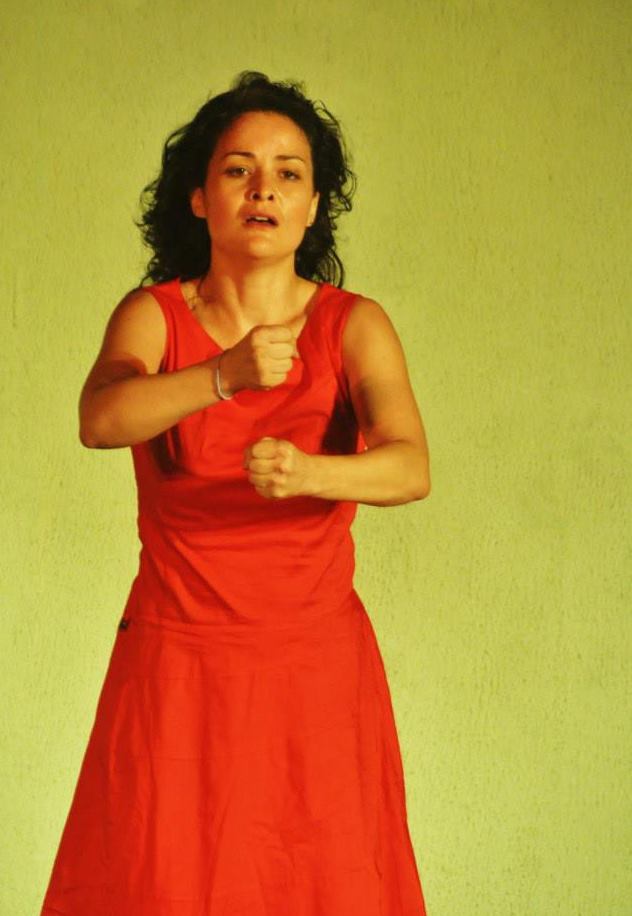 Aïda started her career in Cristina Rota Drama School, after she received her title in Contemporary Dance in the Real Conservatorio Profesional of Dance "Mariemma" of Madrid. She has been awarded twice by the Ministry of Culture of Spain and AECID
She is the only spanish person to obtained the diploma in Acogny technique by Germaine Acogny, at the École des Sables, Senegal.
In 2009 she was selected to participate in two international professional workshops: "Transmission of Pina Bausch ́s technique" by Kiomy Ichida, in Action Dance, Morocco and "A New Step, Training in Traditional and Contemporary African Dance" in l'École des Sables, Senegal ".
She has developed her educational project "Africa Danza Training Program" in Morocco, Senegal, Nigeria, Ghana, Cape Verde Islands, Tanzania, Guinea Conakry, Madagascar, Gabon. She has created duos such as: "Café Toubab" with Alioune Diagne (2009),"Dos Porta" with Djamilson Barreto (2011); "Fudu" with Papa Sangoné Vièira (2012). She is in tour with KM.O Project "Preludio", created by the Spanish choreographer Paloma Sánchez. She was invited as a choreographer by Arigato International in the 4th Forum Global Network of Religions for Children, in Dar es Salaam 2012. She has collaborated as a special guest in "Day of African Child" organized by United Nations in Praia. http://www.lanlamove.com/ 
Ange Aoussou / Cie Ange Aoussou (Ivory Coast/Germany)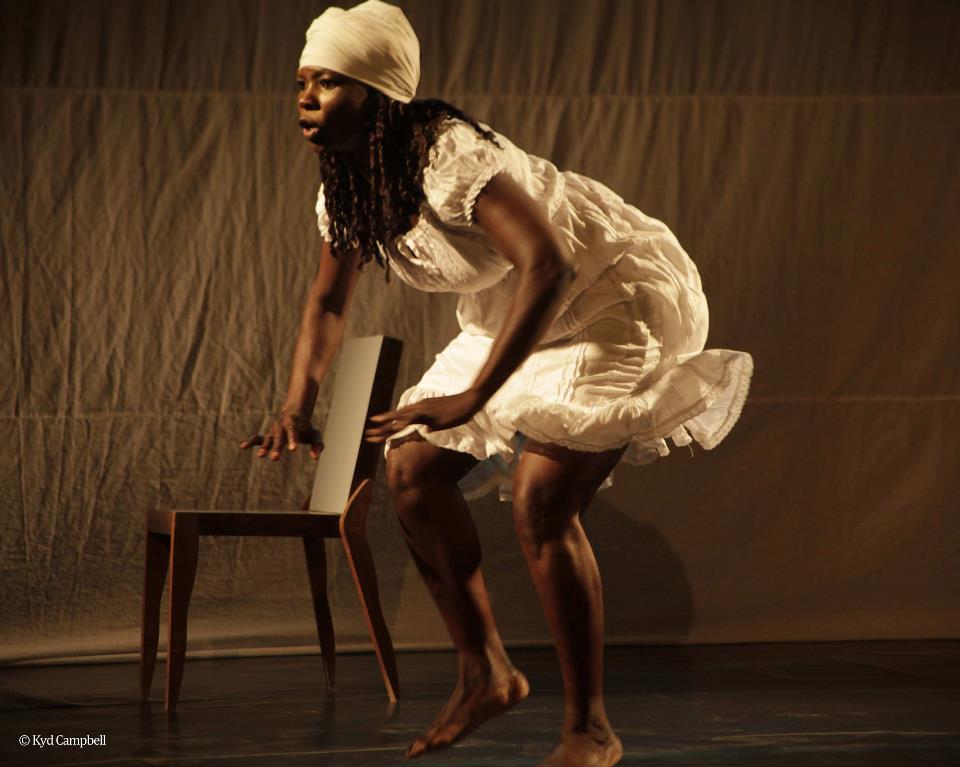 Ange Aoussou-Dettmann, was born in Ivory Coast and trained in traditional African dances at the Djolem Institute in Abidjan under the guidance of Mr Salif Coulibaly. Ange went on to train at village kiyi m'bock of Abidjan, where in addition to dance, she developed vocal and theatrical skills. Her journey has led her to work in different countries with great choreographers and directors such as Germaine Acogny,   Nora Chipaumire, Niclas Christmas, Anouchka Brodachz, Kettly Noel, Pedro Pauwels, Moïse Touré, Patrick Acogny, Tonia Schilling etc. 
She toured extensively with choreographer Jean- Claude Gallotta and Moïse Touré in the work "2147, l'Afrique", she danced for the company "Koteba D'abidjan", under the direction of Souleymane Koly.
In 2009 she won the Award "Visas for creation!" with the support of Cultures France, which led her to create her solo "Anna, my lovely". 
As an independent choreographer she worked on 'Kouma Kura" with the Centre International Centre of theatre in Ouagadougou, her international collaborations include collective creations with Zonzama Company of Congo Brazzaville.
Aoussou's experience has given her the opportunity to teach West African dances, African modern dance, jazz and contemporary dance. After all these years as a professional dancer and choreographer, Ange has developed a pedagogy that allows her to teach and share her art.
Since 2013, Ange Aoussou is a graduate of the Germaine Acogny technique, which she was awarded after 3 years of training. Ange Aoussou is currently the Director of the festival "One step forward" which is programmed in Ivory Coast, welcomes local & international artists, and is in its 3rd edition
Ise Verstegen / UniYoon & Lanla (Holland/France)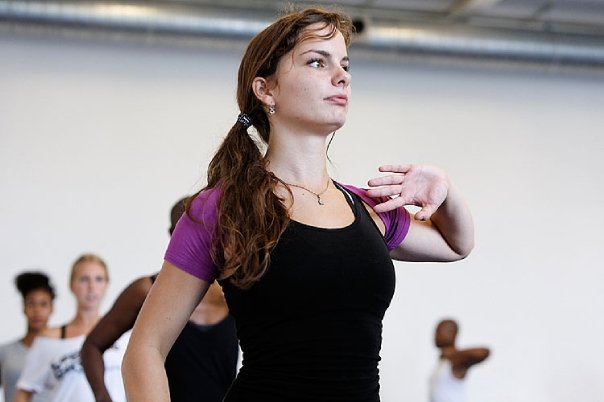 Ise is working internationally as a dance artist, building bridges between African and Western dance and aesthetics.
Two years after obtaining her bachelor of dance in education at the Amsterdam School of the Arts, she was the only Dutch dance artist who received her diploma in the technique Germaine Acogny. Since 2008 Ise has been studying, and since 2010 working, as a teacher and dancer at l'Ecole des Sables, the international professional school for the development of African and African contemporary dance in Senegal.
She is the only Western dancer who taught the Technique Acogny at l'Ecole des Sables by the request of Germaine Acogny, the creator of the technique and the 'Mother of African Contemporary Dance'.
Since 2012, Ise is teaching the technique Acogny at the Amsterdam School of the Arts. She is, and has been teaching at multiple places; Continents et danses noir de Centre James Carlès, Toulouse, Geoffery Dance academy, New York, Vladsjkopat, Sweden, Manila, The Filipines and at several places and schools in Holland. She has been working and training with Nia Love, Urban Bush Woman, The Next Stage Project, Afreekanam and Jant-Bi.
She created duets and solo works, such as 'Moy Lo Lou' with Abdoulaye Sylla Sarr, 2013, 'Secret', with Ayaovi Kokousse, 2012, 'Loin', 2012 and 'Road', 2010. http://www.uniyoon.com/ 
Laye Serrere / UniYoon (Senegal/France)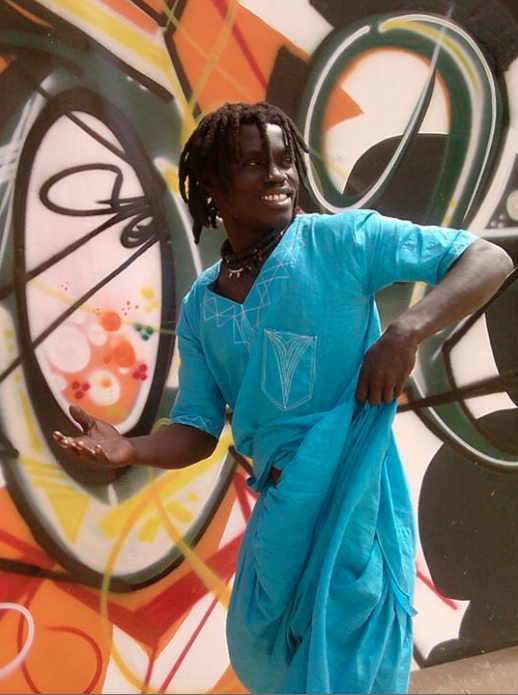 MUSICIANS 
Laye Serrere Gainde (Senegal) & guests
STYLES 
Acogny Technique, West African Traditional Dance, Southern African Fusion Dance, Ballet with drummer and Contemporary
Limited availability, booked on a first come first served basis.
PERFORMANCES 
(Saturday 5 October) TBC
TIMETABLE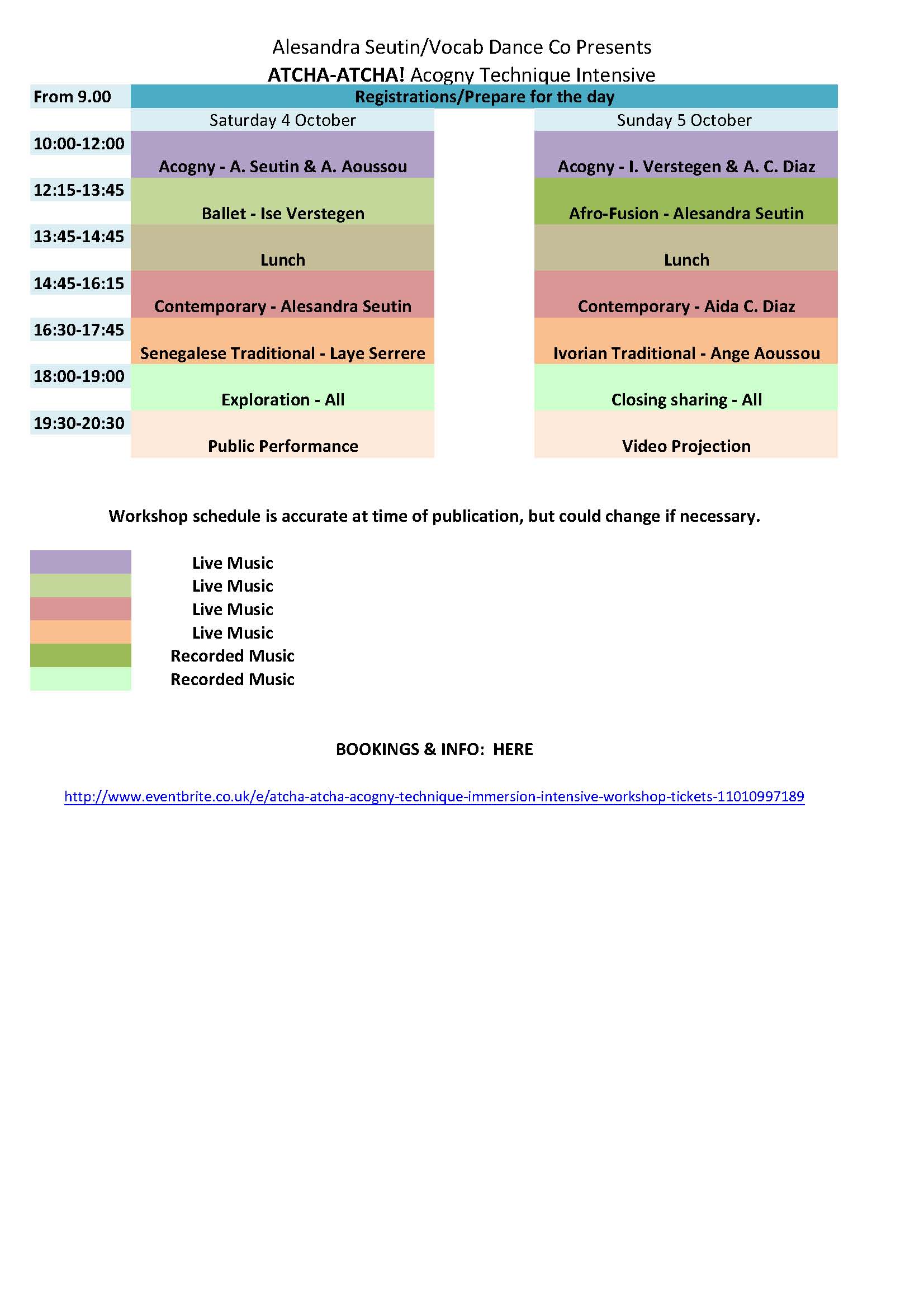 VIDEOS
Acogny technique in class
Germaine Acogny: http://www.youtube.com/watch?v=9FcpRqozZqw
                   http://www.dailymotion.com/video/x188etr_masterclass-de-danse-africaine-par-germaine-acogny-tandem-dakar-paris_creation
Alesandra Seutin: http://www.youtube.com/watch?v=Z4_mGNdfMMU 
                         http://www.youtube.com/watch?v=ITj1UHZrStk
Aida Colmenero Diaz: http://www.youtube.com/watch?v=y6FGMTDDFLU
Ise Verstegen: http://www.youtube.com/watch?v=HfltwHphAxw
Ange Aoussou: http://www.youtube.com/watch?v=2-8A7i1fBxY
Acogny technique in performance 
Germaine Acogny solo: http://www.youtube.com/watch?v=tnpC7Joxcp4
                     http://www.youtube.com/watch?v=VUG6jNQZEeI
Jant-Bi: http://www.youtube.com/watch?v=ACRx7vrjL1c
          http://www.youtube.com/watch?v=rMmTFWgus20
Alesandra Seutin: https://vimeo.com/77780848
Aida Colmenero Diaz: https://vimeo.com/80411883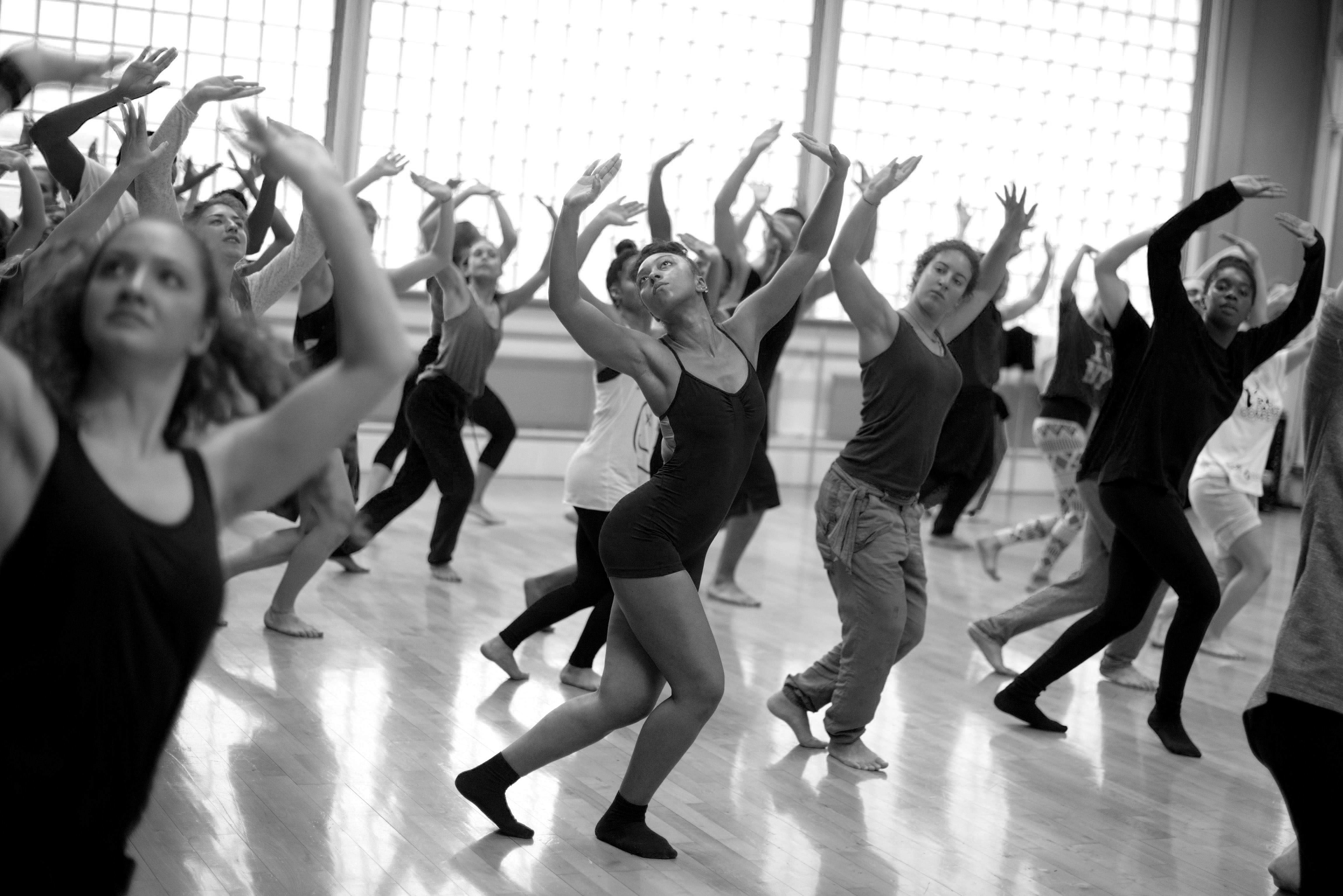 When & Where

Chassé Dance Studios
Chasséstraat 64
1057 Amsterdam
Netherlands


Saturday, 4 October 2014 at 10:00

-

Sunday, 5 October 2014 at 19:30 (BST)
Add to my calendar
Organiser
Alesandra Seutin/Vocab Dance Company
Vocab Dance Company is dynamic and talented young company founded by Alesandra Seutin in 2007 and was created with the vision of fusing African traditional dance with contemporary dance and urban dance forms to distinctly create Afropean dance theatre from a feminine perspective. 
Since its inception VDC has been is gaining recognition by performing nationally and internationally, and is progressively making marks as an influential company to watch. 
Alesandra Seutin/Vocab Dance Company embraces the idea that individuals have the power to live in the movement and to express themselves boldly. The objective of the workshops they teach is for the participants to find their level of challenge, comfort and to take part regardless of their abilities; whilst appreciating the joy of movement. All classes encourage participants to dance fully and live in the movement accompanied by a pulsating mix of live music or great-recorded music!
Atcha-Atcha! Embodying Acogny Technique