Event Information
Refund Policy
Contact the organiser to request a refund.
Eventbrite's fee is nonrefundable.
About this Event
Atma Kriya Yoga gives you a powerful set of techniques to help you rapidly advance on your spiritual path. It is the most powerful form of yoga available today and comes from Kriya Yoga. These exercises give you the freedom and flexibility to create a daily practice perfectly suited to your lifestyle.
Main benefits:
• Burns karma and purifies the mind and body
• Develops Divine Qualities
• Provides the key to rapid spiritual advancement
Ideal for those who are:
• Searching for a more profound spiritual experience to advance towards God Realization
• Want to build a personal relationship with the Divine.
How long does the practice take?
• Suggested practice: 15-45 minutes per day
What is required to learn the practice?
• 3-day course
10 July at 17:00 - 21:00 AND
11 - 12 July 09:00 - 13:00
How much does it cost?
£245
£200 for students, unemployed, senior citizens
*Zoom Link shall be provided upon registration*
What post course support is in place?
• Teacher available for ongoing support
• No charge for repeating the course as often as you wish
• Group activities, retreats and practice sessions (some free)
In this course, you will learn:
• Japa – An ancient Sanskrit mantra that makes the mind calm, more positive and develops an inner connection with the Divine at all times.
• Meditation techniques – Makes one heart centered and transforms our negative traits into Divine qualities, which then radiate to all around us.
• Sound yoga – Opens your hearing to the symphony of inner mystical sounds emanating from your heart chakra and strengthens your intuition.
• OM Chanting – Group chanting which generates harmony, peace and healing for yourself, others and your local environment. Negative emotions are released and replaced with positivity
• Pranayama - (breathing exercises) – Observing and controlling your breath cleanses and energizes the subtle and physical body, calms and invigorates and mind and awakens kundalini shakti.
• Asanas – Five physical yogic postures to support your meditation practice, boost your immune system and enhance your physical vitality.
• Mudras – Body and hand yoga that aligns your body's energy so that you can reach your spiritual aim faster. Multiple benefits, including slowing down the aging process.
• Main Kriya – This chakra meditation raises your consciousness, awakens the Soul's love for the Divine, burns one spiritual year of karma with every breath and makes Self and God-realization possible in a single lifetime.
• Protective Shield – Elevating the vibration of your energy centres (chakras), protects you from negativity and allows more Divine Light to shine through.
• 9 Forms of Bhakti – Each technique cultivates a different form of bhakti – love of the Divine – bringing you closer to the full realization.
INTERESTED, BUT THE TIMING ISN'T RIGHT?
If any of the dates aren't suitable, or you would like to organise a course or retreat in your area, please contact us.
For more information, contact Acyuta on 07526129134 or BMUKEvents@bhaktimarga.org
"WHEN YOU ARE INITIATED IN ATMA KRIYA YOGA AND RECEIVE SHAKTIPAT, A DIFFERENT CHANNEL IS ACTIVATED INSIDE OF YOU. THIS CHANNEL IS THE GRACE AND BLESSING OF ALL THE GURUS, SAGES AND SAINTS FROM THAT LINEAGE, WHICH FLOWS FROM THE MASTER TO THE DISCIPLE, OR FROM THE MASTER TO THE TEACHER AND THEN FROM THE TEACHER TO THE STUDENT." - PARAMAHAMSA SRI SWAMI VISHWANANDA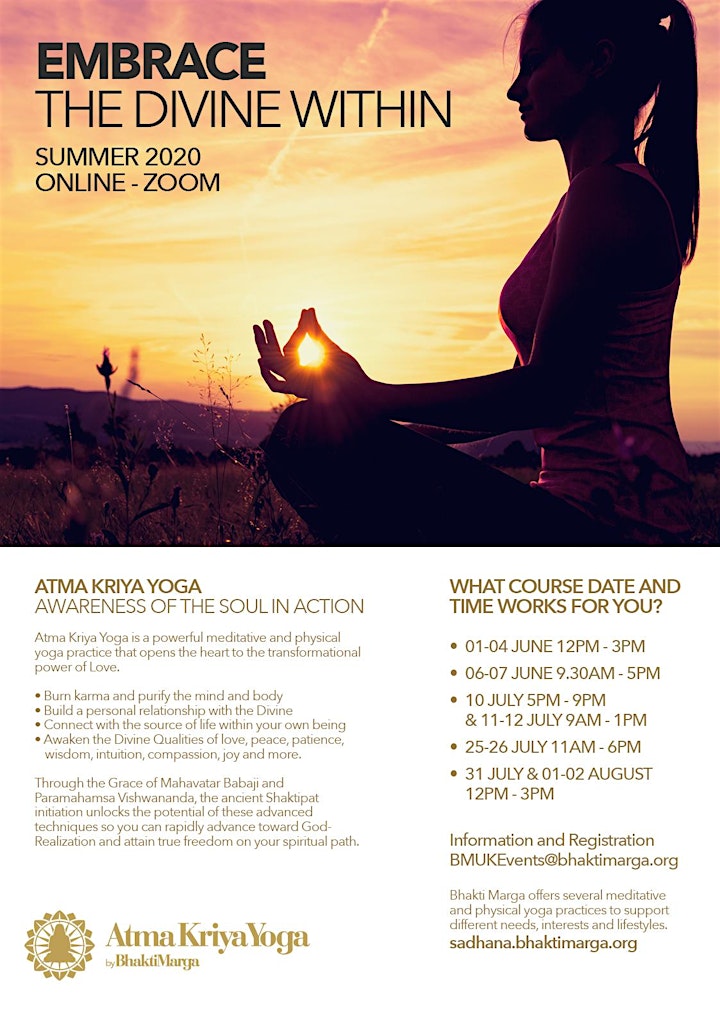 Date and Time
Location
Refund Policy
Contact the organiser to request a refund.
Eventbrite's fee is nonrefundable.