Description
THE UK'S BIGGEST, BEST AND EPIC-EST BUSINESS CONFERENCE.
ONE DAY TO GROW FASTER THAN EVER BEFORE.
ALL STAR LINE-UP.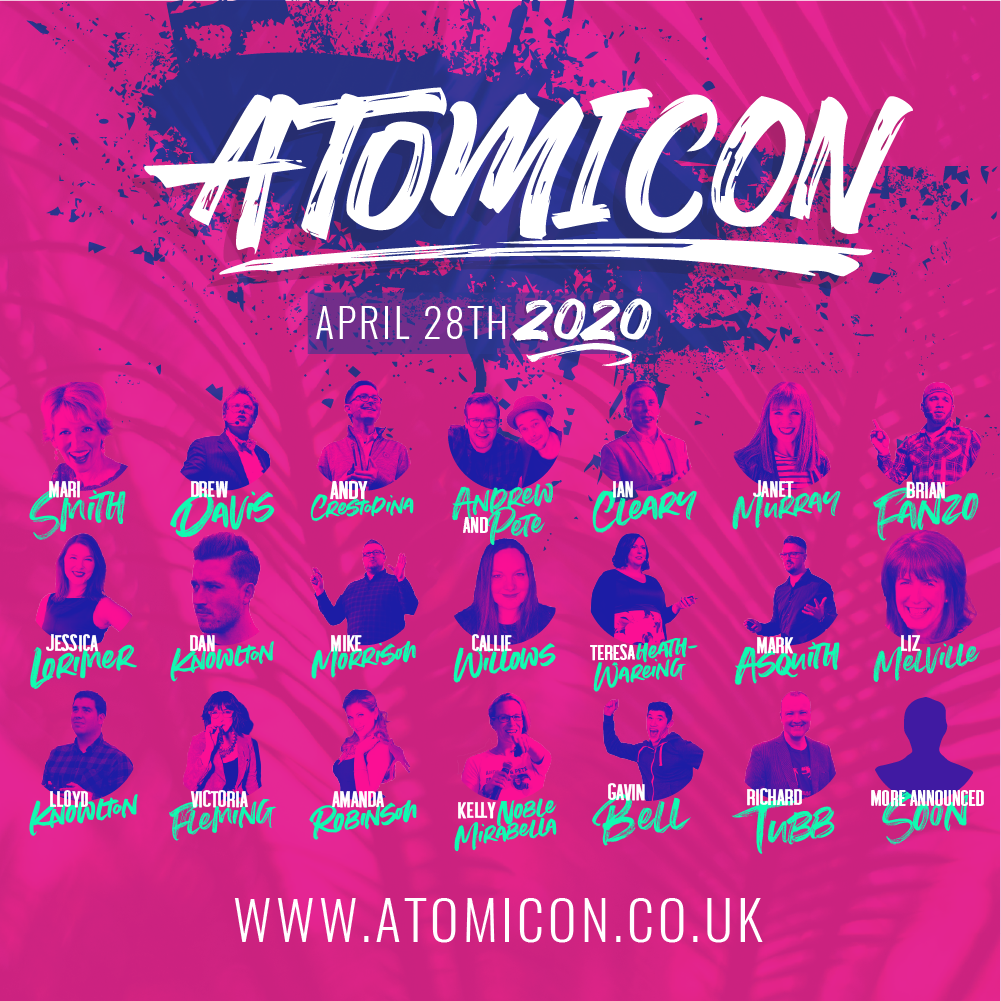 Including Mari Smith - The Premier Facebook Marketing Authority, Drew Davis - Rated Top 20 Speaker in the World. As well as Brian Fanzo, Andrew and Pete, Ian Cleary, Andy Crestodina, Janet Murray, Mike Morrison, Callie Willows, Gavin Bell. Mark Asquith, Jessica Lorimer, Dan Knowlton, Teresa Heath-Wareing, Lloyd Knowlton, Liz Melville, Richard Tubb, Kelly Noble Mirabella, Victoria Fleming and Amanda Robinson.
This line up is incredible.
These are world class speakers that we have hand picked to have the biggest impact and transformation to your business. Inspirational, actionable, jam packed sessions that will change your business forever. The event is multi-track so you can pick the sessions most applicable to you, and catch up on any you miss with the limited time replay included in your ticket.
WHY COME TO THIS EVENT?
ATOMICON is for the Small AND Mighty Business.
Small isn't a bad thing.
In fact, as a small business owner, you have the control, the freedom and unlimited possibilities. You can make more money than you ever could in a regular job, and you can be far happier doing it your way too doing something that you love… You can be small and mighty, you can be ATOMIC.
And that is who this event is for… if you're tired of hustling, working hard feeling drained… and want to scale in the smarter ATOMIC way… we're going to teach you how to take that leap:
> How to grow your audience online so you're in demand
> How to build your team so have more time and freedom
> How to get paid a ton more for what you do so you can have everything you want
> And how to create a better, more scalable business model - so that you're possibilities are endless.
WHO'S IT FOR?
✔ Small Business Owners
✔ Solopreneurs
✔ Authors & Speakers
✔ Bloggers / Podcasters / YouTubers
✔ Start-Ups
✔ Content Creators
✔ Freelancers


ALL YEAR ROUND ONLINE SUPPORT CRAFTED FOR ACTION:
+ LIMITED TIME REPLAY OF THE SESSIONS
+ BONUS TRAINING TO WATCH IMMEDIATELY UPON TICKET PURCHASE
+ ACCESS TO 24/7 COMMUNITY SUPPORT GROUP
+ POST EVENT IMPLEMENTATION WORKSHOP
We didn't want to create an event where you get all inspired on the day, then it goes out of the window when you get back to the office.
That's why as soon as you get your ticket, you'll get access to bonus trainings to bring you up to speed for 2020. You'll also get access to our community support group, full of fellow delegates where we run trainings all year round (including a post event implementation webinar).
Plus - since this year is multi-track with sessions happening concurrently - there will be a limited time replay INCLUDED with your ticket. So you don't miss any of our awesome speakers. Nice!
FRINGE EVENTS + 2 NETWORKING PARTIES INCLUDED IN YOUR TICKET
ATOMICON is a one main day of sessions multi-track style, but there will be events and workshops either side of the 28th. More fringe events will be announced closer to the time. Also back again in 2020 is our infamous pre-party and after-party where you can meet fellow delegates and let your hair down.
YOUR ATOMICON TICKET INCLUDES:
✔ Access to all sessions
✔ Limited time replay of all sessions
✔ Post event Implementation Workshop
✔ Year round 24/7 support in the community group
✔ 2 Networking parties
✔ Lunch is included
✔ Bonus training
---
Reclaim the feeling of unlimited possibilities and make your small business, an ATOMIC business.
GET YOUR TICKET NOW BEFORE THE PRICE GOES UP!
2019 EVENT WAS 98% SOLD OUT WITHIN 5 DAYS. DON'T MISS OUT!
---
FAQs
Are there ID or minimum age requirements to enter the event?
We do have a 16+ policy into the event and the sessions. However our venue - The Sage has public space and a public cafe. So if you bring somebody to watch your child you can easily pop out of the event to meet them.
What are my transport/parking options for getting to and from the event?
Newcastle International Airport is a 10 minute drive for those travelling from overseas.
Newcastle Central Train Station is about a 5 minute drive.
There is limited parking at the Sage, best to get public transport in.
How can I contact the organiser with any questions?
Any questions, please email: events@andrewandpete.com
What are the best hotels to stay at?
www.atomicon.co.uk/hotels
Is the venue accessible?
Yes. Pete is a wheelchair user himself! So the venue is fully accessible.
If you have any specific accessibility requests, please drop us an email at: events@andrewandpete.com and we will accommodate.
Don't let this stop you from buying a ticket before the price goes up.
Are the sessions recorded?
Yes, and they will be uploaded to ATOMIC for members to access indefinitely. All ticket holders will get a limited time replay too.