Description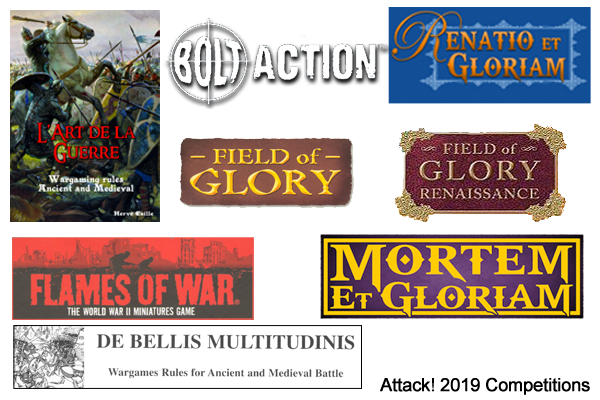 Attack! 2019 is the annual wargames show hosted by Devizes & District Wargames Group at Devizes School. Alongside the prize competitions there will be over 30 leading traders, participation games, demonstration games, bring and buy, and a canteen.
The 2019 competitions will be held over two days 20-21 July (there is no single day entry):

l'Arte de la Guerre Wars of Republican Roman 275 BC - 105BC 25mm

Mortem et Glorium Armies and Enermies of the Roman Republic 400BCE-9CE 15mm

Field of Glory Rennaisance The Thirty Years War (23 May 1618 – 15 May 1648) 15mm

Bolt Action WWII 28mm

Regatio et Glorium Warfare in the 17th Century 15mm

DBM 3.3 Doubles (no discounts for single entrants) 15mm

Flames of War v4 WWII 15mm
Awaiting final details for: Saga.

Full competition details will be found in the competitions pages of the club website. www.ddwg.org.uk