Description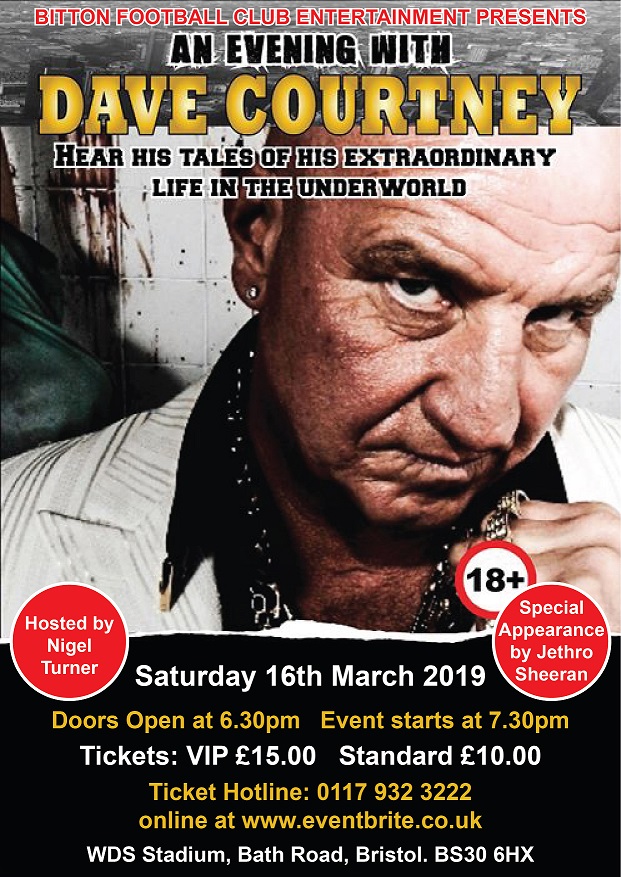 This event will be a no holds barred account of the life of Dave Courtney by interview and Q & A. Below is a outline of what a treat you are in for on the night.
Dave Courtney is an ex London Gangster. He is well known for his friendship with other well know hardmen such as the Krays, Roy Shaw, Lenny Mclean. In his time Dave has been shot, stabbed, and had his nose bitten off (this was sowed back on) and he has had to kill to say alive himself.
Dave has been involved with Debt Collecting, minding clubs, assult, contraband and murder to name a few things. Courtney with previously better known as "the yellow pages of the underworld" and is sometimes reffered to in the press at "the most feared man in Britain".
Dave lives in his Castle in London and today is a best selling author having had four number one best sellers. "The Rides Back On" (his latest) "Stop The Ride I Want To Get Off" "Raving Lunacy" and "Dodgy Dave's Little Black Book".
Dave has produced, Directed and starred in his own file "Hell To Pay" which received a standing ovation at the Cannes Film Festival
Hosted by Nigel Turner
Special guest : Jethro Sheeran