Sales Have Ended
Registrations are closed
Click the link below for or copy into your browser amd gain admission to Aunty Gloria's Kitchen is a place where you decide what we are going to talk about, where no topic is taboo - come on over and lets us a conversation! https://us02web.zoom.us/j/84325264805?pwd=MnN6bE41ajkvRDVzZDlydDFjWDRudz09
Sales Have Ended
Registrations are closed
Click the link below for or copy into your browser amd gain admission to Aunty Gloria's Kitchen is a place where you decide what we are going to talk about, where no topic is taboo - come on over and lets us a conversation! https://us02web.zoom.us/j/84325264805?pwd=MnN6bE41ajkvRDVzZDlydDFjWDRudz09
AUNTY GLORIA'S KITCHEN is a place where you decide what we are going to talk about, where no topic is taboo.
About this event
During this period of uncertainty with the Covid19 pandemic, vaccine requirements and any other related issues, such as our mental health during the lockdown, we have decided to create an online BAME community outreach program to simply listen to the concerns of our community.
Most people who are from the Caribbean or African communities understand the concept of Aunty Gloria's kitchen, which is inter-generational. Every Caribbean or African family has a matriarch we call Aunty Gloria. Aunty Gloria always has her conferences in her kitchen where she is the all-encompassing friend who is non-judgemental. Her hallmarks are: she listens and gives you room to voice your opinion without any fear of negative repercussions . Aunty Gloria gives life's lessons, anecdotes and sometimes even parables but speaks from a place of experience rather than formal expertise. She is down to earth, humorous in her attempt to detract you even momentarily from your concerns.
Aunty Gloria wishes to create a safe place where inter-generational BAME people can speak about issues which concern them whilst at the same time extending their social networks online.
Zoom Code of Conduct
Please feel free to participate, your contribution is invaluable to us.
Actively listen, we need your undivided attention!
Do Not to be judgemental of others.
Mute your audio when you are not speaking
Turn off your camera if you do not want to be seen.
Be thoughtful of others when you speak. Be courteous, and don't interrupt the speaker.
If you want to attract the attention of the Host, send a message in the comment box, or give a thumbs up or raise your hand.
Try to minimize distractions around you.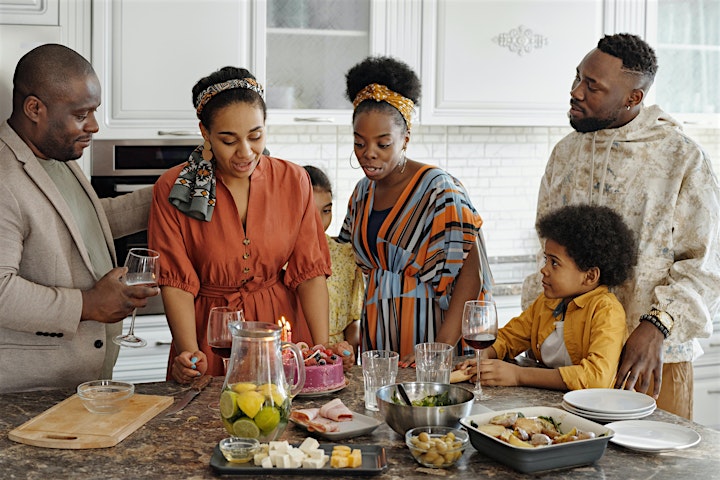 REACH DEM UK - Where No One Is Deemed Unreachable
Organiser of Aunty Gloria's Kitchen