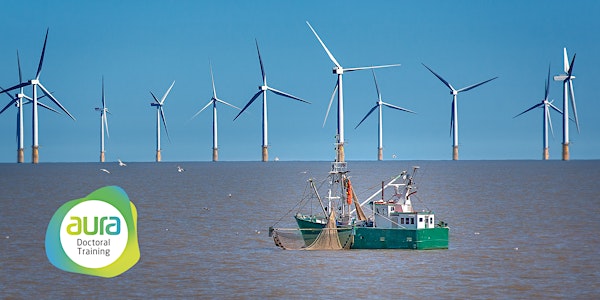 Aura CDT Conference in Offshore Wind Energy and the Environment
Location
Aura Innovation Centre
Bridgehead Business Park
Meadow Road
Kingston upon Hull
HU13 0GD
United Kingdom
An opportunity for industry and academia to come together to share the latest research around offshore wind and its environmental impacts
About this event
The annual Aura Centre for Doctoral Training (CDT) conference brings together exciting keynote speakers from the offshore wind industry and provides a platform for PhD researchers to showcase their research.
The event will be ran over two research-packed days! Participants are welcome to attend one or both sessions:
Tuesday 21 September - Day 2:
Including presentations from a variety of industry speakers, including:
Jo Burgess, Head of Innovation Talent & Skills, InnovateUK
Jim Fleming, Head of Energy, EPSRC
Andrew Elmes, Head of Business Development, Siemens Gamesa Renewable Energy
Prof Deborah Greaves, Head of the Supergen Offshore Renewable Energy Hub, Plymouth University
Danielle Lane, UK Country Manager, Vattenfall & Chair OWIC
Our talented Cohort 1 PhD researchers and colleagues working with the Aura CDT will present their research in talks and posters. We will showcase our expertise and innovation in addressing the global issue of developing sustainable offshore wind energy, working around sessions themes on:
-Energy Systems
-Sustainability
-Marine Environment
The event will also include a lively panel discussion on the burning question:
How can we grow the right talent needed to deliver the OSW sector deal?
Hear from our guest speakers and engage in discussions about the challenge of rapidly growing a skill base for the OSW industry and generating the right future leaders to deliver a greener future. Understanding that diversity and inclusion is at the heart of this ambition, we will explore how we can implement this in policy and practice.
Monday 20 September - Day 1:
We are delighted to welcome our industry speaker, who will open the conference:
Lauren Little, Lead Stakeholder Advisor, Ørsted
Discussion stations
A lively interactive session dedicated to exploring, discussing, and learning about different facets of offshore wind energy. Discussion topics include:
Women in offshore wind
The ideal location for an offshore wind turbine
Busting the myths around offshore wind
PhD Talks
A diverse set of talks from our Cohort 2 students, who all just starting out on their PhD journeys with the Aura CDT. They will explain their research plans, linking to their vision for the future of the offshore wind sector.
Our PhD students' research covers the broad range of technological and environmental challenges facing the offshore wind industry, as summarised in the Aura CDT's six Research Themes.
There will be lots of opportunities to network and gain insight into the fabulous facilities for low carbon innovation at the conference venue - the Aura Innovation Centre.
"This is an exciting opportunity discuss the challenges that face the offshore wind energy – developing the talent, the technology and the innovation that is needed to grow the sector. An expanding offshore wind energy sector is vital for meeting the UK's 2050 Net Zero targets and the Humber is placed at the centre of this ambition. We look forward to showcasing our cutting-edge research that supports this target."
Professor Dan Parsons, Director,
Aura CDT and the Energy & Environment Institute at the University of Hull