About this Event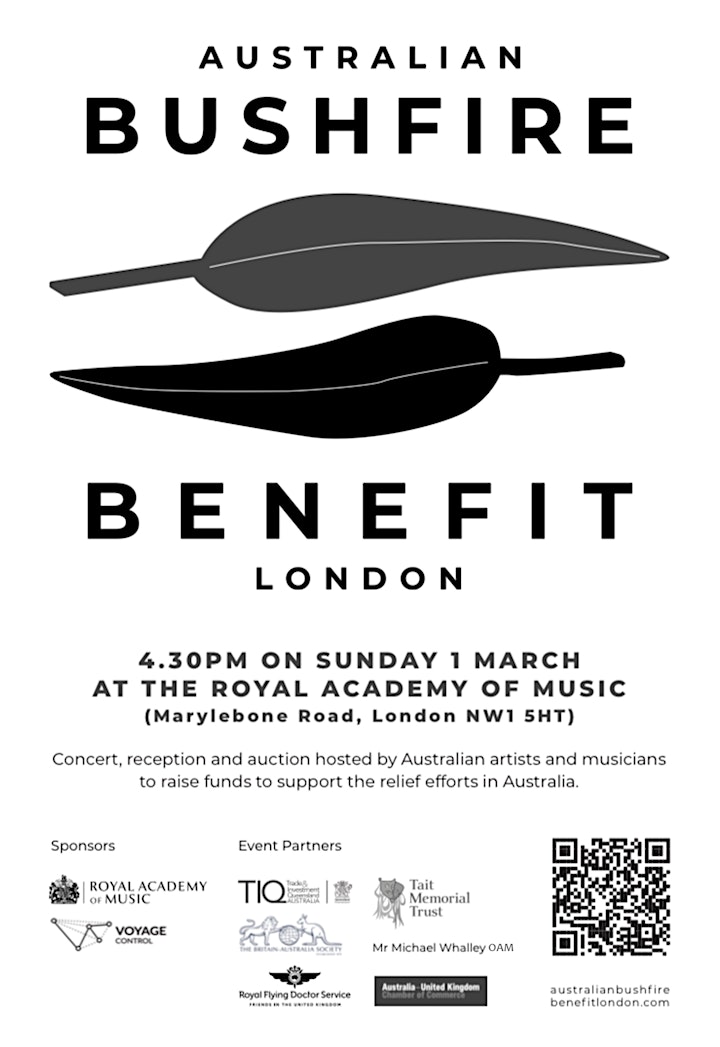 Formed by Australian musicians in London we are producing a concert featuring Australia's finest musicians with full orchestra and choir to honour the brave men and women who are fighting the worst fires in Australia's history. Our hearts are with the people of Australia and we hope that the money raised from this concert will make a tangible difference to the victims of this horrific tragedy.
Eventbrite have waived their fees and we can confirm that every penny will go to Australia Bushfire relief charities.
Charities Aid Foundation (UK) have created a facility for UK taxpayers to donate directly to Australian Bushfire charities AND confirmed that donations to CAF will attract Gift Aid and tax relief for UK taxpayer donors. Click here to make your donation.
Simone Young – next Chief Conductor Sydney Symphony, Hamburg Opera, Opera Australia
Amy Dickson, saxophone – Classic BRIT Award, for Breakthrough Artist of the Year *
Helena Dix, soprano – The Met, Wexford Festival, Melbourne Opera, Chelsea Opera Group
Samuel Sakker, tenor – Royal Opera House, Grange Festival, Sydney Symphony, Lyric Opera Ireland *
Jessica Cottis, conductor – Sydney Symphony, London Philharmonic, BBC Symphony *
Toby Thatcher, conductor – HR-Sinfonieorchester, Ensemble Modern, Sydney Symphony Orchestra,
Catherine Carby, mezzo-soprano – Royal Opera House, Opera Australia, English National Opera *
Lotte Betts-Dean, mezzo-soprano – Oxford Lieder, Melbourne Symphony, Wigmore Hall *
Bridget O'Donnell, violin – St Martin-in-the-Fields, English Chamber Orchestra, London Symphony Orchestra *
Hill Quartet – St Martin-in-the-Fields, St James's Piccadilly Church and Hatfield House
Full orchestra – of Australian musicians in London
Choir of Australia Singers in the UK
Tait Awardee *
Event Support
We thank the following organisations and individuals for their support:
Event Sponsor
Event Partners
The Australian High Commission,United Kingdom
Trade and Investment Queensland
Australian – United Kingdom Chamber of Commerce