About this Event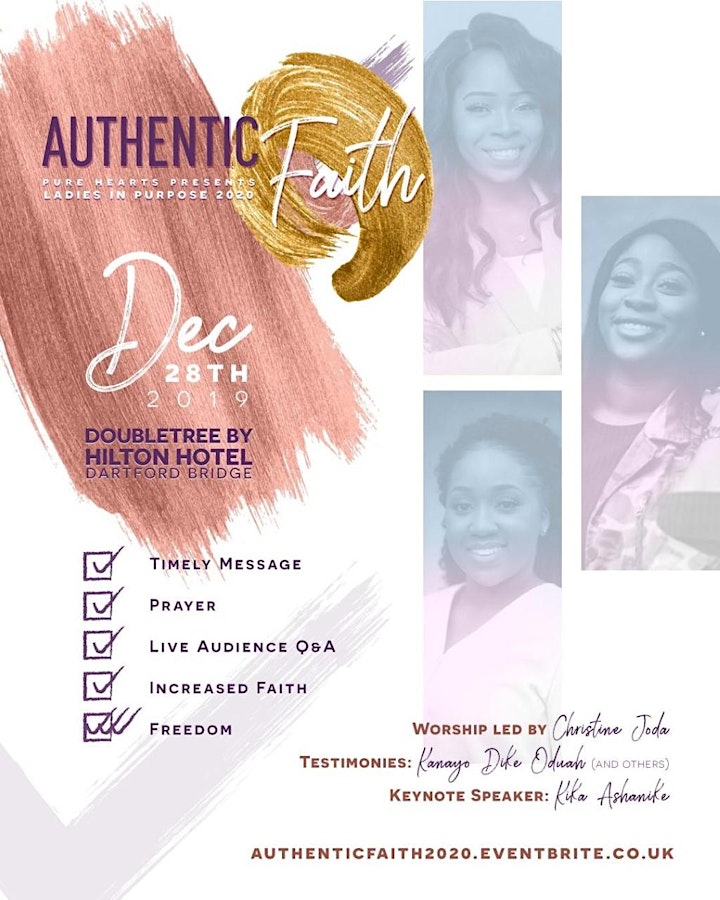 We're back! For the fourth year in a row, the Ladies in Purpose end of year conference is here. This is an end of year conference for the Christian in the UK like no other.
In our last three conferences, we have witnessed the Lord present in our midst. He has set free, delivered and comforted so many hearts. He has so lavishly demonstrated Himself in our gatherings. This year, we believe we're set to see the greatest move of God yet. His focus is on authenticating our faith; making it strong and genuine, that we may see His power at work in our lives. We are expectant and anticipating all that He has in store.
Bringing us the word on the day will be Kika Ashanike. Kika is an international preacher and author with a passion to see souls fully set free in Christ. The Lord has used her in phenomenal ways to deliver the good news of the gospel. We are excited to hear the word the Lord will release through Kika on December 28th.
With a testimony of faith, Kanayo Dike Oduah faced an extraordinary mountain and test of faith in 2019. She literally died and was brought back to life. She will be bringing us word of God's greatness in deliverance.
Kanayo is a Multi-award winning, Author and Senior leader in education whose experience ranges from being a Deputy Head of Sixth Form, Head of Psychology and Lead Practitioner. Kanayo believes that these 3 elements are the driving force of her ministry and career. D.I.G; Drive, Integrity and Grace.
We will be led in worship by the phenomenal voice and heart of Christine Joda. An international worship leader who has led worship across the globe in 2019. We are so honoured to have Christine joining us on December 28th.
We will host a live Q&A session with pastor Edrick Dublin, talking all things process and authentic faith! We had a sit down with pastor Edrick back in our 2017 conference, and by popular demand; he's back!
Giveaways, a chance to meet new like minded believers, and engage in corporate prayer and worship - you just have be there!
Grab your friends, family & church family - Let's raise our faith for 2020! It's time for AUTHENTIC faith...