About this Event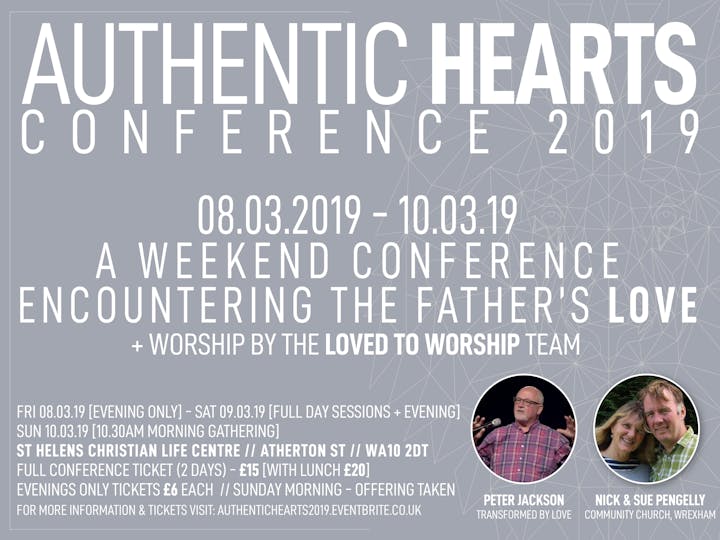 08.03.2019 - 10.03.19A WEEKEND CONFERENCE ENCOUNTERING THE FATHER'S LOVE
We are welcoming guests Peter Jackson from Transformed by Love, Canada and also Nick & Sue Pengelly from Community Church, Wrexham.
Worship provided by team members from Loved to Worship.
About Peter
Peter and wife Heather are the founding members of Catch the Fire School of Ministry and for more than thirty-five years have been imparting revelation of the Father Heart of God and Sonship in churches, conferences and encounter retreats all over the world.
About Nick & Sue
Nick and Sue have been the senior leaders of The Community Church Wrexham for over 19 years. They both have an accurate Prophetic Ministry that releases breakthrough encounters with the Father. Nick is also a director of Catch the Fire Ministries UK and London & Sue is passionate about seeing people come into their true identities.
SESSIONS
FRI 08.03.19 [EVENING ONLY]
SAT 09.03.19 [FULL DAY SESSIONS + EVENING]
SUN 10.03.19 [10.30AM MORNING GATHERING]
VENUE
ST HELENS CHRISTIAN LIFE CENTRE // ATHERTON ST // WA10 2DT
TICKETS // PRICES
FULL CONFERENCE TICKET (2 DAYS) - £15 [WITH LUNCH £20] //
EVENINGS ONLY TICKETS £6 EACH //
SUNDAY MORNING - OFFERING TAKEN