An evening with author Caroline Hulse discussing her new book, All the Fun of the Fair, over Zoom.
About this event
Join us for an evening with Caroline Hulse as she reads from her new novel, All the Fun of the Fair, discusses writing and her work, and takes questions from the audience.
Caroline Hulse writes book club fiction with offbeat humour. But as she says, "All the Fun of the Fair is a slightly different type of book for me, in that it is a coming-of-age story, narrated by an eleven-year-old girl in 1996."
Hear more about her latest novel live over Zoom*.
Caroline Hulse lives in Manchester with her husband and a small controlling dog. She is the author of Like a House on Fire and The Adults. Her books have been published in fourteen languages and optioned for television.
All the Fun of the Fair is coming in July 2021. You can reserve your copy from the Library Catalogue or find out more at CarolineHulseAuthor.com
*We originally planned to host this event in-person at Bramhall Library as well as online. With the Government's extension to lockdown restrictions, we have moved entirely to online. We'll be back in the libraries soon!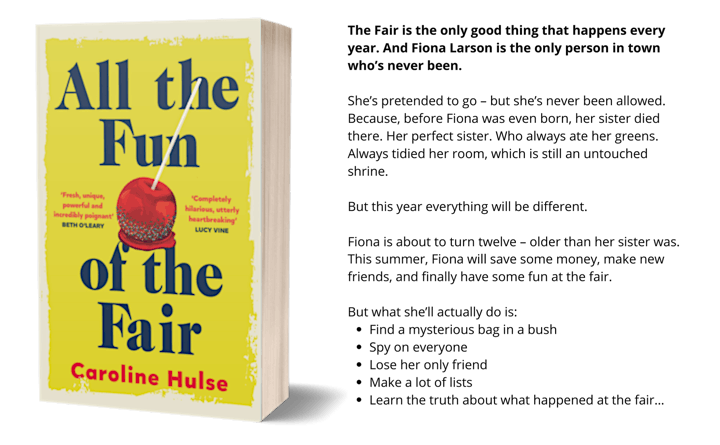 "Fresh, unique, powerful, and incredibly poignant"
— BETH O'LEARY, AUTHOR OF THE FLATSHARE