If you attended our 'Authors Of Our Generation Event' in December 2020, you definitely don't want to miss out on this year!
About this event
It's been a great journey and honour to support our 2021 authors. Writing a book takes concentration, resilience and focus. For this reason, we are teaming up with our authors that have published their book with Authentic Worth. We will discuss about what inspired our authors to write and the key lessons they've learnt during the process of becoming a first-time author.
Authentic Worth Publishing desires to encourage and help authors step out on their comfort zones to share their story within the community and make a difference.
The itinerary are as follows:
- Introduction
- Ice-breaker
- Group activity
- Presentation by the Founder of Authentic Worth Publishing
- Short break
- Our 2021 authors
- Panel session and Q&A
- Prize giveaways
- Second session by the Founder of Authentic Worth Publishing
- Q&A session
- Closing and Networking
Our five profound panellists and authors of 2021 are as follows:
Author Des Amey – Starting Your Property Side Hustle
Author Jacienth Mardle – Forever Faithful; Forever True
Author Matthieu Smite – Tap Into Your Journey
Author Phyllis Dennis – The Unveiling Light
Author Sandra Obeng – Encourage Your Best Life
Early bird tickets are £20.00* which starts on Saturday 2nd November to Sunday 21st November 2021.
Standard tickets are £25.00* which starts on Monday 22nd November to Saturday 11th December 2021.
We look forward to seeing you virtually on Saturday 11th December at 14.00pm.
Many thanks in advance. Come with your questions support these incredible authors of 2021!
We are taking winter manuscripts up until January 2022. Send your manuscripts to us at submissions@authenticworth.com if you have a story to share.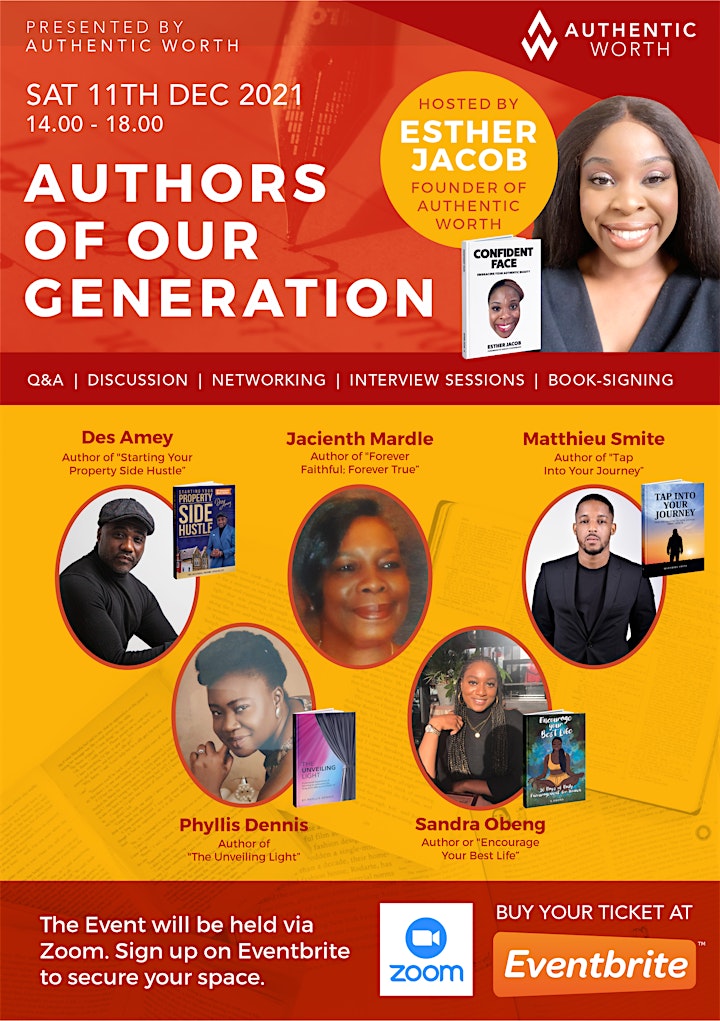 Date and time
Location
Refund policy
Organiser of Authors Of Our Generation Event 2021
Esther Jacob is the Founder of Authentic Worth Publishing, Multi-Published Author, Influential Speaker, Blogger and Online Course/YouTube Content Creator. She uses her skills and expertise to support and coach aspiring authors in writing books through storytelling. Esther believes in being transparent and selfless as she writes gracefully in her books, delivers workshops on book-writing and speaks at several events. Esther is an advocate for building self-confidence and personal development and has been offered numerous opportunities on several TV programmes, podcasts and radio stations including BEN TV, Yanga! TV, United Christian Broadcast (UCB) Radio, Elim Radio Girl Talk, Premier Gospel Radio and Christian Devotion Speak Up Podcast in the United States.
Keep in touch with our social handles below:
Authentic Worth Publishing Socials:
Facebook: Authentic Worth
Instagram: authenticworth
LinkedIn: Authentic Worth
Twitter: authenticworth
YouTube: Authentic Worth
Esther's Socials:
Facebook: Esther Jacob
Instagram: esthernjacob
LinkedIn: Esther Jacob
Twitter: esthernjacob
YouTube: Esther N J