Children with autism often need support with emotional regulation. Learn more about how to manage this important aspect of support.
About this event
Autism and Emotional Regulation
About this session
Do you have an Autistic child who has difficulties coping with the emotional side of life?
Do they frequently struggle to deal with incidents, events or when you say 'no' to them?
Do they take a long time to recover on an emotional level?
This session explores practical ways to teach and support emotional regulation in Autistic young people.
You will understand better how emotional regulation strategies can be effectively used to support a child with an Autistic profile.
As a result of this training, you will be empowered to become more responsive and more effective in supporting Autistic children.
Useful for:
• those working with or caring for Autistic children and wanting to improve the effectiveness of support they provide
Suitable for:
• SENCos, Teachers and Learning Support Assistants
Also included:
• Summary Sheet of Key Points
• Certificate of Attendance
These will be emailed to you at the start of the session.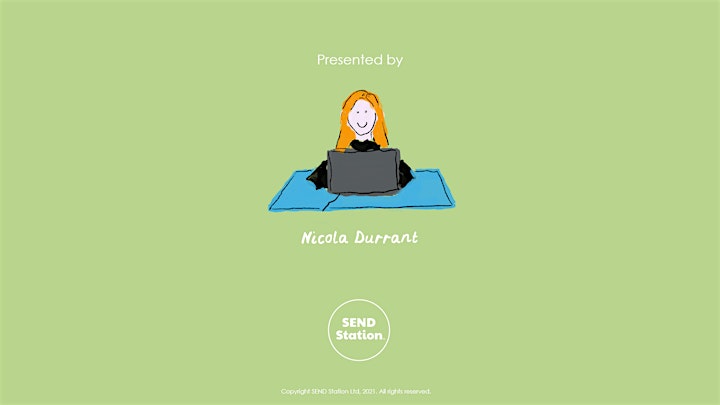 Session Leader: Nicola Durrant
This session is led by Nicola Durrant, an Autism Specialist Teacher and Consultant as well as being a Mum to an amazing Autistic daughter. She worked as a SENCO for eight years and a specialist advisor for 13 years while also training as dyslexia assessor and gaining a Master's degree in Autism. As an independent specialist teacher Nicola has a proven track record of first-class support and advice for parents and teachers and is a Director of SEND Station.
Duration: 1.5 hrs

SEND Station
You will receive a warm welcome from us.
Our sessions are informal and informed, delivered with humility and humour and scope for interaction.
'Sometimes learning is simply better on-line…SEND Station is a great destination to explore fresh, practical and great value training for those working with and supporting children with Special Education Needs and Disabilities.'