About this Event
Do you work with children, young adults and older people who are on the Autism Spectrum?
Richard Maguire, Senior Training Consultant at Autism Oxford, designed this half day seminar for neuro-typical people in order to share his professional insight on how to effectively work with individuals that are autistic. If you wish to better support your clients in day to day activities, this seminar is for you.
Diagnosed with Asperger's + Dyslexia, Richard has been defined by his results for many years and is highly regarded throughout the UK as an effective change management specialist.
Attendees will have the chance to ask questions and hopefully be empowered to deliver longer lasting outcomes.
A professional can explain Autism, but there's far more credibility if an Autistic person explains it, and the combination of the two is phenomenal – it's not 6 + 6, it's 6 x 6 in the sense of the power." Prof T Attwood, author of 'The Complete Guide to Asperger's Syndrome'
Richard has trained staff in schools, police forces, care homes and Universities for decades - giving a first hand account of learning to live with, and work alongside, people on the Autistic Spectrum.
Join us for a few house in The College Farm (ample free parking) to gain tips and immediately useful tactics.
After being asked for his life story, Richard wrote I DREAM IN AUTISM and went on to speak at UK literature festivals (copies will be on sale during the seminar).
Richard Maguire is Autism Live Training.
We look forward to meeting you.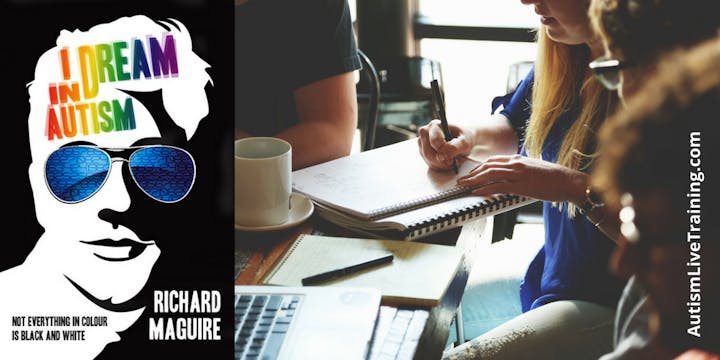 What people say...
"Seriously, one of the best 90 minutes of CPD I've had in years! Please pass on my huge thanks to Richard." – Dr. Matthew Stephenson, Consultant Psychiatrist, Oxford Health NHS FT
"Richard was amazing and had our staff spellbound, including myself!! I have never listened to anyone who was able to put over, in understandable analogies, what living with autism is like. He has changed what we all understand about autism." – Sheryn Brodie, Training Co-ordinator London School
"Thank you, very helpful, a real insight. I will manage meltdowns with a greater understanding as a professional. I will 'be there'." – Lisa Robinson