Growing Up My Way: Supporting autistic young people through change with Q&A
About this event
No ticket, no entry
NOTE: LIMITED ONLY TICKETS FREE FOR CROYDON RESIDENTS AUTISTIC INDIVIDUAL AND PARENTS/CARERS ONLY - Supported by Croydon Voluntary Action - CVA
NON-RESIDENT A FEE WILL APPLY
This is a ticket only event.
Registration: 10:30 - 11.00am
Commences: 11 - 4pm
Locations: Imperial Banqueting Suite
31 Imperial Way,
Croydon, Surrey
CRO 4RR
How to get there map - Directions
Why we put this event on?
During lockdown many families, autistic people and professionals joined us as we hosted numerous online events supporting, networking to hosting a range of conferences, workshops, forums and seminars.
We have the Dream Team - Lynn McCann, Sarah-Jane Critchley, Dean Beadle, Dawn Brown and Sally Glossop who held six fantastic webinars and also busy hosting their own projects.
With Lauren Fernandez, Robyn Steward and myself (Venessa Bobb) hosted many sessions focusing on the safety and wellbeing of autistic girls and young women.
Exhibitors from our local partners across London.
NOTE: COVID Guidelines we will remain throughtout the conference. And for everyone to follow the 1 metre rule and to wear face covering , don't apply to those who are exempt.
All proceedings made will be used towards this event.
"The Invisible Black Females Perspective"
Lauren shares her lived experience as a Black autistic /ADHD female. Diagnosed at 26 years old, her battles to being heard and seeking for the right support.
"Autism and Periods"
A fantastic presentation by Robyn that every parent, carer, school, SENCO's and GPs need to attend. Opportunity to purchase a book on the day.
"Bringing the Cultural Perspective"
Venessa will give some insight to the importance of culture and ethnicity. And her own journey raising her three children.
"Puberty and bodily changes"
Knowing about me - Sally and Dawn will talk about how we support our learners to understand and manage changes through puberty
"Friends and more: making good relationships"
Sarah-Jane will talk about what makes good autistic friendships; how to make and keep them and how this translates to creating safe intimate relationships.
"Sexuality: what it is and what it isn't"
Dean talks about his own journey of making sense of his sexuality, and will share his reflections on how to support other autistic people through this journey. He will also talk about how innocent 'behaviours' can be wrongly 'sexualised' and the negative impact this can have.
"Developing personal identity" ​​​​​​​
Lynn will look at how we have conversations about being autistic, what resources we might use and how to give the young person the space to find and own their own identity.
Speakers:
Venessa Bobb
Venessa is currently the VCS SEND Community and Engagement Team with Croydon, Branch Officer for Lamebth Autism Group ( NAS Lambeth Branch) and Member of the All Party Parliamentary Group on Autism Advisory Group. Her dedication and commitment in bringing communities together and challenge the silent voicse around ethnicity and culture. Her two youngest have a diagnosis of autism and adhd. Also contributed to the Girls and Autism Book on Black Girls and Autism.
Books on sale on the day. https://www.whsmith.co.uk/products/girls-and-autism-educational-family-and-personal-perspectives/barry-carpenter/francesca-happe/paperback/9780815377269.html?gclid=CjwKCAjw7rWKBhAtEiwAJ3CWLOpXXqYmC0YvgsFFlpPMdrzqg528pv91CIg7X14HSP87cqxRffbG1hoCng4QAvD_BwE&gclsrc=aw.ds
Sarah-jane Critchley
Sarah-Jane is the internationally recognised author of 'A Different Joy: The Parents' Guide to Living Better with Autism, Dyslexia, ADHD and More...' and a contributing author to two books on autism and girls. She was the Programme Manager of the Autism Education Trust for over 10 years. Her autistic family includes two newly adult children.
Dawn Brown
Dawn is an Assistant Head of an all age special school in Herts, she works with the families and learners to support the best outcomes for all. Wellbeing and relationships are at the top of the plans for the future.
Robyn Steward
Robyn is an international acclaimed autism advocate, author, consultant, muscian and mentor. Her book The Autism Friendly Guide to Periods is aimed at young people who have periods.
Sally Glossop
Sally is a teacher, play therapist, youth worker and currently the county lead for SEND in Hertfordshire. She believes that relationships are the key and we need to work together to connect with our children and young people so that they develop a secure identity. In a world full of pressures and demands to fit in and conform she strives to celebrate uniqueness.
Dean Beadle
Dean is an autistic conference speaker and inset trainer who has delivered over 800 keynotes, talks and training sessions about being autistic internationally over the past sixteen years. He will be using his personal experience and knowledge to help disentangle this challenging area.
Lauren Fernandez
Lauren is an autism/ADHD speaker and mentor. She experienced a lack of representation, inclusion and culturally appropriate support services. Lauren founded Mask Off to highlight and raise awareness around autism, ADHD and mental health within the Black and Minority Ethnic communities. Mask Off strives to empower, educate and destigmatise neurodiversity and mental health, with the aim to highlight racial and gender disparities and inequalities faced by service users and their families.
Lynn Mc Cann
Lynn s an Autism Specialist Teacher at Reachout ASC. She is the author of 3 books for teachers about supporting autistic learners, including "Stories that Explain: A book of Social Stories". Lynn provides training and support in mainstream schools for autistic children of all ages
This is a ticket only event.
No children allowed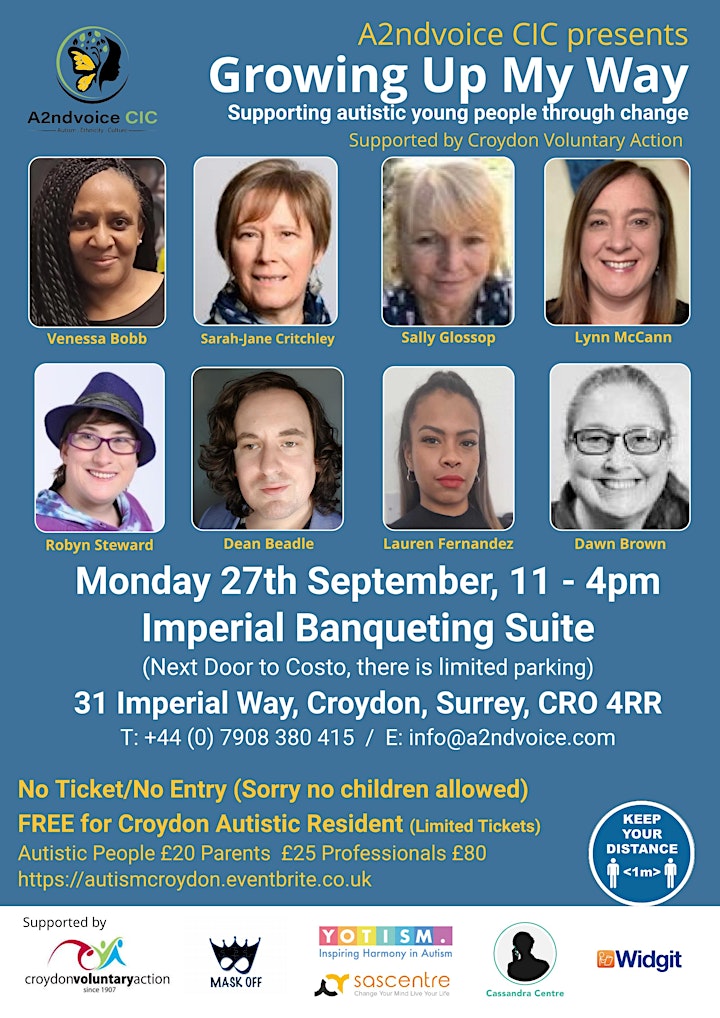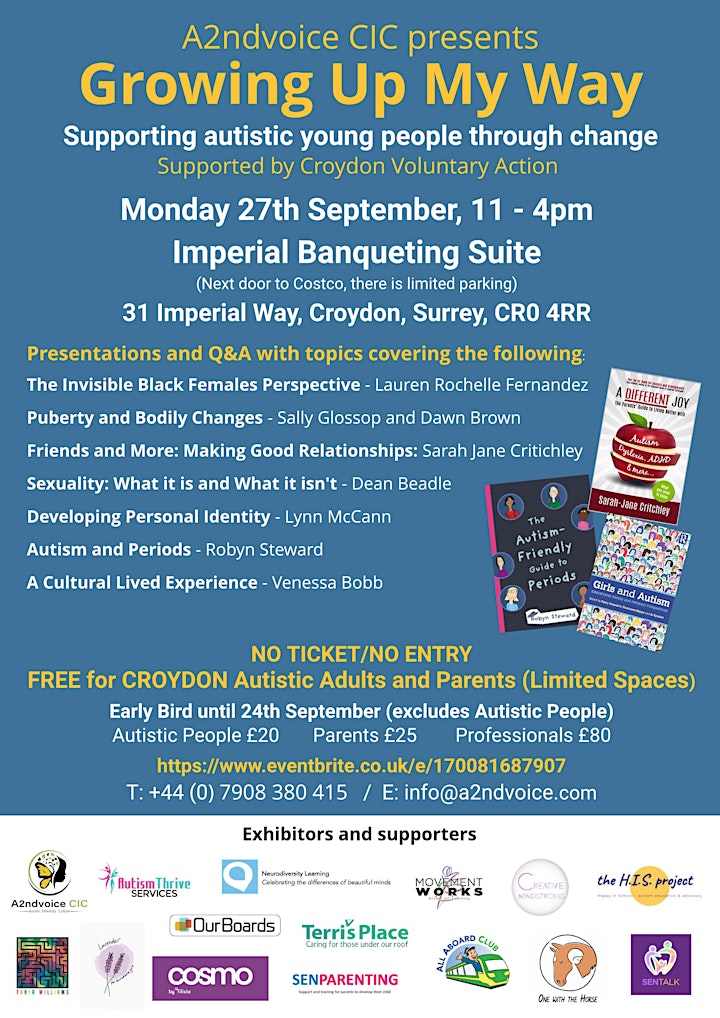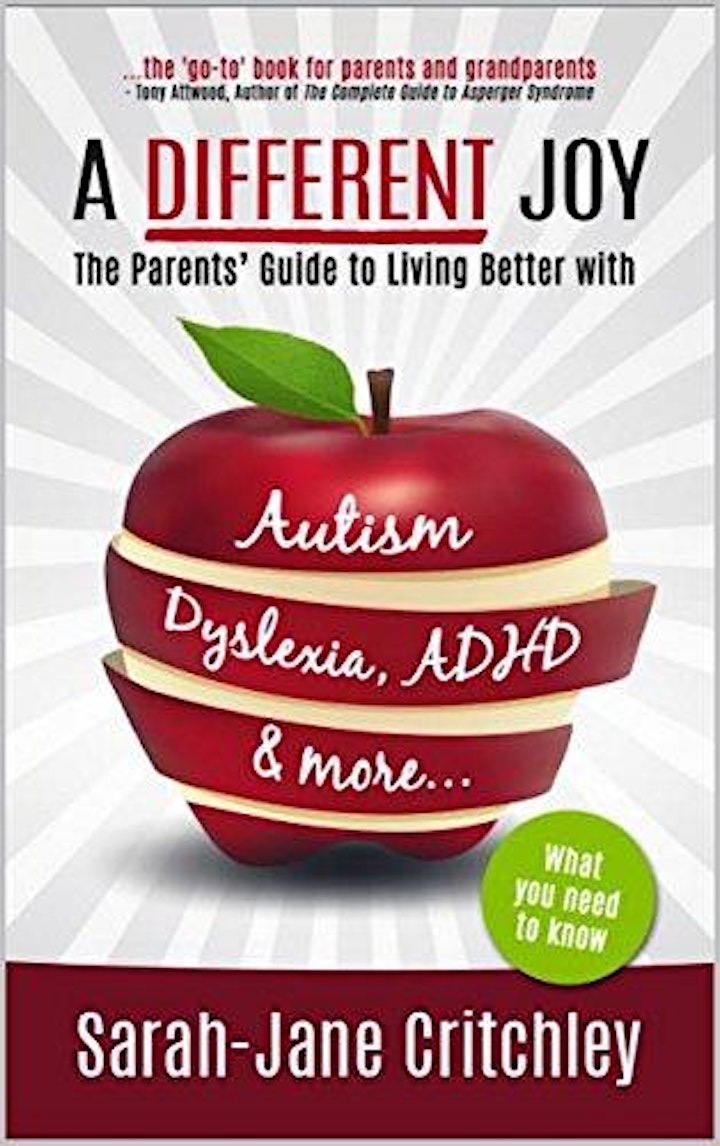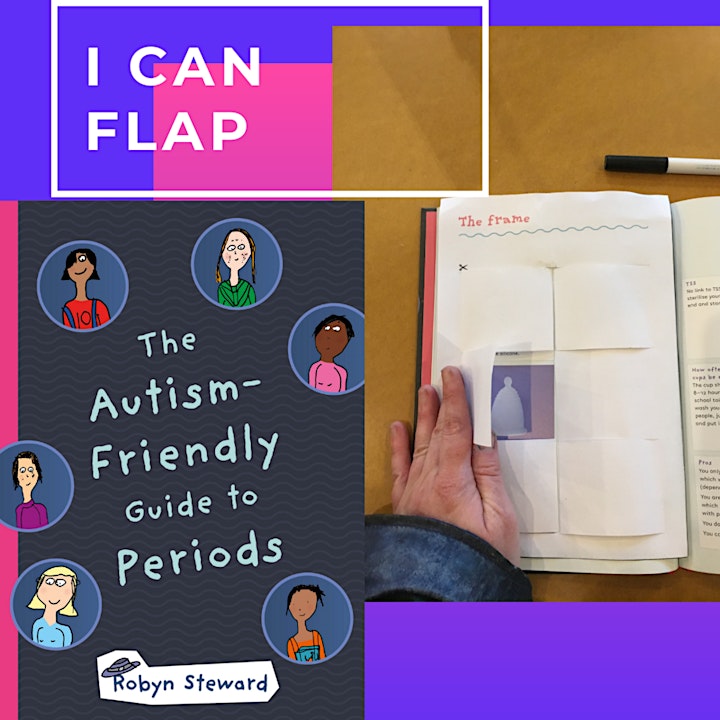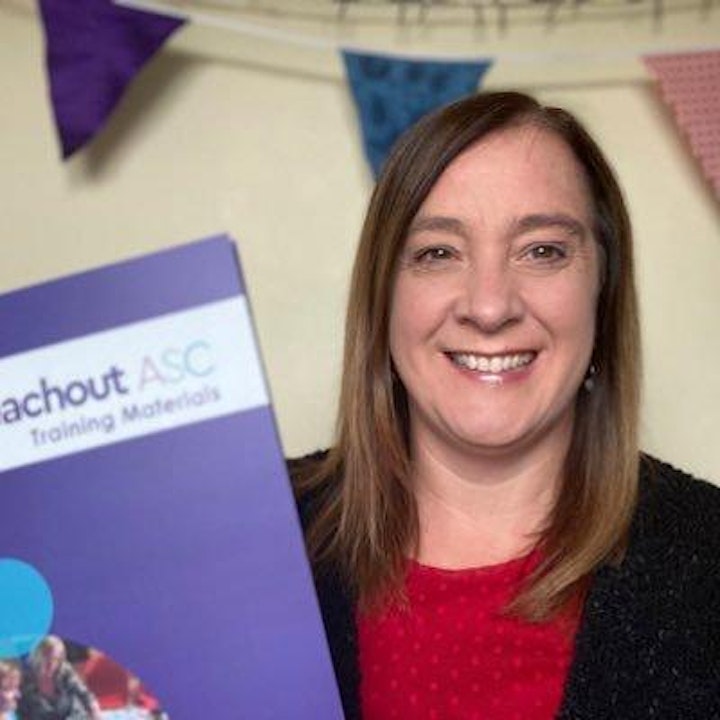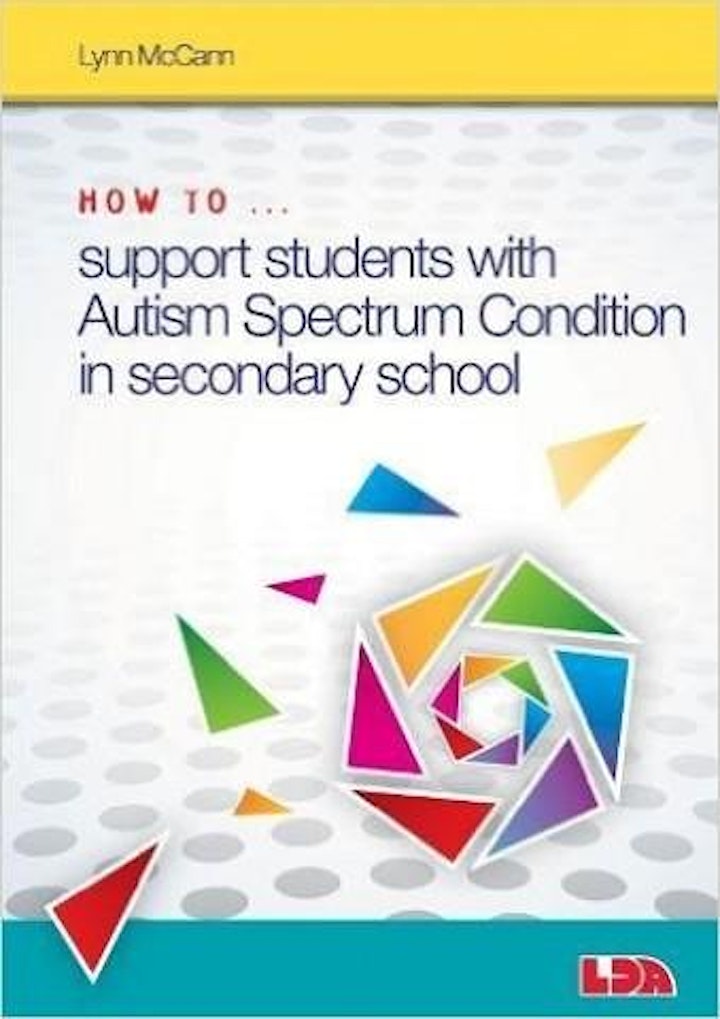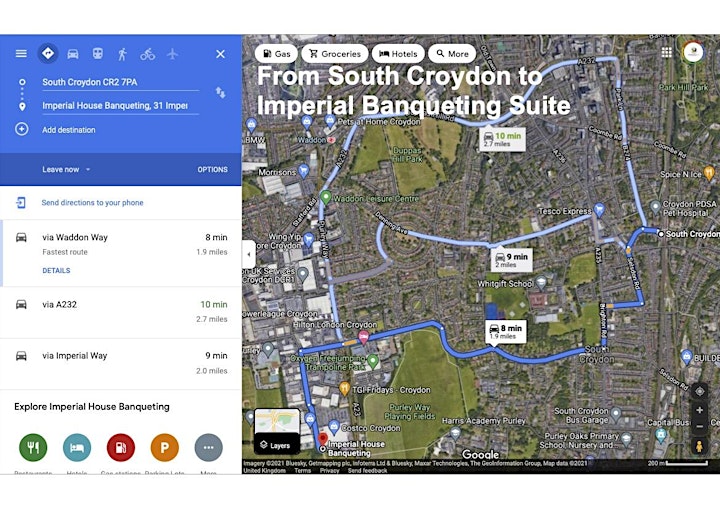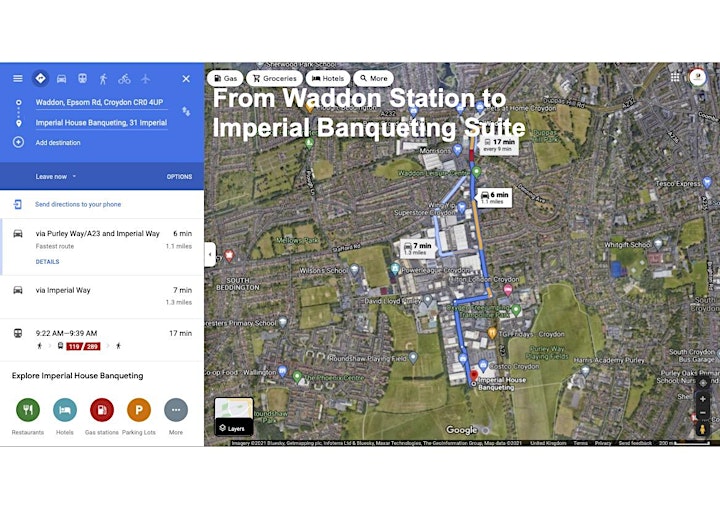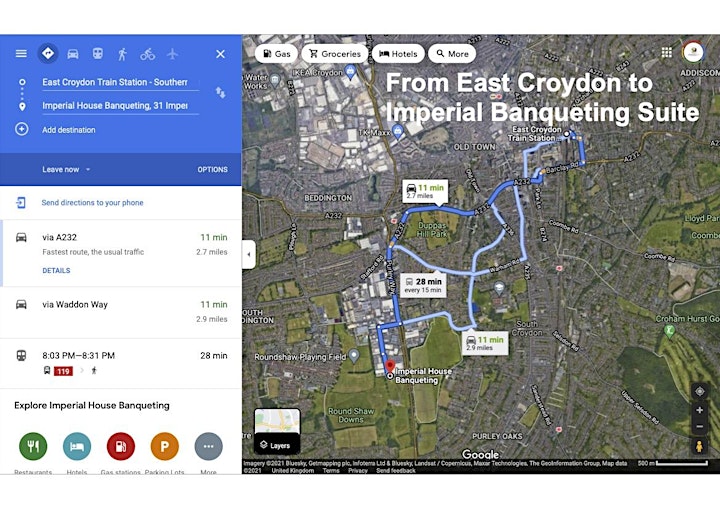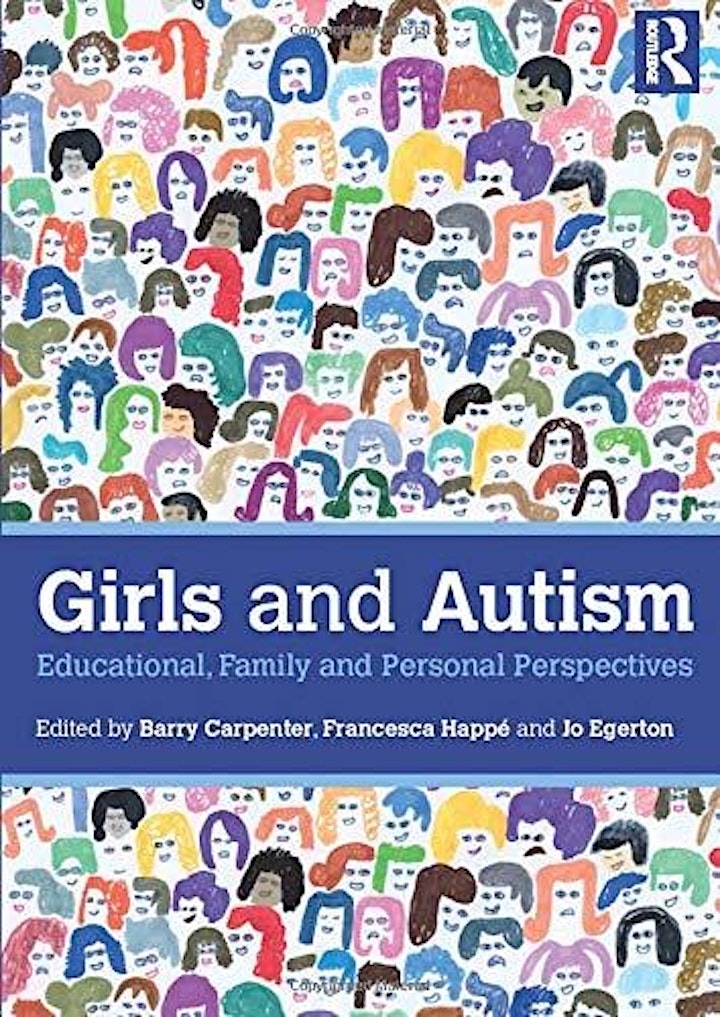 Organiser of Autism: Growing Up My Way
A2ndvoice became CIC in August 2018.  We began as a voluntary group in May 2012. 
The group was formed to help other parents/carers and also professionals meet together to bridge the gap in helping those on the Autistic Spectrum and other related conditions. The group also welcomes others with special needs as many of the parents children/adults have dual conditions such as Cerebral Palsy, OCD, Hearing Impairment and other conditions. 
We run workshops with guest speakers that specialise in caring and working with those on the Autistic Spectrum. There are many challenges that we face from day to day and not knowing what to do.
Our aim is to run workshops that will cater for families in making the right choices or seeking for support and caring for their child, teenager, young person to adults.
Workshops focus on puberty and sexuality, challenging behaviour, inappropriate sexualised behaviour, sleeping issues, street safety and social media influences, Girls and Women on the Spectrum - hosted by Autistic Women and targetting the BAME Communities and Faith Groups.

We signpost and also attend other social groups, workshops and forums across London in making a difference within the autistic and special needs community as not everyone is getting the right message out to the relevant sources.
Best way in bridging the gap amongst the community is breaking the barriers and taboos. Signposting and sharing information.