Support for parents and carers of people with diagnosed or suspected Autism in the Leicester, Leicestershire and Rutland area.
About this event
Event Details
Please note that due to high demand, this event is now being held at The PitcHes in Hinckley and will start at 10am rather than the advertised time of 5pm at Police HQ.
We are holding a FREE event on the 18th November 2021 starting at 10am with the aim of helping support parents and carers of people with diagnosed or suspected Autism. The event is being held at The PitcHes in Hinckley for those who wish to attend in person but will also be live-streamed with Q&A facilities for those unable to join us at the event. There will be free refreshments and lunch provided.
We are also providing a free coach with pickup / drop off points at the St Philip's Centre, Stoughton Drive North and Taylor Road School, St Matthew's Estate. Please add this option on the Registration page by scrolling to the bottom and expanding the 'Free' option. Full details of pick up and drop off times are on the Registration page.
The aim of the event is to provide parents and carers with a better understanding of:
What Autism is as well as some common traits and misconceptions
How Autism can affect a child's development and social skills.
What support is available (education, financial, life skills, home support etc)
How to obtain this support / how to get a diagnosis.
The pros and cons of getting a diagnosis.
How to better understand, support and communicate with your child.
Where there may be increased risks in relation to rigid thinking, accepting presented information as the truth, different learning / communication styles etc.
What steps to take to help ensure your child is safe including online safety / grooming / reporting etc.
Who to turn to for ongoing support.
Local support groups and service providers will be in attendance to discuss the services they have available and there will be presentations from a range of people as shown below. There will be time to meet and greet the presenters, support groups and other parents / carers. We will also encourage participants to help form local support groups.
There are two ticket types available:
Attendee - For parents and carers who wish to attend the event in person. Please remember to add a Coach ticket on the Registration page if required.
Online Only - For those who wish to watch the event on a live stream with Q&A facilities.
For support groups and services who wish to provide a stand at the event, please contact the organisers and we will issue a Guest / Speaker ticket.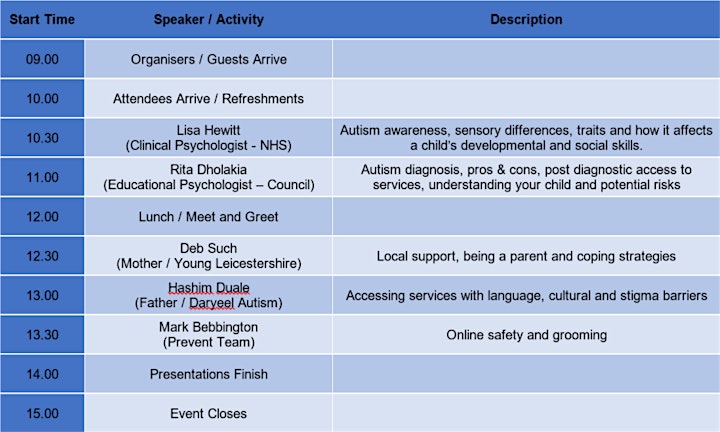 Groups Supporting / Present at the Event
Please click on a supporter for further information about their organisation.
Contact
Please feel free to contact us if you would like more information or wish to provide a stand at the event:
Mark Bebbington - mark.bebbington@leics.police.uk / 07976 863087
Michelle Wilson - michelle.wilson@leics.police.uk
Guest Speaker Biographies
Dr Lisa Hewitt is a Senior Clinical Psychologist with the Counter Terrorism Vulnerability Support Hub, which is a partnership service between Birmingham & Solihull Mental Health Foundation Trust and West Midlands Police. This service is aimed at supporting the safeguarding of individuals referred to Prevent. She has worked for the NHS for over twenty years, primarily in the field of forensic psychology, within secure hospitals and in community services. She has also previously worked in a specialist psychosis service, and with adolescents experiencing acute mental illness.
Rita Dholakia is a Senior Pactitioner Educational Psychologist working for Leicester City Council Social Care and Education in the Psychology Service - Learning and Inclusion department.
Deb Such is the mother of a child with autism and helps run Young Leicestershire, a charity organisation that runs local support groups and helps establish and support other charity youth groups.
Hashim Duale is the father of a child with autism and runs a support group called Daryeel Autism. Hashim brings a wealth of knowledge and experience to the event following his many years of struggling to obtain support for his child, exposure to the stigma of having an autistic child, language barriers and acquiring the necessary skills to educate himself to be the best teacher he could be for his son.
Mark Bebbington is a Prevent Officer for Counter Terrorism Policing - East Midlands. Mark has a number of years experience dealing with families struggling to cope with children with diagnosed or suspected autism who have been referred into the Prevent program.
Background / Why Are We Doing This
The Prevent Team in Leicestershire, as part of Counter Terrorism Policing East Midlands, looks to support vulnerable people who may be at risk of being drawn into Extremism or Terrorism. Over the last few years we have noted an increase in the number of people being referred to Prevent where, after our initial meetings with them, have identified no concerns around extremism but established that there are other unmet needs or vulnerabilities.
In many of these cases, family members, or others, have been concerned about behaviours or actions taken by a person which has led to the referral being made to Prevent. In conjunction with our Vulnerability Support Hubs, we have recognised these behaviours as potential Autistic traits but the family has had no guidance or support to help them understand or deal with these behaviours.
Although the referral was never relevant for Prevent, we have followed our duty of care to ensure that those unmet needs are catered for. On each of these occasions, we have needed to establish what support is available from other statutory agencies or charity organisations in relation to finance, family support, education, social skills, social activities and so on. We have assisted the families gain access to these services and support organisations but have found the information available to be lacking, out of date or very difficult to find.
For these reasons, we decided that we should help bring the support services together to provide information to parents and carers of the pathways to support, what support is available, how to obtain that support, a better understanding of autism and to also provide us, as Prevent, with an understanding of Autism and these services.
The main thread running through this is that we are attempting to reduce the number of misguided referrals into Prevent by helping establish a more accessible external support framework to provide advice, guidance and support to families but also allow us to more easily direct any misguided referrals to the most appropriate services.
Organiser of Autism Support and Online Safety Event for Parents
Police forces across the country have specially trained PREVENT officers who work with professionals in health, education, local authorities and charities, as well as faith and community groups to help vulnerable people move away from extremism.
Family and friends know when something's not right. It can feel scary to think someone close could be heading down a path towards extremism.

However, you are best placed to spot worrying behavior at an early stage and can help the person you care about get the support they may need to move away from extremism.
Together we can help prevent them from becoming drawn into harmful activities or groups, and help them choose a different path.