Location
London South Bank University
Keyworth Centre
Keyworth Street
London
SE1 6NG
United Kingdom
Recognising & celebrating our recently appointed professors & their work. This lecture will be given by Professor Nicki Martin.
About this event
LSBU are proud to present this inaugural lecture by Professor Nicki Martin as part of our inaugural lectures programme for 2022.
Professor Martin is Professor of Social Justice and Inclusive Education at LSBU's School of Law and Social Sciences. You can read more about her lecture, accomplishments and impressive career below. We hope you'll join us in hearing her explore neurodiverse allyship and emancipatory autism research in light of the Government's National strategy for autistic children, young people and adults (2021 to 2026).
Inaugural lectures are an occasion of significance in our professors' careers at the University. They provide an opportunity to recognise and celebrate the achievements of our recently appointed professors who are undertaking research, innovation, engagement and teaching activities in their field of expertise.
Our lectures are open to all LSBU Group staff & students as well as to members of the public and are free of charge. They are taking place in person and will be recorded. They are not being live streamed at present.
You can check out the full programme of our inaugural lectures here.
________________________________________________________________________________________________
Autism, Wellbeing and Fulfilment
Building inclusive education and employment through universal design
By Professor Nicki Martin, Professor of Social Justice and Inclusive Education, School of Law & Social Sciences, LSBU
Description: In July 2021 the Government's National strategy for autistic children, young people and adults: 2021 to 2026 was launched without a great deal of fanfare because of the pandemic. I am going to use my inaugural lecture to reflect on my own autism research , which spans more than two decades, alongside the recommendations of the new strategy.  My research has been  increasingly  informed by autistic scholarship and participatory and emancipatory research principles, based on the idea of 'Nothing About Us Without Us'. I am not autistic but identify as a neurodiverse ally, although allyship with autistic people  cannot be claimed without external validation from autistic people.
Emancipatory autism research is about real involvement of autistic people in autism research designed to be useful to autistic people. I will be thinking about my possible allyship in relation to supporting autistic scholars to secure and thrive in paid roles as researchers in universities . One of the strands of the strategy  focusses on employment and I will reflect on this ,drawing on my research about employment of autistic people in academia. I will also look at other aspects of the strategy in relation to my research across the lifespan, particularly highlighting the great big gap around autism and ageing. My research is not all about autism, but good  autism practice has been shown to be good practice in various contexts because it is underpinned by principles of universal design. I will talk about ways in which universities could work better for autistic students with the understanding that the simple adjustments I propose would make university nicer for everyone.
Finally I will consider  what my research career is all about and whether anything I have done has been of any practical value in relation to making life a little bit better, primarily for autistic people, but more generally too. My definition of better is about equality of opportunity, inclusion and belonging, happiness, wellbeing and fulfilment.
Biography: Professor Nicola Martin has studied at Newcastle Poly, the University of Virginia, Manchester Metropolitan University, and the University of Derby, from where she holds a PhD focusing on inclusive practice with autistic university students.
Martin has worked with disabled pupils and students, from nursery age to adults, for 35 years. With her research on autism spanning more than two decades, she holds an international research profile in the field. She overviews two research groups at LSBU: Education for Social Justice (Ed4SJ) and Critical Autism and Disability Studies (CADS).
She is a longstanding board member of the National Association of Disability Practioners (NADP) and a founder member of PARC (Participatory Autism Research Collective), a network set up to bring together autistic people, researchers and practitioners who work with autistic people.
________________________________________________________________________________________________
Programme
5.45pm – Arrival & registration
6pm – Welcome & introduction - Professor Deborah Johnston, Pro Vice Chancellor Academic Framework, LSBU
6.05pm – Autism, Wellbeing and Fulfilment - Professor Nicki Martin, Professor of Social Justice and Inclusive Education, School of Law & Social Sciences, LSBU
7pm – Closing remarks - Professor Craig Barker, Dean, School of Law & Social Sciences, LSBU
7.15pm – Networking & refreshments
8pm - Close
You may also be interested in the following event being delivered in collaboration with LSBU's Division of Education which Professor Martin is part of...
Need not diagnosis: towards a more realistic language and understanding, Thursday, 30 June 2022, 5.30pm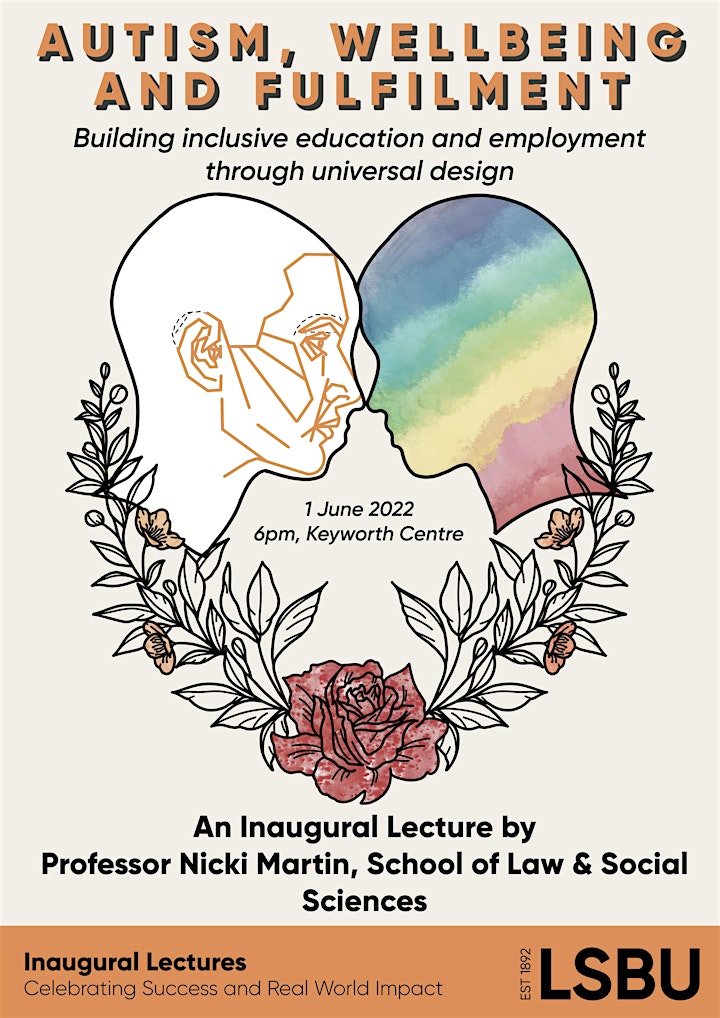 Please share this event with anyone you feel might be interested or benefit for attending. Your support can ensure the event reaches a wider audience.
You will receive a confirmation email with more information a few days before the event takes place.
We look forward to seeing you!