From bikes to autonomous buses - how we move in the future is likely to be different to how we move today...
About this event
Solihull MBC is working to understand how the roads of the future need to look. Across a wide portfolio of projects that stretches from new cycling and walking links, to trialling cutting-edge zero emission autonomous vehicle technology, work to help shape the future is under way.
Within this project Solihull MBC are working with the NEC to trial a state of the art autonomous shuttle bus, to gain a better understanding of the technology, it's application and how the technology might be used in the future.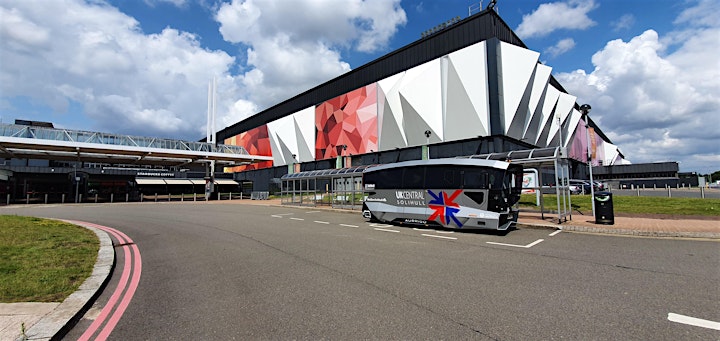 Tickets to be able to ride on the shuttle are now able to be booked through this page, to experience one of the first fully self-driving shuttles in the UK. The route starts at the Piazza bus stop by Hall 5 and runs down Pendigo Way to Resorts World. Passengers are able to alight here if they wish, or return to the Piazza bus stop.
Please be aware that this is a research and development autonomous vehicle trial using a prototype vehicle. We will endeavour to adhere to the timetable, but the vehicle could be taken out of service at any time without prior warning. As such, we cannot guarantee your ride will go ahead but will aim to give you as much notice as possible (by email) in the event of a known cancellation.
All passengers must remain seated, wear a seatbelt and observe safety signage and instructions at all times as the Shuttle may come to a sudden stop at any time. Only when the Shuttle has come to a stop and the doors have opened should passengers remove their belt and stand up. CCTV is in operation within the vehicle at all times. All passengers are required to wear a face covering for the duration of the ride, unless medically exempt. Please note that all passengers must be over 12 years old, and anyone under 18 must be accompanied by an adult.
By booking tickets you are confirming that you have read and agree to these terms and conditions stated above.
Safety supervisors will be on board the vehicle during the project trials and are able to regain manual control of the vehicle immediately at any time if required. The vehicles will run at a maximum of 20mph, and are fully electric.
The trials will support research into potential driverless shuttle services and further explore how smart technology could be used to cut congestion and improve public transport.
For more information on the autonomous trials and the vehicles themselves, please visit www.solihull.gov.uk/CAVtrials
Ride dates will be added on a weekly basis, so please check back frequently
If arriving by car we recommend following signs for Resorts World once within the NEC site, and using the Resorts World car park at a cost of £2.50 for two hours.
Autonomous Shuttle Bus stop What Three Words location: ///input.pilots.grant