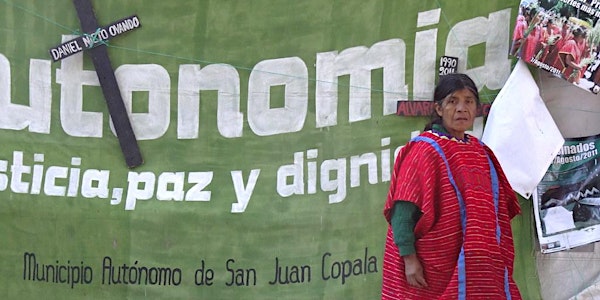 Autonomy as an agrarian strategy? - a roundtable discussion
Sales Have Ended
Registrations are closed
This tickets for the zoom event are sold out. However, please register for the simultaneous YouTube streaming. We will send you details of the live stream of the event, where questions/comments will be enabled, closer to the date of the event.
A roundtable discussion on the potential and limitations of the concept of autonomy as an agrarian strategy
About this event
Autonomy as an agrarian strategy? – a roundtable discussion
This roundtable discusses the potential and limitations of the concept of autonomy as an agrarian strategy.
Leandro Vergara-Camus will present an overview of the evolution of the idea, project and practice of peasant and indigenous autonomy in Latin America from the 1990s to today. He will trace the origins of the process and examine how the different dimensions of the concept of autonomy (economic, political, ideological, and ethnic) came together in the early 1990s to form a coherent although contradictory political project, which attempted to present an alternative to neoliberalism and political paternalism.
Based on the case study of Bolivian rural actors' projects and practices of autonomy, Alice Guimarães will explore the promises and complexities that surround the politics of autonomy and its constant tension with heteronomy.
Kees Jansen will discuss the perspective on autonomy as presented by Jan Douwe van der Ploeg in his influential book The New Peasantries and develop a critical review of the analytical shortcomings of the notion of peasant autonomy as used in the 'repeasantization' argument.
Leandro Vergara-Camus is Head of Study and Research Programme in Economy and Social Innovation at the Université de l'Ontario français, Toronto Canada. From 2012 to 2021, he was Senior Lecturer in Development Studies at the SOAS University of London. He specialises in agrarian political economy, Marxist theory, social movements, social change, Latin American politics, extractivism, and alternative sustainable development.
Alice Soares Guimarães holds a PhD in Sociology from the Institute of Social and Political Studies (UERJ, Brazil). Currently she works as a researcher at the Instituto de Investigaciones Socio-económicas, Universidad Católica Boliviana. Her research focuses on several aspects of State-society relations, including indigenous and peasant movements, in Latin America and Sub-Saharan Africa.
Kees Jansen is Associate Professor in the Rural Sociology group at Wageningen University in the Netherlands. His work connects the fields of political ecology, critical agrarian studies, and international development. His current research focusses on the sociology of pesticides and social movements concerned about pesticides. More info at www.keesjansen.eu
PLEASE NOTE: The is a free event but registration is required. The link to the zoom session will be sent close to the seminar's date. If the event is sold out, please still add your name to the waitlist and we will share details of the livestream of the event, where we will also enable Q&A.
This seminar is part of the Agrarian Change Series, jointly organized by the Journal of Agrarian Change and SOAS Department of Development Studies.
Look for updates at: https://www.aqs.org.uk