Autumn Black Pearl Dinner

Wednesday, 20 September 2017 from 18:30 to 21:30 (BST)
Event Details
          Please note this event is on 20th September, not 21st as originally notifiied

The Black Pearl Dinner is for business owners and senior professionals doing business in London.  Held in a private dining room at the Oriental Club in London W1 the evening begins with pre-dinner drinks and an opportunity to meet your fellow guests. In true Oyster Club style, relationships are formed without pressure, in a sociable and relaxed setting. This is networking at its most sophisticated and elegant. 
The evening continues over a delicious three-course meal overseen by the Oriental Club's Michelin rated Executive Chef, Wesley Smalley. If you haven't eaten at the Oriental Club before, then you're in for a real treat.
During the evening you will make some genuine, meaningful business connections – and the bonus is, you'll enjoy yourself at the same time.  One recent guest described this as "The most enjoyable and profitable networking I've ever done".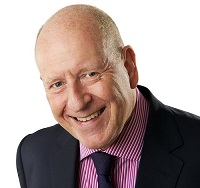 Our after-dinner speaker is Lee Clarke.   Lee is a lawyer, entrepreneur and business trouble-shooter, but most of all he's a survivor.   Lee's favourite adage is "Prepare for the worst and expect the best".  
Lee will share with us some of the simple yet effective lessons he's learned since the rocky start of his first business in 1974, leading to his eventual success.   Despite technology and in some cases because of it, the simplest of ideas can make a dramatic difference.   They say success is a journey, not a destination.  Lee's journey has been eventful to say the least and some of his lessons were hard-learned.  There will be some great "take-always" from this talk.
Two years ago Lee was diagnised with cancer.  This was complicated by heart failure and severe heart disease discovered just a few months earlier.   Lee's blood pressure was so low the doctor couldn't get a reading and his kidneys were close to failing, however an emergency operation was needed to save his life. 
Two years and three operations later and Lee is free from cancer.  His heart, described by his Cardiologist as "A miracle heart" has recovered to almost normal.    Lee attributes his recovery as much to his "Preparing for the worst" as he does to his belief in always looking forward, beyond our problems and having a vision for how things should be. 
How would your business fare if this happened to you?   Who would make the decisions while you were "out of it"?  Lee will also share with us some of the concepts and ideas that have helped him build several successful businesses and to overcome  serious personal and business challenges, turning adversity into advantage and obstacles onto opportunity.     Peppered with anecdotes and examples, you will be entertained, enlightened and uplifted by his presentation.
FAQs
What is the dress code? 
The dress code is Black Tie

Who will be attending the event? 

A list of attendees will be emailed to you ahead of the dinner

I need further information. Who can I contact? 

Please email amanda@theoysterclub.co.uk
What are my transport/parking options for getting to and from the event?
The nearest tube is Bond Street 



When & Where

The Oriental Club
11 Stratford Place
W1C 1ES London
United Kingdom


Wednesday, 20 September 2017 from 18:30 to 21:30 (BST)
Add to my calendar
Organiser
Established in 2010, The Oyster Club welcomes business owners and professionals at decision making level.   
A refreshingly old fashioned and elegant approach to establishing and maintaining business connections.  No need for name badges, forced referrals, or uncomfortable elevator pitches and deliberately not a membership club.
Having attended too many events where everyone manically shoved business cards at each other and nobody was interested in forging actual relationships, our founder Tanya Mann Rennick, saw the need to establish a new forum that served its guests better.
The Oyster Club is far removed from the pressure of a structured networking event, however at a senior level, it is far more effective, and enjoyable; certainly a bonus when our time is highly valuable.
We help each other develop innovative business ideas and where appropriate, we share our contacts. From time to time, business leaders, inspirational entrepreneurs and even contradictory mavericks are selectively invited to deliver presentations; stimulating debate and helping us maintain our position as leaders at the forefront of our respective enterprises.
Business relationships and friendships are built on trust, reciprocity and a genuine commitment to caring for each other. The ultimate pinnacle is to become ambassadors for one another. Our connections are extended by making personal and valuable introductions.
The Oyster Club is unique in that if you've not attended an event before then you do need to be invited by someone who has,  so if you would like to come, please ask . It clearly isn't for everyone, but if our ethos resonates with you, then it probably is just what you have been waiting for.