Description
Behold the Lamb of
God: 'Jesus Christ and
him crucified' (1 Cor. 2:2)
The declaration of the Apostle Paul that the word of the cross is the power of God for salvation is not just a statement about one more historical event. Now as then it testifies to a living and gracious reality that retains a power to transform lives and destinies even in a world of horrendous evils. The cross in this respect only begins to reveal its profound meaning as it takes shape in the actual experience of believers.

This evening presentation will provide an opportunity to consider the Jesus Christ who comes to us, as Mother Teresa once described it, 'in his distressing disguise.' It will be of help to anyone seeking a deeper understanding of how a crucified Lord can speak to a world sadly in need of mending. An acclaimed new book on the crucifixion by the American priest and preacher Fleming Routledge will form part of the evening along with images and music of the Passion.
Autumn Courses 2017
A message from Canon Dr. Rod Garner, Diocesan Theologian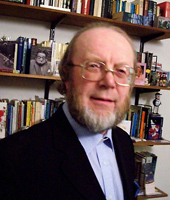 For the best of reasons, Church history features prominently in the following pages. 2017 is a landmark year – the 500th anniversary of the Protestant Reformation. Martin Luther was the pivotal figure and his ideas divided Europe and triggered riots, murder and war. This is a good time to reassess what he believed, what drove him on and how we should regard him today when many know little about his life or legacy. The Reformation eventually transformed England and gave rise to Anglicanism. It also bequeathed to us a complex past that invites us to think again about the divisive issues of the present.
Alongside history, there will be presentations on the abiding mystery of the cross of Jesus and a film night featuring the work of Ken Loach, one of our most distinguished and principled British film directors. Both evenings will make use of music and film. Each in its different way will explore the relationship between faith and commitment and where we place our deepest allegiance. A case of deciding over and again, the question of 'who is Christ for us today?' and the radical obligations of this relationship.
The invitation to share in all or any of these meetings is open to everyone. Newcomers to similar events this year have found them informative and worthwhile. A warm welcome is also assured. Do come along if you are curious or simply want to learn more about how we are to live faithfully and hopefully in an age of anger and anxiety. If you would like more information before enrolling you can reach me at holytrinitysouthport@gmail.com or 07754812915.