Description
Shaking the Foundations:
Luther, Reformation and
its Legacy
A Series of evening meetings at Southport College.
2017 has marked the beginning of the Protestant Reformation in Europe. Martin Luther's ideas divided
Europe. As a writer he fashioned the German language and gave its people a new religious voice to praise God. His rich and controversial legacy lives on. For good and ill he has much to teach us about faith, worship, politics, other religions and the abiding power of words.

Over three evenings this short Course will introduce and explore some of these themes and why they still matter today. We begin with Luther as theologian, renegade and prophet before going on to consider his mastering of mass communication and religious language. A final meeting examines his hatred of enemies that fuelled anti-Semitism and soured the unity of the Church for centuries.
Dates and topics

Tuesday, 3rd October 2017 - Luther: Complex Revolutionary
Tuesday, 10th October 2017 - Luther: Mass Communication and Music
Tuesday, 17th October 2017 - Luther: Legacy and Warnings
All meetings start at 7.30 p.m. with refreshments from 7.00 p.m.
£15 (£12 concession) for all three including refreshments.
Autumn Courses 2017

A message from Canon Dr. Rod Garner, Diocesan Theologian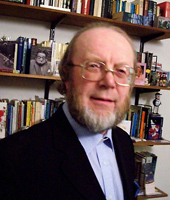 For the best of reasons, Church history features prominently in the following pages. 2017 is a landmark year – the 500th anniversary of the Protestant Reformation. Martin Luther was the pivotal figure and his ideas divided Europe and triggered riots, murder and war. This is a good time to reassess what he believed, what drove him on and how we should regard him today when many know little about his life or legacy. The Reformation eventually transformed England and gave rise to Anglicanism. It also bequeathed to us a complex past that invites us to think again about the divisive issues of the present.
Alongside history, there will be presentations on the abiding mystery of the cross of Jesus and a film night featuring the work of Ken Loach, one of our most distinguished and principled British film directors. Both evenings will make use of music and film. Each in its different way will explore the relationship between faith and commitment and where we place our deepest allegiance. A case of deciding over and again, the question of 'who is Christ for us today?' and the radical obligations of this relationship.
The invitation to share in all or any of these meetings is open to everyone. Newcomers to similar events this year have found them informative and worthwhile. A warm welcome is also assured. Do come along if you are curious or simply want to learn more about how we are to live faithfully and hopefully in an age of anger and anxiety. If you would like more information before enrolling you can reach me by email or mobile. Contact details below.
E: holytrinitysouthport@gmail.com
T: 07754812915