Sales Have Ended
Ticket sales have ended
Thank you for your order, look forward to seeing you at this event.
Sales Have Ended
Ticket sales have ended
Thank you for your order, look forward to seeing you at this event.
Join John Price on a morning and afternoon walk in Epping Forest, photographing the beautiful autumn colours of the trees and landscape.
About this event
Learn how to use your camera to achieve beautiful photographs, to compose a photograph using the golden section, to chose the best settings and to get the best angles to create great photographs.
This is a course for both beginners and the more advanced.
Epping Forest has a huge range of ancient trees which provide fantastic photo opportunities. Besides this, the Forest provides inspiration and relaxation and is just the place to get to grips with your creative side.
Notes on the course:
Apart from your camera, be sure to wear suitable clothing and shoes, as the weather may vary. Bring waterproofs and warm clothing if the forecast indicates rain. Also plastic coverings for your camera as the wet can ruin the electronics. Hopefully the weather will be good and you won't need these.
This course does not include an indoor venue for viewing images. If enough people are interested John has a studio in Waltham Abbey and may be able to arrange follow up courses to look at the work and even run further workshops.
The Epping Forest Visitor Centre may be of interest, providing local maps and gifts. The local cafe and Kings Oak pub offer coffee and food. Toilet facilities are available in the car park, the Visitors Centre and the Pub.
A pub lunch is included in exchange for the £10 parking fee at the pub car park, however if the bill exceeds this then this will be charged on top.
John Price is a professional photographer having worked in London for many years, he is now working locally with various organisations on photography, design and video projects. He has a great deal of knowledge about trees, has worked with Epping Forest DC on district tree strategies and also photographed, designed and produced the book "50 Favourite Trees of the Epping Forest District" with his colleague Tricia Moxey (a previous head of the Field Studies Centre at High Beach).
Timetable
10.30am - Meet and park in the Kings Oak car park at the Cafe, coffee and introductions.
10.45am - Morning walk on the easy access route looking and photographing the veteran trees and autumn colours.
1.00pm - Lunch break at the Kings Oak Pub.
2.00pm - Afternoon walk on the Pillow Mounds, photographing the ancient beeches and pollards.
4.00pm - Return to Kings Oak to recap on the day's work and discuss future ideas and projects.
4.30pm - End of a great day's work!
Website: http://avisionofbritain.org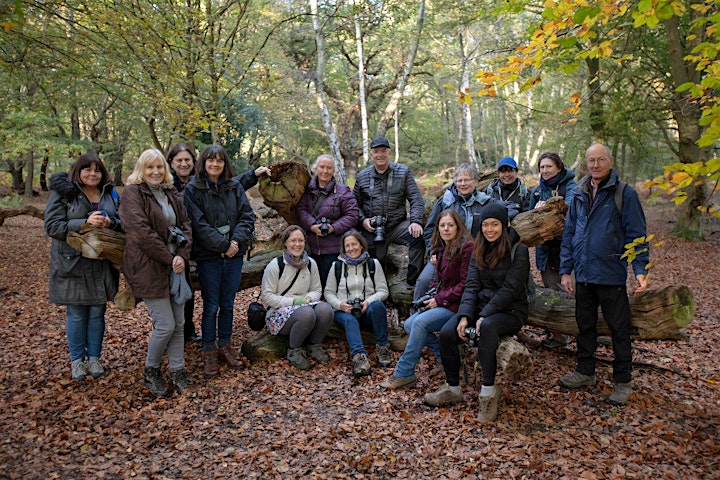 Organiser of Autumn Photography Walk in Epping Forest
A Vision of Britain is a health and wellbeing organisation in the Epping Forest District.  It provides art, photography and multimedia courses and sensory walks in and around Epping Forest.  Working with special needs, elderly and the young.  It encourages a therapeutic learning and healthy lifestyle to enable people to live a better life.
John Price is a professional photographer and a local tree warden in the Epping Forest District. He has an arts background and an art teaching degree. Through A Vision of Britain he has organised many sensory walks for special needs and disabled people in Epping Forest and throughout the district.
He worked has a professional photographer with his own studio in London. He specialised in industry and corporate clients and travelled to some 40 countries taking pictures for annual reports, video productions and promotional material.