An Online English workshop will introduce Awa Odori to you as performed by Warakuren from Koenji in Tokyo.
About this event
Awa Odori Dance Workshop
Passionate, free-flowing, traditional Japanese street dance. That's Awa Odori. This online English workshop will introduce Awa Odori to you as performed by Warakuren from Koenji in Tokyo via ZOOM by HYPER JAPAN.
Difficult? Not at all! Being called a fools' dance, Awa Odori is so simple and dynamic! It will be a special opportunity to discover a new part of Japan's fun-loving spirit. You will be shown how to dance, learn about the music and instruments and some of the history of Awa Odori, all in English!
You will also learn some basic Japanese phrases that you can use when communicating with performers. By the end of this workshop, you will be itching to put on your dance shoes, or 'tabi,' and hit the streets of Japan to dance Awa Odori. After the event, you are welcome to join a Q & A session with the performers. Learn more, and you'll be a big fan of the culture of Awa Odori and Japan!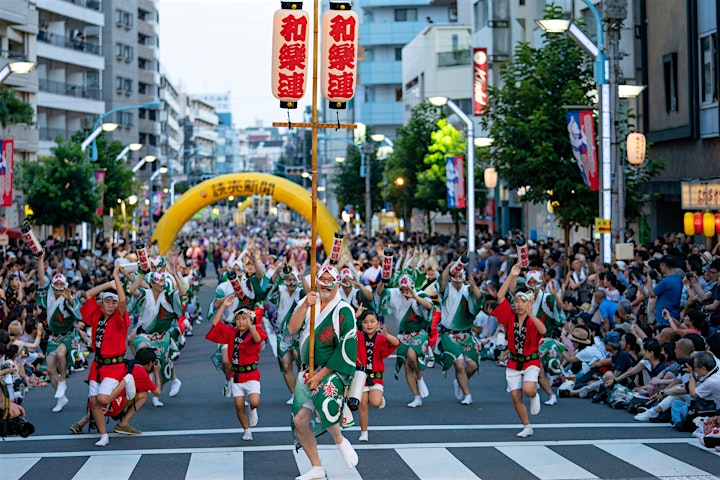 Date: 31st July 2021, Sat
Time: 11:00-12:00 (BST)
Instructor: Warakuren
Online Platform: ZOOM (link will be sent to you after your purchase**)
Ticket Price: Free!
*Ticket sales will close at 5pm on 30th July 2021, Fri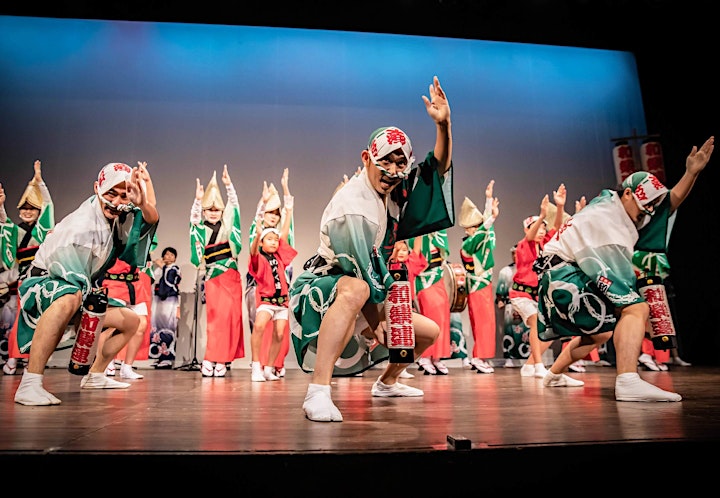 Workshop Contents
・What is Awa Odori? Who are Warakuren?
・Introduction of the music and instruments
・Dance introduction with basic steps
・Learn Japanese for festival occasions
・Dance performance
・Post-show Q & A
Brief Description of Awa Odori
Originating over 400 years ago in Tokushima on the island of Shikoku in Japan, Awa Odori literally translates as Awa Dance. Awa was the ancient name of Tokushima. Unlike the slower paced Bon Odori, Awa Odori is a dynamic, intense dance that will get your heart beating. The dance and associated summer festivals have spread all around Japan.
The Koenji Awa Odori festival which is usually held on one weekend in late August attracts over 10,000 dancers and an amazing audience of one million people. It is not to be missed in your future visits to Japan!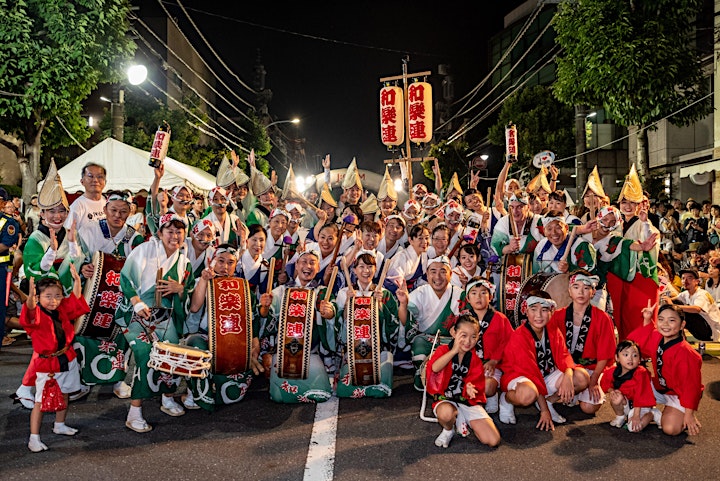 Warakuren / 和樂連
Warakuren was established in 1976. It is a member of the Koenji Awa Odori Association. Warakuren (和樂連) means the team (連) of fun (樂) and harmony (和).
While respecting the tradition of authentic Awa Odori, Warakuren's fun performance encourages the audience to want to dance. Having many members with international backgrounds, Warakuren transmits the joy of easy Awa Odori in multiple languages. In spite of the pandemic affecting the festivals in Japan, Warakuren is striving to keep the festival spirit to bring joy to festival lovers in Japan and around the world. Everybody, say "Yattosa!" Have fun and dance with us!
About the HYPER JAPAN Online 2021

An incredible online celebration of Japanese culture from the 9th of July to the 8th of August. We are proud to bring the very best of Japan to the UK.