Transformational for individuals, teams and communities. Become a Mentor of global character education programme the Virtues Project.
About this event
Concessions are available on a pay-what-you-can basis. Email tam@hopeintheheart.org.
The Virtues Project is a character education programme endorsed by the United Nations and used in over 100 countries worldwide. It is still little-known in the UK and Tam is one of only a handful of Master Facilitators in Britain.
The project teaches individuals to recognise and acknowledge the positive qualities - Virtues - that exist within all human beings. By calling upon these in ourselves and each other, we develop tools to transform communication and relationships, communities and culture. This training is for those who would like to become mentors of the Virtues Project, equipped to use it in their own lives and communities. If required there will be the opportunity to undertake a further three days' training to become facilitators, qualified to train others as part of a global team.
PLEASE NOTE: Participants must attend the full two days to qualify as mentors.
The programme introduces 100 virtues ( 52 in an educational setting), and the five strategies that facilitate their use in the most effective ways. These are:
-Use the Language of Virtues
-Recognise Teachable Moments
-Set Clear Boundaries
-Honour the Spirit
-The Art of Spiritual Companioning
For Individuals, Families, Educators, Businesses, Organisations and Communities. Be the Change!
More info at http://www.hopeintheheart.org/the-virtues-project.html
Many thanks to Initiatives of Change for sponsoring this event.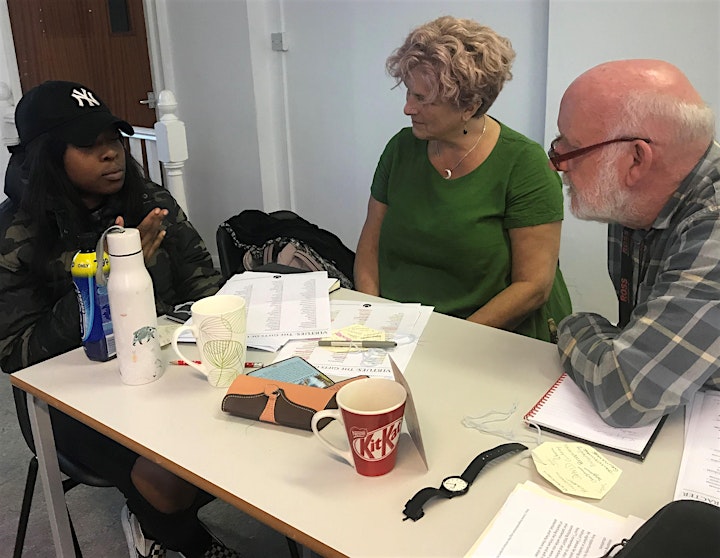 Comments from Previous Participants in UK and South Africa : 
"Will teach me to release resentments arising from lack of boundaries – allowing joy, love and grace." UK
"It inspired me to be limitless in terms of positive thinking, acting and giving." SA
"Effectively I think it is the key to compassionate relationships, formal or informal." UK
"it made me want to be a better person and just improve on my inner-self. I liked how it was so comfortable to voice your thoughts without judgement. SA
"I really appreciate your dedication and creativity in making this learning experience happen." UK
"Please do for others as you have done for us." SA
"This training and the facilitator Tam Martin Fowles has absolutely changed my focus on my practice. It has enabled me to open up and broaden my skills base and understanding of effective practice. It has given me a sense of confidence in my communication and empathy with myself, my friends and colleagues and my client group. Every community and society shares this set of virtues, making connectivity and shared language possible. I really cannot rate this training highly enough..." UK
Organiser of Awaken the Virtues Within
Tam Martin Fowles is Founding Director of Plymouth-based social enterprise Hope in the Heart (www.hopeintheheart.org) and Woman Undiluted (www.womanundiluted.com). She developed the AccepTTranscend Model for Transformation (accepttranscend.com) in response to three decades working in education, the Voluntary Sector, and as a private therapist. Tam is also UK Ambassador of the global Charter for Compassion, co-founder of the Compassionate Plymouth City Initiative, and a Master Facilitator of UN-endorsed global Character Education Programme The Virtues Project. Tam has been designing and facilitating workshops and courses for over 20 years, across the UK and on several continents. She is passionate about personal development leading to positive  change, individually and socially.
All Tam's work is inspired by her own experience of a life challenged, and ultimately made richer, by mental health crisis and transformation and neurodiversity, and the many inspiring people she has worked with who have embraced change to transform their lives.